Chris Pratt Finally Has A New Movie Coming And He's Getting Us Hyped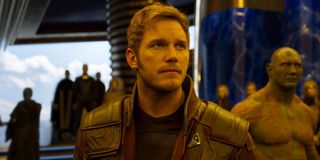 When the COVID-19 pandemic took hold of the world, it greatly shifted the status quos of many people, including moviegoers. A number of high-profile films were delayed as a result of the pandemic, which means fans haven't been able to see the work of some of their favorite stars. This includes fan-favorite star Chris Pratt who, despite lending his voice to last year's Onward, hasn't actually been seen in a film since 2019's Avengers: Endgame. But now, Pratt is coming back in full-force with a brand-new film this year, and he's wasting no time getting fans hyped about it.
Chris Pratt's next film will be The Tomorrow War, a militaristic science fiction film that's heading to Amazon Prime, and the streamer just set a date for the upcoming movie. To celebrate the news, Chris Pratt posted a video on Instagram in which he hypes up the film the best he can, putting strong emphasis on the inclusion of aliens. Check out the funny video in the post below:
I think it goes without saying that Chris Pratt is pretty excited about The Tomorrow War, and he has reason to be. Aside from being his live-action film release since the onset of the pandemic, the movie also marks Pratt's first time serving as an executive producer. Needless to say, he has a lot to be thankful for when it comes to this film.
The Tomorrow War takes place in the near future and focuses on humanity's war against an invading alien force. In order to combat the extraterrestrial threat, society aims to use a new scientific method that allows for soldiers from the past to be drafted into the futuristic battle. The film is directed by The Lego Batman Movie's Chris McKay from a screenplay by Zach Dean.
The movie should prove to be a different kind of science fiction flick for Chris Pratt. The synopsis alone makes it sound less like Guardians of the Galaxy or Passengers and more like Edge of Tomorrow or Annihilation. As of this writing, we've only seen a single still from the film so, hopefully, it won't be too long before we get our first trailer for the film and get a better idea of what to expect.
Despite the fact that he hasn't appeared on our screens in a while, Chris Pratt has been extremely busy during the pandemic and, as a result, he has a few other films coming down the pike. Last year, the actor filmed the highly anticipated Jurassic World: Dominion, which was the first major film to resume production during the pandemic. And like so many other actors as of late, Pratt also headed to Australia for a little while, only he went to film Marvel's Thor: Love and Thunder with some of his fellow Guardians of the Galaxy alums.
There are still plenty of questions to be answered in regard to Chris Pratt's most immediate project though, and we'll be sure to keep you posted on it as news arrives. The Tomorrow War hits Amazon on July 2nd.
Covering superheroes, sci-fi, comedy, and almost anything else in film and TV. I eat more pizza than the Teenage Mutant Ninja Turtles.