Top Gun Maverick's Miles Teller Explains Why He's Optimistic About The Future Of Movie Theaters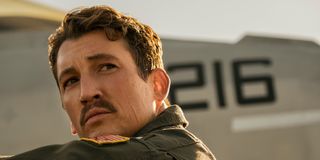 With the announcement of the closing of the iconic ArcLight Theater, many fans and celebs have shared their disappointment and disbelief that such a significant movie landmark was closing its doors. Movie theaters have taken a hit over the past year due to the pandemic, and the future of people going out to see movies has been in doubt with the advent of streaming big releases at home. Despite this, Top Gun: Maverick star Miles Teller is optimistic about the future of movie theaters.
Recently asked by TMZ about closing the ArcLight and movie chains closing theaters around the country, Miles Teller is concerned but still confident that movie theaters can rebound. Miles Teller explains his optimistic outlook on why movie theaters will make a comeback. In his words,
Miles Teller is a believer in the collective experience of seeing big movies in a packed theater. This is especially true since people have been stuck in the house for months, so he thinks moviegoers want to have those great experiences seeing a major blockbuster on the big screen in a packed theater. And he's probably got a point.
Like his Top Gun: Maverick co-star Tom Cruise, who is also a vocal supporter of seeing big movies on big screens, Miles Teller is also excited about the eventual return to theaters. Both actors clearly want their own big blockbuster, which has been delayed, to be experienced correctly. The training and hard work that Teller and the rest of the cast went through needs to be properly appreciated by seeing the film as intended. The experience of seeing something like Top Gun: Maverick in theaters just can't be emulated at home, and both Teller and Cruise know it.
Top Gun: Maverick is the definition of a big movie, one that you have to see on the big screen. Miles Teller has seen the film and has experienced the emotional payoffs, and he and the Top Gun crew wants everyone to be able to see the movie how it's meant to be seen.
The delay of Top Gun: Maverick hopefully may allow fans to see it in theaters safely. Despite the closing of the ArcLight and movie chains closing their doors, there is hope on the horizon for movie fans that love going to theaters will be able to soon. Miles Teller is undoubtedly hoping for the theater experience to make a strong comeback.
Your Daily Blend of Entertainment News
Movie and TV obsessive. A good Heist movie is the way to my heart. Enjoyer of everything from Marvel Movies to Rom-coms.
Your Daily Blend of Entertainment News
Thank you for signing up to CinemaBlend. You will receive a verification email shortly.
There was a problem. Please refresh the page and try again.