Top Gun: Maverick's Miles Teller Talks Enduring 'The Dunker' And More As Part Of His Flight Training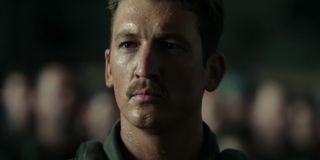 Top Gun: Maverick will once again allow moviegoers to take to the skies with Tom Cruise's Pete "Maverick" Mitchell, but he'll be joined by a few new faces this time around. One of these new characters is Bradley "Rooster" Bradshaw, the son of Maverick's late friend and RIO, Nick "Goose" Bradshaw. Miles Teller is playing the younger Bradshaw and, like the other newcomers to the franchise, he had to go through some rigorous flight training before the cameras started rolling. Teller did get ripped for his new role, but he still faced plenty of challenges while prepping, which included enduring an experience with the "dunker."
To put it simply, Miles Teller went some rough exercises in order to prepare for Top Gun: Maverick. The actor spent seven weeks getting himself in tiptop shape, according to Men's Health. With the help of trainer Jason Walsh, the six-foot tall Teller was able to add 20 pounds of muscle to his 180-pound frame. Teller also sat in the back of a Cessna jet while the pilot allowed the plane to stall.
But it sounds like the most excruciating aspect of it all was the actor's experience with the dunker. The trade describes it as a "naval torture chamber" that sees someone strapped to a chair, blindfolded, dropped into water and spun upside down. And if that weren't enough, the participant must find their way out or risk drowning.
As grueling as it sounds, Miles Teller was actually able to handle it without any sort of problem. Still, when he spoke with Men's Health he acknowledged the difficulty with flying planes and stressed how important it is for a pilot to understand the jet:
You really have to give Miles Teller his just due for powering through with his training. It would be fair to point out that he is getting paid millions of dollars to star in Top Gun: Maverick, which gives him some kind of incentive. Nevertheless, that shouldn't take away from the fact that the stunts and training associated with the role definitely aren't for everyone.
As the film's lead, Tom Cruise set the tone for the rest of the cast, as he underwent plenty of strenuous training of his own. The 58-year-old actor still has plenty of energy, and Teller admitted that he had a hard time keeping up with him on set. Still, Cruise made sure that his co-stars were getting the most out of the experience, even going as far as to pay for one of his colleague's flight training.
The footage we've seen from Top Gun: Maverick so far has been impressive so, at this point, it doesn't look like the efforts of Miles Teller, Tom Cruise and their co-stars will have been in vain. We'll see how things pan out when the highly anticipated sequel soars into theaters on July 2, 2021.
Covering superheroes, sci-fi, comedy, and almost anything else in film and TV. I eat more pizza than the Teenage Mutant Ninja Turtles.
Your Daily Blend of Entertainment News
Thank you for signing up to CinemaBlend. You will receive a verification email shortly.
There was a problem. Please refresh the page and try again.