The Mortal Kombat Cast Chooses The Movie's Best Fatalities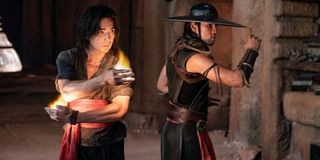 If there was one aspect that defines the Mortal Kombat franchise above all else, it would be the fatalities. The gruesome, over-the-top coup de grâce's are a staple of the series and have been a beloved mechanic since the franchise kicked off in 1992. The ultra-violent deathblows are what set Mortal Kombat apart from early fighting games and have only grown in brutality over the years. Fortunately for fans, the upcoming reboot has placed a heavy emphasis on fatalities this time around, and the cast recently revealed their favorites.
Ahead of Mortal Kombat's release, I had an opportunity to talk to some of the film's stars and find out who's fatality they liked best. When asked about his favorite fatality Ludi Lin, who plays franchise-favorite Liu Kang, tipped his hat to co-star Max Huang:
Of course, I had to ask if Huang, who plays the metal-hat-tossing Kung Lao, if he agreed. After all, that's a pretty big complement considering each character has their own signature execution:
While Huang took the compliment in stride, noting his martial arts inspiration, Josh Lawson, who plays the iconic Kano, had an answer that perfectly suited his brash character:
It's only fitting that the Kano actor's favorite fatality would be his own. That brand of self-righteous confidence perfectly encapsulates the nasty character. That being said, he did go on to give some respect to co-star Mehcad Brooks, who plays Jax:
Brooks shared a similar sentiment, highlighting his character's fatality, and surprise, that such a brutal execution made it onto the big screen:
But just like co-star Ludi Lin, Mehcad Brooks had to give it up for Max Huang's fatality as Kung Lao:
Based on the cast's responses, I think it's safe to say fans are in for some seriously impressive fatalities. While it's easy to root for your own character's signature move, Ludi Lin and Mehcad Brooks were both impressed by Max Huang's fatality as fan-favorite Kung Lao.
Honestly, that's not surprising considering that Max Huang is a world-class martial artist and Mortal Kombat features some pretty badass fight choreography. Between Huang's performance as Kung Lao, Ludi Lin as Liu Kang, Joe Taslim as Sub-Zero and Lewis Tan playing franchise-newcomer Cole Young, the martial arts talent is stacked, to say the least.
That being said, every character gets their time to shine in the movie, but fans won't be able to see the fatalities in question until Simon McQuoid's Mortal Kombat releases in theaters and on HBO Max this Friday, April 23, 2021. However, they can catch a glimpse of some of the beautiful brutality in store with the record-breaking red band trailer.
Into tracksuits by Paulie Walnuts, the Criterion Channel and Robert Eggers.
Your Daily Blend of Entertainment News
Thank you for signing up to CinemaBlend. You will receive a verification email shortly.
There was a problem. Please refresh the page and try again.