Mortal Kombat Streaming: How To Watch The New Movie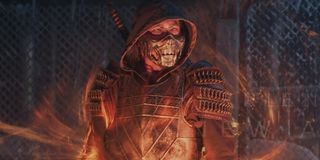 CinemaBlend participates in affiliate programs with various companies. We may earn a commission when you click on or make purchases via links.
Since the launch of the controversial fighting game in the early '90s there have been multiple Mortal Kombat movie and TV adaptations, with the vast majority of those failing to capture the brutality (and fatalities) that drew gamers to arcades and terrified parents nearly 30 years ago. Well, that will all change with Simon McQuoid's highly anticipated version of the classic Midway arcade franchise. But with not much time before the film's April 23 release, you're probably wondering where you can watch Mortal Kombat streaming.
Well, lucky for you and everyone else who's been looking forward to Mortal Kombat ever since Sub-Zero literally froze Jax's arms off in that first bone-shattering trailer because watching the movie is a hell of a lot easier than keying in a fatality command. And surprisingly enough, watching Mortal Kombat won't cost you as much as an afternoon of feeding quarters into one of those old arcade cabinets.
Where Is Mortal Kombat Streaming
In case you have been trapped in Outworld for a few centuries, anyone with an HBO Max account can watch Mortal Kombat streaming the same time it opens in theaters, which happens to be Friday, April 23. One of the many movies to land on the streaming service and theaters simultaneously as part of the Warner Bros. 2021 release model, Mortal Kombat will be available to watch online for 31 days, giving everyone the opportunity to watch all the bloody moments and the fatalities we want to see when the movie pushes its R rating to the limit.
If you're not an HBO Max subscriber, you can sign up here (opens in new tab).
Will Mortal Kombat Be On Netflix?
It seems that whenever a movie comes out people are quick to ask: "Hey, is that going to be on Netflix?" And while a ton of great movies come to Netflix in time, it's not always the case. With Mortal Kombat streaming exclusively on HBO Max upon its release (remember, it's only for a limited time), it doesn't look like we'll be watching Earthrealm and Outworld battle it out on the popular streamer anytime soon, if at all.
It's not all bad news as you can watch Mortal Kombat's Joe Taslim kick a lot of ass in The Night Comes for Us, which happens to be one of the best movies on Netflix.
Is Mortal Kombat For Longtime Fans, Newcomers Or Both?
One of the challenges that directors of video game adaptations often face is entertaining the larger audience but also pleasing the fans of whatever game is being brought to the screen. This is something Mortal Kombat director Simon McQuoid was conscious of while filming the movie, as he told CinemaBlend's Braden Roberts on a 2019 set visit:
To get around this, the director put together a plan that would please both sides of the audience saying that he worked in character introductions that allow longtime fans of the video game series to see their favorite fighters but at the same time explaining each character to those not well-versed in Mortal Kombat's lore in a meaningful way.
Well, now that we know where and how to watch Mortal Kombat streaming as well as what we can expect from some of the characters, all that is left to do is prepare ourselves fo what sounds like one of the most intense and visceral video game adaptations in quite some time. And after watching the movie, why not check out CinemaBlend's updated list of 2021 movie premiere dates for all the latest on the rest of the Warner Bros. films coming to theaters and HBO Max later this year.
Your Daily Blend of Entertainment News
Philip grew up in Louisiana (not New Orleans) before moving to St. Louis after graduating from Louisiana State University-Shreveport. When he's not writing about movies or television, Philip can be found being chased by his three kids, telling his dogs to stop yelling at the mailman, or yelling about professional wrestling to his wife. If the stars properly align, he will talk about For Love Of The Game being the best baseball movie of all time.
Your Daily Blend of Entertainment News
Thank you for signing up to CinemaBlend. You will receive a verification email shortly.
There was a problem. Please refresh the page and try again.