Mortal Kombat Reviews Have Arrived, Here's What Critics Are Saying About The Video Game Movie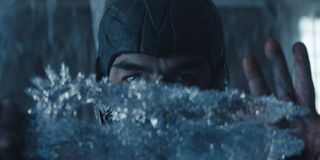 The highly anticipated Mortal Kombat is finally almost here! After going through developmental issues for years, the reboot of the film franchise (based on the video game franchise of the same name), will debut April 23 in theaters and on HBO Max. Simon McQuoid makes his feature film directorial debut with this martial arts movie and the cast features Lewis Tan, Jessica McNamee, Josh Lawson, Tadanobu Asano, and Mehcad Brooks.
Fans can watch the super bloody video game movie on Friday, April 23 (though you can already check out the first seven minutes). In the meantime, critics have started sharing their reviews of the film, so let's dive in.
Let's start with our very own Eric Eisenberg, who rated the movie 2.5 out of 5 stars. While he noted that Mortal Kombat will serve those die-hard fans who want to see iconic characters rip each other apart (you should expect some gore in this film), the movie lacks too many important qualities, like a cohesive narrative. It fails to introduce Cole as a brand new protagonist and center the narrative around him, and doesn't even feature a Mortal Kombat tournament! But hey, it's got plenty of fun, bloody violence. Eisenberg said:
Alonso Duralde of The Wrap also commented on the gore-fest featured in Mortal Kombat, but he actually thought it was so over-the-top that it was funny! He criticized first-time director McQuoid's awkward filming of the action sequences, arguing that the CG makes the combat (with a C) look too forced. Duralde said:
The aforementioned brutality is a common point in critics' reviews, and Christian Holub's review from Entertainment Weekly is no exception. He commended the super bloody fatalities, but criticized the weak narrative and character backstories, and was agitated with the fact that the Mortal Kombat tournament was so hyped up but never actually happened. Holub said:
The gore-fest was not a bore-fest for every critic, though. Jenna Busch of Vital Thrills is a huge fan of the video game and just overall enjoyed the movie adaptation. She had some criticisms of the movie, like how the story doesn't give enough backstory to the characters and that people who aren't familiar with the game won't really understand what's going on. But overall, Busch enjoyed the film, especially the fighting, and said:
Will die hard fans of the video game franchise enjoy the violence as much as critics have, and have similar criticisms? We'll soon know, as the movie debuts in theaters and on HBO Max on April 23.
If you're eager for more video game movies and tv shows, check out our guide for adaptations coming out this year and beyond.
Your Daily Blend of Entertainment News