Tom Clancy's Without Remorse Reviews Have Arrived, Here's What Critics Are Saying About The Michael B. Jordan Movie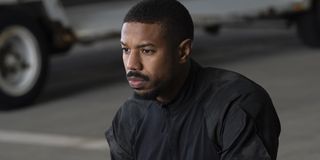 Michael B. Jordan's latest, Tom Clancy's Without Remorse, might be one of the biggest releases on streaming this year. Also known simply as Without Remorse, the action thriller is an adaptation of Tom Clancy's novel of the same name, and establishes the origin story of John Clark, one of the characters in the author's Jack Ryan universe. Directed by Stefano Sollima, the film stars Jordan as Clark, a Navy SEAL who goes on a path to seek justice for the murder of his pregnant wife only to uncover a larger conspiracy. Jordan reunites with his Fantastic Four co-star Jamie Bell in this movie, and it also features Jodie Turner-Smith, Guy Pearce, Luke Mitchell, and Jack Kesy.
Based on Jordan's behind-the-scenes video of one of his stunts, this action thriller is certainly going to be thrilling. It releases on Amazon Prime Video on April 30, and critics have already started sharing their thoughts. Let's check them out.
Let's start with the home team, as always. Eric Eisenberg rated the film 3.5 out of 5 stars and especially enjoyed Jordan's performance (which he trained insanely hard for) and the action scenes, complimenting Sollima's skill for "making the audience hold its breath." Eisenberg noted that the story is exciting enough, but does lack originality and is a little bit too cliche. Overall, he said:
The cliche'd nature of Tom Clancy's Without Remorse is also pointed out in Leah Greenblatt's review from Entertainment Weekly. She thinks the story is too exposition-heavy, but did enjoy certain action sequences, calling one "absurd but entertaining." Greenblatt said of the film:
David Rooney of The Hollywood Reporter especially enjoyed Michael B. Jordan's performance, calling him charismatic and complimenting his ability to bring "charged physicality and emotional intensity to John Clark." Rooney also praised the score and action sequences (definitely sensing a pattern here), but argued that the secondary characters are too underdeveloped. He said:
Alonso Duralde was a bit more critical in his review from The Wrap. He complimented Jordan's skill in incorporating so much depth to his character and the "chillingly vivid" action scenes, but criticized the writing from Taylor Sheridan and Will Staples, saying that the film is too packed with exposition and explosions, with no room for characterization. Duralde said of Tom Clancy's Without Remorse:
It would seem that critics agree that Michael B. Jordan's performance is worth a watch, as we again see praise of the star's physicality and charisma in Aaron Neuwirth's review from We Live Entertainment. Neuwirth also commended the "slick and intense" action, but criticized the writing, noting the ever-present cliches. Neuwirth says:
If there's one thing we can infer from critics' reviews so far, it's that Michael B. Jordan does a hell of a job in his latest action role. We'll have to wait and see if audiences agree when Tom Clancy's Without Remorse drops on Amazon Prime Video on April 30.
While you wait to see the action thriller, plan your next trip to the theater (or your couch) with our 2021 movie release guide.
Your Daily Blend of Entertainment News