Daredevil Star's Latest Post Has Fans Wondering If He'll Return To The MCU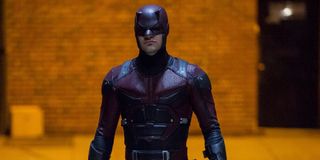 Six years ago, a new era of Marvel television kicked off with the debut of Daredevil on Netflix, starring Charlie Cox as the Man Without Fear. The series was among the more acclaimed offerings from Netflix's roster of live-action Marvel content, and even though Daredevil was cancelled alongside all those other shows years back, many fans have hoped that Cox's Matt Murdock will turn to the Marvel Cinematic Universe someday. Well, one of the Daredevil stars' latest social media buzz has people buzzing about that potential.
Deborah Ann Woll starred as Karen Page for the entirety of Daredevil's run, as well appeared in The Defenders miniseries and The Punisher. So she knows her way around the Marvel Netflix block, and the other day, Woll posted the below Daredevil-related poster on her Instagram page. Only as you'll see, this isn't the different Daredevil adaptation she participated in.
Rather than share an image from Netflix's Daredevil, Deborah Ann Woll opted to share the poster for 2003's Daredevil movie, which starred Ben Affleck as Matt Murdock, Jennifer Garner as Elektra, Colin Farrell as Bullseye and Michael Clarke Duncan as Kingpin. On the one hand, it's possible that Woll recently watched the Daredevil movie and enjoyed it enough to give it a shoutout on social media (if that's the case, I hope she chose the director's cut over the theatrical cut). On the other hand, given her ties to the Daredevil series, understandably various fans are wondering if she's discreetly cluing fans in that Charlie Cox's version of the character still has a future ahead of him.
We'll likely never get a direct answer about the latter scenario, but of all the starring Marvel heroes we watched on Netflix from 2015 to 2019, Daredevil is arguably the one who has the most fan support for returning to the MCU. Although the Marvel Netflix shows technically existed within MCU continuity, those connections were sparse since Marvel Studios, which oversees the MCU movies and Disney+ shows, was not involved in their production. This often made it feel like Daredevil, Jessica Jones, Luke Cage, Iron Fist and Punisher were operating in their own reality, but now that Marvel Studios has access to these characters following a two-year waiting period, there's an opportunity to spotlight them in the MCU proper.
In Daredevil's case, there's already been rumors of him resurfacing in the near future. Back in January, it was reported that Charlie Cox shot scenes for Spider-Man: No Way Home, although even if this information is legitimate, it's unclear if he'd only appear as Matt Murdock or if we'd also see him suit up as Daredevil. And even assuming that there does come a day that Cox's Daredevil returns to the MCU in one form or another, because Marvel Studios is handling the character now, would his history from the Netflix shows be acknowledged or would he work off a clean slate, akin to when Judi Dench played two different versions of M in the James Bond franchise?
To summarize, Daredevil's live-action future is clouded in uncertainty right now, and while Deborah Ann Woll's Instagram post didn't really clear anything up, it at least gave fans another chance to express their hopes that Charlie Cox will reprise the role one day. Granted, it's not like Marvel Studios is lacking for characters to feature in its movies and/or on Disney+, but Daredevil's popular enough that you can be sure he won't be pulled off the shelf again in the coming years. The question is what form we'll see him in: the familiar Cox one or one played by a new actor?
As soon as any official news Daredevil-related MCU news comes in, we here at CinemaBlend will let you know. For now, keep track of what this superhero franchise has coming up our Marvel movies guide and Marvel TV shows guide.
Your Daily Blend of Entertainment News
Connoisseur of Marvel, DC, Star Wars, John Wick, MonsterVerse and Doctor Who lore. He's aware he looks like Harry Potter and Clark Kent.
Your Daily Blend of Entertainment News
Thank you for signing up to CinemaBlend. You will receive a verification email shortly.
There was a problem. Please refresh the page and try again.