Marvel Can Use Its Daredevil Characters Again In A Few Months, So What Now?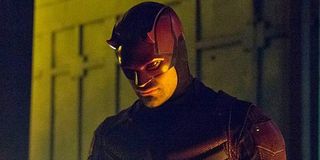 Marvel fans haven't been left wanting when it comes to live-action heroes, yet many are still hoping for the Netflix franchises to return, especially Daredevil. The show's untimely cancellation left both fans and cast members of the show stunned, but there is some good news. Marvel Studios will be getting the rights back to the character in due time.
The Instagram account for the #SaveDaredevil campaign recently shared a post letting fans know that Marvel Studios will be able to use Daredevil for new projects in six months. The message also included a photo of Charlie Cox's Matt Murdock in a fighting stance and a caption that expressed hope for the future of the series. You can check out the post below:
This may seem confusing to some because Marvel Studios does indeed hold the rights to Daredevil as well as the other Defenders characters. However, the initial agreement between Marvel and Netflix stipulated that should any of the superhero series get canceled, Marvel Studios would have to abstain from using the characters for exactly 18 months after the shows received the axe. As a result, Marvel could, theoretically, begin work on new projects by the end of the year.
Following the cancellations of Daredevil, Luke Cage and their fellow Netflix series, Marvel Studios has been relatively quiet about potential plans for the characters. That hasn't stopped rumors from circulating, though, as some have reported that the company is already looking into reviving at least a few of the street-level heroes. One recent rumor even linked Daredevil to Tom Holland's third Spider-Man movie. However, Charlie Cox has stated that if this is true, it won't be his version of the Man Without Fear that audiences see.
It's exciting to think that Marvel Studios will be able to craft new stories around Daredevil in just a few months, but it still begs one question – what will the studio actually do with him?
Marvel Studios could potentially revive the show with the original cast and bring it over to Disney+. This could also lead to the characters showing up in the Marvel Cinematic Universe films as well.
Conversely, Marvel could decide to reboot the franchise entirely with new actors and a tone that fits better with the MCU. As good as the show was, it's hard to deny just how tonally and aesthetically different it was from the MCU films or even Agents of S.H.I.E.L.D. for that matter.
Regardless of what Marvel chooses to do, it may be fair to assume the studio won't be rushing to put something out with Daredevil or the rest of the Defenders. As Marvel seems to be doing with the X-Men and Fantastic Four, it likely wants to wait for more time to pass before reintroducing audiences to the characters.
Keep it here at CinemaBlend for more updates on Marvel's plans and, if you still haven't checked out Daredevil or any of the other shows, they're still streaming on Netflix.
Covering superheroes, sci-fi, comedy, and almost anything else in film and TV. I eat more pizza than the Teenage Mutant Ninja Turtles.
Your Daily Blend of Entertainment News
Thank you for signing up to CinemaBlend. You will receive a verification email shortly.
There was a problem. Please refresh the page and try again.