No Big Deal, Just Arnold Schwarzenegger Being Super Adorable With His Donkey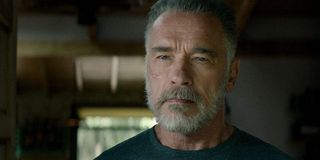 Yes, you read that headline correctly: Arnold Schwarzenegger has a donkey, and they are quite the pair. It would appear that when the Terminator star isn't traveling in time to save John Connor from an impending cyborg attack or dropping timeless one-liners, he's chilling at home with a drink and a donkey. In a new photo, fans can see the star and his pet donkey relaxing and being super adorable together.
The bodybuilder-turned-actor-turned-California governor seems to have everything, including a very spoiled donkey named Lulu. In a recent Instagram post, Arnold Schwarzenegger shows off his donkey and his ever-present biceps. You can check out both subtle flexes in the post below:
Arnold Swarzenegger captioned his cute photo with "Lulu wants me to share absolutely everything with her. Lockdown has spoiled her." How much do you want to bet he actually shared his drink with her moments after this photo was taken? I wouldn't put it past him, because the famously buff man is for sure a softie at heart.
While most of us were busy binging shows on streaming or splurging on online shopping during the pandemic shutdowns, Arnold Schwarzenegger was busy caring for a wide array of animals. Lulu is only one of the animals roaming around his multi-million dollar home, as the actor also has a miniature pony and a dog - and yes, they all seem to be inside animals. We're not quite sure what the house training protocol is for a donkey, but Schwarzenegger is clearly the man to have figured it out.
We're not saying Arnold Schwarzenegger plays favorites or anything but, of all his animals, little (at least compared to her bodybuilder father) Lulu is featured on his Instagram far more than his other pets. Lulu the pet donkey also had her own birthday party last year when she turned a year old, courtesy of the big man himself.
Fans who have followed Arnold Schwarzenegger for some time are used to seeing Lulu and her multi-specied siblings featured on the actor's social media, and the comments seem to glide right by Lulu and onto her famous dad. Fans appear to be much more focused on how ripped the 73-year-old still is. From the photo, we can clearly see the former bodybuilder is still staying in shape, because his bicep is half the size of Lulu's head! One fan even says he's inspired to hit the gym after seeing the picture, because he still can't compare to Schwarzenegger even though he is 30 years younger than the veteran star.
Much to Lulu's assured dismay, Arnold Schwarzenegger may not be around as much as he was during the lockdown, because he has quite a few projects coming up. Fans will be pleased, though, to hear that there is a Twins sequel in the works and another Conan project coming up, additions to two iconic past projects of the star. While all pretty much in the beginning stages, CinemaBlend will continue to keep you up to date with everything that's coming up for Schwarzenegger!
Constantly thinking about books, coffee, and the existential dread I feel from Bo Burnham's Inside. While writing I'm also raising a chaotic toddler, who may or may not have picked up personality traits from watching one too many episodes of Trailer Park Boys.
Your Daily Blend of Entertainment News
Thank you for signing up to CinemaBlend. You will receive a verification email shortly.
There was a problem. Please refresh the page and try again.