See Arnold Schwarzenegger's Son Joseph Baena Getting Into The Acting Game Too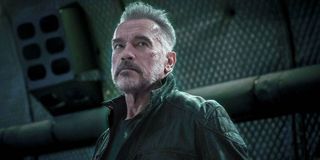 Joseph Baena may be the youngest of Arnold Schwarzenegger's children, but he's possibly proving to be the most like him. Baena started following in his father's footsteps by bodybuilding, sometimes even alongside Schwarzenegger at his gym. Now it appears the 23-year-old bodybuilder is following a lot closer to his father's career path by now becoming an actor. You can see Schwarzenegger's mini-me (although a mini Arnold is still admittedly a pretty large force) getting into the acting game in the upcoming Bully High.
We get a little behind-the-scenes look into the making of Bully High in Joseph Baena's recent Instagram post. We see Baena in a private school uniform that expertly hides his absolutely ripped body, apparently either just in between scenes or in the middle of one. All in all, he honestly looks pretty at home on set, despite it being one of his first film appearances. Take a look at the post below:
Joseph Baena hilariously captions the photo, "finally get to know what it feels like to be a private school kid", which is a reference to his unusual upbringing. At first glance, that's a pretty odd thing for the son of a wealthy icon such as Arnold Schwarzenegger to make, because surely he would have grown up in a private school. Of course, that's only if you didn't already know Baena is actually the son of Schwarzenegger's former housekeeper and his paternity was not known until a little later in life. Baena is actually only a few days younger than his half-brother Christopher Schwarzenegger.
Despite those circumstances, Arnold Schwarzenegger accepted Joseph Baena as his own as soon as he knew he was indeed his son. The striking resemblance Baena has to Schwarzenegger, arguably even more so than the former California governor's other children, is what initially led to the belief that Baena was his son.
Although once pretty scandalous, now that almost two decades have passed, it seems that the family is pretty tight and Joseph Baena can joke about his early life. Fans who may have been turned off by the scandal back then are also finding the humor in Baena's caption. A few fans have caught on to Baena's subtle joke, one commenting "Damn...not a jab at dad" with a laughing emoji. Other commenters seem to just be struck at how closely Baena resembles a young Arnold Schwarzenegger standing on a movie set.
This new development in Joseph Baena's life could be good news for Arnold Schwarzenegger fans, who are already pretty stoked about all the projects the former professional bodybuilder currently has in the works. Baena seems to be following in his father's footsteps in so many ways, and the fact hat he even looks a hell of a lot like the icon is just the icing on the cake. It would seem that with Baena's budding acting career, history could be repeating itself ,and we could have an Arnold Schwarzenegger 2.0 on our hands.
Constantly thinking about books, coffee, and the existential dread I feel from Bo Burnham's Inside. While writing I'm also raising a chaotic toddler, who may or may not have picked up personality traits from watching one too many episodes of Trailer Park Boys.
Your Daily Blend of Entertainment News
Thank you for signing up to CinemaBlend. You will receive a verification email shortly.
There was a problem. Please refresh the page and try again.