Upcoming Tyler Perry Movies And TV Shows: What's Ahead For The Actor/Director/Producer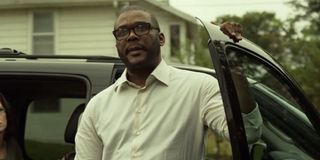 As one of the hardest working entertainers in the business, Tyler Perry is a very active man. Bouncing between his various duties as a studio head, writer, director, producer, author, showrunner, and humanitarian (among other titles), there's never a dull moment in the life and times of this proactive performer. Not even a pandemic can slow his roll.
Whether as an actor, writer, director, or producer, Tyler Perry has plenty of projects lined up in the near future. Admittedly, it's hard to keep track of everything that he's working on. Nevertheless, to the best of our knowledge and reporting, we've rounded up a list of all the upcoming movies and TV shows that are coming up under Perry's famous name. Here's what the actor-writer-producer-director has lined up in the not-too-distant future.
Paw Patrol: The Movie - Actor - August 20th, 2021 (Completed)
For anyone over the age of, let's say, 12, Paw Patrol is probably not a big deal. But if you're in the single digits, there are few shows with more cultural relevance. The Paw Patrol brand has become a Nickelodeon mainstay, inspiring video games, live shows, and many other forms of media since its 2013 debut. Now, the CG-canine cartoon will leap onto the big screen with Paw Patrol: The Movie, which sees the furry friends saving the day in their biggest adventure. Directed by Cal Brunker, this cinematic continuation follows the titular search and rescue puppy crew as they fight to rescue Adventure City from Mayor Humdinger (Ron Pardo), who threatens to destroy the bustling metropolis.
Along with Beckett Hipkiss, Kingsley Marshall, Keegan Hedley, Shayle Simons, Lilly Bartlam, and the aforementioned Ron Pardo reprising their voice roles from the popular animated series, Paw Patrol: The Movie will also feature the celebrity pipes of Iain Armitage, Randall Park, Dax Shepard, Jimmy Kimmel, Kim Kardashian, and Tyler Perry in supporting roles. Specifically, Perry will voice Gus, a truck driver in need of rescue.
Don't Look Up - Actor - TBA (Post-Production)
At this point, who isn't in Adam McKay's Don't Look Up? The Oscar-winning writer-director's newest satire features an all-star ensemble, including (but not limited to) Jennifer Lawrence, Leonardo DiCaprio, Cate Blanchett, Timothee Chalamet, Jonah Hill, Ariana Grande, Mark Rylance, Gina Gershon, Meryl Streep, Ron Perlman, Kid Cudi, Michael Chiklis, Melanie Lynskey, and Matthew Perry. Additionally, Tyler Perry will provide a supporting turn as Jack Bremmer, one of several personalities in this dark comedy. The plot revolves around two low-level astronomers who attempt to warn mankind about an asteroid that's destined to crash land on Earth. In the process, they're thrown into a media circus that becomes an astronomical disaster in its own right.
Filmed over the course of the past year following a few COVID-related delays, Don't Look Up is set to be one of the year's biggest movies when it debuts on Netflix. It's unclear if Tyler Perry plays a sizable part or a glorified cameo, but we'll find out soon.
All The Queen's Men - Producer - TBA (Post-Production)
Centered around the hot-to-trot employees of Club Eden, i.e. the home of the most attractive and sensual exotic dancers in the country, BET+'s All the Queen's Men is expected to be a sexy good time whenever it premieres later this August. Based on Christian Keyes' steamy 2014 erotic novel, Ladies Night, this new Tyler Perry television production will star Eva Marcille, Skyh Alvester Black, Candace Maxwell, Raquel Palmer, Michael 'Bolo' Bolwaire, Keith Swift, Dion Rome, Jeremy Williams, and Keyes himself (who also created and wrote the series). It's also expected to put on a hell of a show.
Previously given an order of eight half-hour episodes, All the Queen's Men got boosted up to ten one-hour installments, which shows the early confidence that BET+ has in this stimulating new series. While it's not yet known when this new series will drop on the newfound streaming platform, we should expect to learn more about this show soon. After all, this is gonna be one hot TV series.
A Jazzman's Blues - Writer/Director/Producer - TBA (Filming)
While Tyler Perry has produced several movies and shows under his signature name, there's been one project left lingering on the sidelines: A Jazzman's Blues, a decades-spanning period piece that follows an investigation into an unsolved murder that "unveils a story full of forbidden love, deceit and a secret that has been held for 40 years," as Deadline reports. Based on a screenplay written in 1995, Perry has tried to get this project off the ground for decades, and he'll finally get his chance via Netflix.
Currently, Perry is filming the long-gestating movie in his massive studio lot, and it's expected to arrive on the streaming service sometime next year — if not later this year. Considering how quickly Perry tends to work, it's not unreasonable to assume that this one will be finished before the calendar year's end — though if it's a project of interest, Perry might take some extra time to make sure it's done right. This movie will be Perry's second Netflix production; the service distributed his last movie, A Fall from Grace. However, unlike that streaming movie, Perry is expected to stay in the director's chair.
Sister Act 3 - Producer - TBA (Pre-Production)
It's been nearly 30 years since Whoopi Goldberg starred in Sister Act 2, but get ready. Because she's, yes, getting back in the habit. The Oscar-winning actress will produce and star in Sister Act 3, the long-awaited follow-up to Disney's Catholic comedy. Joined by fellow producer Tyler Perry, the plot for this decades-later follow-up remains under wraps (or under habits) for now, but we know that Regina Y. Hicks (The Upshaws) and Krin Gist (Girlfriends) will write the screenplay and it'll premiere exclusively on Disney+.
Disney+'s announcement about the movie back in December 2020 mentions that Goldberg is set to star, however we don't yet know the plot of the movie or what role Delores will play in all of it. In an interview in October 2020 on The Late Late Show, Goldberg confirmed that they're "working diligently" to try to get the gang back together, which sounds divine. Hopefully, this sequel is heaven-sent.
Mabel - Creator/Producer - TBA (Announced)
Tyler Perry's days as Madea are over. But the career-defining comedy character will live on, albeit in an unexpected fashion. More specifically, Perry is the co-creator of Mabel, Showtime's upcoming dramatic prequel series that will explore the humble origins of the outspoken, larger-than-life persona when she was a "smart, fierce, irresistible, dangerous, crazy 20-something" woman in the early 1970s in Atlanta, per Deadline.
Though Tyler Perry is often quick to reference Madea's irreverent upbringing and hard-living early years, this show will directly dramatize the trials and tribulations that the character endured before she became the Madea known and loved by audiences today. The upcoming TV series is written by JaNeika and JaSheika James, who will produce alongside Perry. It's unknown who will play the younger version of the title character.
On the one hand, it's incredibly strange to make a drama based on a beloved comedy character. On the other hand, maybe it's just strange enough to work. Weirder projects have found success in the past. Tyler Perry has hinted at making a Madea prequel in the past, and Mabel will allow the writer to continue exploring the audience-favorite, franchise-building character without needing to adopt the wig and dress. We've seen Madea on the stage and on the big screen. Now, Madea will make her television debut.
Whitney - Executive Producer - TBA (Announced)
If you see the title Whitney and assume that Tyler Perry is making a Whitney Houston biopic, you better think again. As Deadline reports, Perry will be an executive producer on the upcoming psychological thriller about "the profound power of memory and monuments in the Deep South." Admittedly, that's a bit of a vague description, but the project is still in the early stages of development. Whitney is, in fact, a working title.
In an official statement, Tyler Perry praised the upcoming movie by claiming that he "loved this story right from the pitch." He said it's "culturally relevant, smart and very provocative — all qualities we look for in the projects we want to partner on." The project will be one of the first movies formed under Peachtree & Vine, a newly-formed production company from Perry and former Lionsgate marketing executive Tim Palen. It's based on an original treatment from fellow producer Sanjay Sharma. Details remain limited otherwise; it's currently unclear where the proposed movie is in Perry's schedule.
Various Showrunner Efforts
In addition to his many, many, many, many, many other credits as an takes breathe actor/screenwriter/producer/director/insert other job listing here, Tyler Perry is the showrunner and head writer for a number of shows under his familiar name, including Sistas, The Oval, Assisted Living, House of Payne, The Have and Have Nots, Bruh, Ruthless, and Young Dylan. Not only is he the main writer behind all these original shows, but Perry has said that he's the sole writer for most — if not all — of them, which is such an enormous undertaking (in addition to all his other jobs) that it's hard to wrap your head around it. How do you write that much in a single day? How do you keep all the different characters and plot threads in check? How do you not lose track of the various side stories? It takes an ambitious man to write that many scripts, to say the least. There's a good reason why Perry has worked his way toward his towering fame. And that's without mentioning the fact that he also directs and produces these shows!
And that's just a brief glimpse into the busy life of Tyler Perry! There are probably 200-plus other projects coming together under his banner as I type out these very words. As always, we'll keep you posted on all the latest developments right here at CinemaBlend.
This poll is no longer available.
Will is an entertainment writer based in Pittsburgh, PA. His writing can also be found in The Playlist, Cut Print Film, We Got This Covered, The Young Folks, Slate and other outlets. He also co-hosts the weekly film/TV podcast Cinemaholics with Jon Negroni and he likes to think he's a professional Garfield enthusiast.
Your Daily Blend of Entertainment News
Thank you for signing up to CinemaBlend. You will receive a verification email shortly.
There was a problem. Please refresh the page and try again.