Ruthless Stars Discuss The 'Beauty' And 'Freedom' Of Working At Tyler Perry Studios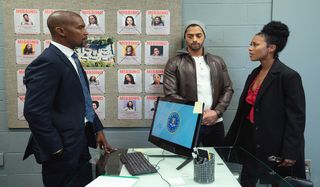 Best known for creating and portraying his iconic character, Madea, Tyler Perry has made a monumental impact on the film industry. He's incredibly hard-working, makes the time to give back, and also sounds like one of the most down to earth human beings. People really like working with him. In an interview with CinemaBlend, Tyler Perry's Ruthless cast members shared what they find beautiful and freeing about working at Tyler Perry Studios.
The year 2020 has brought many things to light, and one of those has been Hollywood's push for more diversity and representation. Tyler Perry has spoken about a lull where nothing was being made for people of color. Along the way of working to fill that void, he's gained the respect of many, including the cast of his BET+ show Ruthless. Melissa L. Williams, who plays Ruth, told CinemaBlend:
For those of us living as minorities in America, there is somewhat of a magical quality of walking into a room where we're not the minority because it's rare. Tyler Perry has built that environment in Tyler Perry Studios, where cast and crew members of color get to experience that magic every day. Yvonne Senat Jones, who plays Tally on Ruthless, elaborated on the wonderful way Tyler Perry treats all of his actors. In her own words,
To be treated like an A-list actor from the audition process sounds like a dream come true. Tyler Perry has cultivated something special inside his Atlanta compound. Here's what Lenny Thomas, who plays Ruthless villain Dikhan, told CinemaBlend:
That's what it's all about at the end of the day - pursuing your dreams and finding someone who believes in you that can help propel you toward your goals along the way. Life is just easier when going to work makes you happy. As put by Colin McCalla, who portrays River on Ruthless:
A beautiful thing, indeed. You can watch Season 1 of Ruthless on BET+ right now. Keep it here at CinemaBlend to keep tabs on all things Tyler Perry, and since the holiday season is upon us, check out these Black-led Christmas movies.
Your Daily Blend of Entertainment News
Obsessed with Hamilton and most things Disney. Gets too attached to TV show characters. Loves a good thriller, but will only tolerate so much blood.