Why Tyler Perry's The Oval Cast Loves 'Marathon' Shooting Style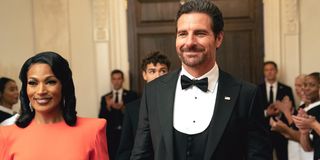 Entertainment mogul Tyler Perry has created something very special with Tyler Perry Studios. I'm not just talking about the 300-acre studio compound he built in Atlanta, but the workplace culture and community. Stars of Tyler Perry's The Oval have shared why they love working with him, particularly in reference to his unique shooting style.
Tyler Perry Studios produces a very large volume of content, so filming schedules are condensed from what actors may be used to in order to achieve this. BET hit The Oval, has 25 episodes in its first season, each an hour long. The leading couple of Tyler Perry's The Oval talked to CinemaBlend about the schedule, comparing it to running a marathon. Here's what Ed Quinn (who plays President Hunter Franklin) shared:
He's got a point here. Working midday to midnight sounds like the dream, maybe not to all the early morning people out there, but I can see how a lot of people would be energized during that time and ready to let their creative juices flow. And like Ed Quinn said, if you've done the work ahead of time, it's painless. When asked about the most challenging part of filming, he said this:
Well if that's not a glowing review for your boss, I don't know what is! People absolutely light up when talking about working at Tyler Perry Studios and it warms my heart every time. It sounds like Ed Quinn is more than happy to be playing President Hunter Franklin for another year (and hopefully more).
Kron Moore, who plays First Lady Victoria Franklin on Tyler Perry's The Oval also elaborated on the positive work environment at Tyler Perry Studios. It seems that Tyler Perry has created a safe place to learn and grow, which has also made cast mates feel like family. Here's what Moore said:
Regardless of your industry, it's always important to consider the workplace culture when looking for jobs. Tyler Perry Studios is hardworking and at times strenuous, but also nurturing and uplifting. Season 2 of The Oval airs Tuesday nights on BET.
Your Daily Blend of Entertainment News
Obsessed with Hamilton and most things Disney. Gets too attached to TV show characters. Loves a good thriller, but will only tolerate so much blood.