Full Tomorrow War Trailer: Watch Chris Pratt Travel Through Time And Kick Ass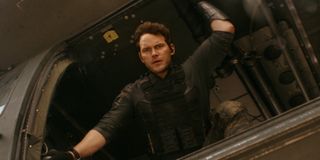 It goes without saying Chris Pratt is a pretty busy guy, as the highly sought-after actor has been headlining some of Hollywood's biggest franchises. While he's well known to the public for his roles in the Guardians of the Galaxy and Jurassic World franchises, the actor is about to step into a brand new film in the form of Amazon's The Tomorrow War. The public got a teaser for the gritty, sci-fi film last month, but now the full trailer has arrived. And as you would expect, it's filled to the brim with new footage that shows Pratt traveling through time and kicking ass!
The Tomorrow War centers on Chris Pratt's Dan Forester, an ex-military man living a relatively normal life with his wife and young daughter. That is until their realities (and those of everyone else around the world) are turned upside down when soldiers from the future arrive in the present. Fighting an intense war with a seemingly extraterrestrial force, they arrive to recruit soldiers from the past to fight in the future. Of course, Dan is recruited, and is quickly thrust into the intense battle for mankind's survival.
Directed by The Lego Batman Movie's Chris McKay, The Tomorrow War looks like an intense addition to the sci-fi action genre. When watching the trailer, one can't help but get hints of Doug Liman's Edge of Tomorrow. While time travel has been done plenty of times, the concept of warriors being recruited to fight a war that won't happen for years is intriguing.
In this new film, Chris Pratt will also be joined by other talented stars, including The Handmaid's Tale's Yvonne Strahovski as Vicki Winslow and GLOW alum Betty Gilpin as Emmy. And of course, there's also the imposing J.K. Simmons, who's character, Slade, seems to be a mentor of sorts to Pratt's Forester.
One aspect of the film that's understandably being hidden is the alien-like army humans are fighting in the future. While we don't get our best look at a creature until the end of the trailer, it looks like movie fans may be able to add yet another ferocious sci-fi creature to their list of favorites. Nevertheless, we'll need to see more of these beasts in action before we're comparing them to the Alien franchise's Xenomorphs.
Chris Pratt seems to be particularly excited about The Tomorrow War, as the actor has been taking opportunities to hype the film when possible. Like other films over the past year, the movie was originally meant to release in theaters but, due to the COVID-19 pandemic, the distribution rights went from Paramount Pictures to Amazon. This has extinguished Pratt's hype, though, as he's even claimed that Amazon got its money's worth with the movie.
It'll be interesting to see what Chris McKay and Chris Pratt ultimately deliver with this latest film. But it can definitely be said that the film has a skilled director at the helm and a capable star in the lead role.
The Tomorrow War hits Amazon Prime on July 2.
Covering superheroes, sci-fi, comedy, and almost anything else in film and TV. I eat more pizza than the Teenage Mutant Ninja Turtles.
Your Daily Blend of Entertainment News
Thank you for signing up to CinemaBlend. You will receive a verification email shortly.
There was a problem. Please refresh the page and try again.