Lin-Manuel Miranda 'Les Mis' Comment Perfectly Explains Why Hamilton's Anthony Ramos Was Right For The Role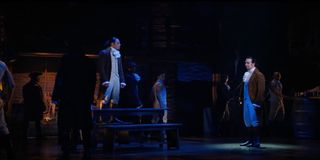 Actors are chameleons. They can alter their mannerisms and physicality to match characters that are wildly different from themselves. But sometimes the opposite is true - a character will feel so familiar that an actor can seamlessly slip into their skin. That's exactly how Lin-Manuel Miranda feels about Anthony Ramos, the Broadway sensation who played the dual role of John Laurens/Philip Hamilton in Hamilton.
Lin-Manuel Miranda (composer of both In The Heights and Hamilton) sang Anthony Ramos' praises in an interview with Time. He recalled the fervor with which Anthony Ramos performed the material at his Hamilton audition, even bringing in a Les Mis reference in the process:
If the way the crowd roared when I saw Hamilton back in 2016 was any indication, Lin-Manuel Miranda was right. Anthony Ramos imbued John Laurens with a passion that mirrored Enjolras, the revolutionary leader in Les Miserables. It wasn't just the desire for change, but the unshakable conviction that what he was doing was right.
When John Laurens urged the audience to "shout it from the rooftops," the crowd had no choice but to oblige him. And when John Laurens sang "raise a glass to freedom, something they can never take away," it was easy to imagine him in a dusty French bar with a tricolor cockade pinned to his lapel, convincing the other members of the Les Amis de l'ABC to fight and die for the cause.
That sort of fiery enthusiasm comes naturally to Anthony Ramos, whether he's onstage or off. He also described his daily routine when he was on Broadway and it sounds It sounds exhausting, but you would never know based on his Hamilton performance or his ever-expanding resume.
Speaking of upcoming roles, that indefatigable energy will serve Anthony Ramos well when he steps into the role of Usnavi in the upcoming adaptation of Lin Manuel Miranda's first Broadway musical, In The Heights. Usnavi is a Washington Heights bodega owner, and his relationships with the people in his community make him the centerpiece of the story's plot. The role was originally played on Broadway by Lin-Manuel Miranda himself, so it seems fitting that Anthony Ramos should take the reins. Anthony Ramos will also star in the next Transformers movie.
Whether Anthony Ramos is stoking the fires of revolution or selling hot cafe con leche, one thing is for certain: he's not throwing away his shot.
Actor, singer, and occasional dancer. Likes: fashion, books, old buildings. Dislikes: cilantro, the NJ Turnpike, sneaker wedges.
Your Daily Blend of Entertainment News
Thank you for signing up to CinemaBlend. You will receive a verification email shortly.
There was a problem. Please refresh the page and try again.