Why Holiday Education Is Important, According To Disney+ Launchpad Film Director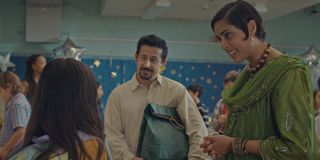 Part of the Launchpad collection on Disney+, American Eid shines a light on a very important issue. The film follows young Ameena, a Muslim Pakistani immigrant, who wakes up on Eid to find out that in America, she has to go to school on the holiday. Director Aqsa Altaf spoke out about the importance of holiday education and how it impacts today's youth.
In American Eid, Ameena is homesick and heartbroken about not getting any days off to celebrate, but instead of letting that get her down, she goes on a mission to make Eid a public-school holiday. I spoke with writer and director Aqsa Altaf about the film and she made very interesting points about how time off is planned in schools and the workplace. Here's what she told CinemaBlend:
What Aqsa Altaf describes above is exactly what she beautifully depicts in American Eid. The main character, Ameena, starts a petition to get days off from school to celebrate Eid. This causes other students and teachers who are not familiar with Eid to become curious, and Ameena gets the chance to share with her classmates what the holiday is all about and how her family celebrates.
American Eid is a touching story that brought me to tears, both from seeing Ameena is embraced by her classmates but also ruminating on the fact that she had to go through such an ordeal that classmates who celebrate different holidays never had to think about. Director Aqsa Altaf expanded on this with the following:
Celebrate Eid with Ameena and her family in American Eid, now streaming on Disney+ (opens in new tab)! While you're on the platform, check out the other five Launchpad films created for Season 1 of Disney's Launchpad program. For more holiday movie fun, check out these holiday-themed films that aren't Christmas movies.
Your Daily Blend of Entertainment News
Obsessed with Hamilton and most things Disney. Gets too attached to TV show characters. Loves a good thriller, but will only tolerate so much blood.
Your Daily Blend of Entertainment News
Thank you for signing up to CinemaBlend. You will receive a verification email shortly.
There was a problem. Please refresh the page and try again.