Hawkeye: 9 Major Questions We Still Have About The Disney+ Series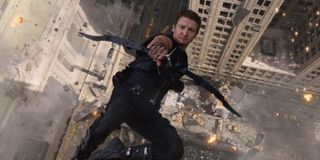 Following last summer's Spider-Man: Far From Home, the Marvel Cinematic Universe (MCU) is on the threshold of Phase 4. In addition to movies like Black Widow, The Eternals, Thor: Love and Thunder, and Doctor Strange and the Multiverse of Madness, to name a few, this phase will also introduce a variety of MCU-related Disney+ series, including Loki, WandaVision, The Falcon and The Winter Soldier, and Hawkeye. While we should expect to see most of these shows in the near future, what can we expect from Hawkeye? Here are some questions we have about this new streaming series.
Why Is Hawkeye A Disney+ Show Instead Of A Movie?
Originally, at one point down the road, Hawkeye was set to be a movie. Ideally, the concept of a Hawkeye movie might seem strange, but if you got a smaller, more intimate narrative and a sharp director on-board, I think it might work. Alas, these plans were scrapped whenever producer Kevin Feige decided to make Hawkeye a Disney+ series instead, which Renner was on-board with (even despite his busy schedule at the time). Since we don't know a lot about Hawkeye other than the premise, which reportedly involves the title character training Kate Bishop to take over the Hawkeye reigns, what makes this premise sound more show-worthy than movie-worthy?
The story sounds isolated from other MCU-related events, which suggests that it'll be a tighter, more compact story. Therefore, what makes Hawkeye worth multiple half-hour/hour-long episodes instead of a two-hour runtime?
Is Hailee Steinfeld Playing Kate Bishop In Disney+'s Hawkeye?
Just a few months after Disney and Marvel announced their plans to make Hawkeye, news reports claimed Hailee Steinfeld was in talks to join the new series as Kate Bishop, the sharp-shooting markswoman who becomes Clint Barton's successor and eventually adopts the role of Hawkeye in future iterations of The Avengers. Certainly, that was an intriguing role — one that presumably paves the way for Steinfeld's expansive presence in future Marvel movies and shows. But when progress stalled on Hawkeye, it became unclear if Steinfeld was still involved. During the promotional rounds for AppleTV+'s Dickinson, when Steinfeld was asked about this Disney+ streaming series, the actress admitted that it was "not something that was necessarily happening," adding that "we're going to wait and find out" what happens. This casts serious doubts about either the show's future or her role in it.
Granted, it's possible Hailee Steinfeld is referring solely to her involvement in Hawkeye. Given the vague response, it's unclear if the Oscar-nominated actress is implying that she might not be involved due to its heavy commitment, or possibly because this role conflicts with some of her other projects, including Dickinson, or if this Disney+ show has faced serious setbacks and she's unsure if it's still happening at this point. Either way, Steinfeld might not be playing Kate Bishop after all. Does this mean the role might be open or is it just not happening at all? Ultimately, your guess is at good as ours. Though it's possible Hawkeye's reported delays could be in place to accommodate Steinfeld's ever-busy schedule, while also figuring out some other details.
Is Linda Cardellini Expected To Star in Hawkeye?
Shortly before Avengers: Age of Ultron was released, it was revealed that Linda Cardellini was cast in a mysterious role. Upon the movie's release, it was revealed that Cardellini plays Laura Barton, the wife of Clint Barton and the mother of their children. It wasn't a substantial role, designating the talented, undervalued actress to yet another wife role, but it allowed Cardellini to play a part in this ever-growing MCU. While she was one of the characters who disappeared during The Snap in Avengers: Endgame, she returned once more by the end, which helped Hawkeye find peace after years of agony. (Here's hoping she likes his haircut and tattoos!) Therefore, should we expect to see Cardellini in Hawkeye? It's not confirmed if she'll star, and we know she's currently starring in Netflix's Dead to Me, which just aired its second season, but it'd only be fair if she did, right? Let's give Linda Cardellini her due in the MCU!
Will Black Widow Appear In Hawkeye?
In Avengers: Endgame, Hawkeye and Black Widow travel to Vormir to retrieve the Soul Stone. In doing so, a sacrifice must be made. Both of them are willing to make the leap, but it's Black Widow who ultimately dies so that Hawkeye can get the stone. While The Avengers were able to defeat Thanos for good, it came at a couple grave costs — notably the loss of Iron Man and Black Widow. While all the characters were shown grieving the loss of Tony Stark, Black Widow's demise wasn't given the same treatment, beyond a touching scene between Clint and Wanda by the river. Particularly with Hawkeye being there when Black Widow sacrificed her life, will Marvel use Hawkeye to allow Scarlett Johannson to return — either in flashbacks or in spirit? It would make some sense, as Hawkeye is likely still grieving from her death.
Besides Black Widow coming out later this year, Scarlett Johannson's future in the MCU is left uncertain with the death of her character. Given that she has her own movie coming out soon, even if it's a prequel, there's a chance that she might still come back for flashbacks and other appearances in future MCU shows or films. If there was one show in particular where we could expect a brief return from Johannson as Black Widow, it's Hawkeye.
Will Any Other Established Marvel Heroes Or Villains Appear In Hawkeye?
As a character, Hawkeye doesn't typically associate with too many people outside of The Avengers. With the exception of his uncredited cameo in Thor and his supporting role in Captain America: Civil War (which was basically Avengers 2.5 anyway), Renner's arrow-slinging character doesn't appear in other non-Avengers movies. He's also not especially good buddies with his fellow world-savers (besides Black Widow). Friendly, sure, but not chummy. As Avengers: Age of Ultron established, Clint Barton is primarily a family man outside of work. He does his part to save the world, but then Hawkeye goes home to his wife and kids. It's a simple life, as far as being an Avenger goes. So, does that cancel out the chance of seeing other Marvel characters in Hawkeye?
Given his association with The Avengers, we might get brief cameos from a few of this trusted co-workers. Or perhaps we'll see appearances from The Falcon or some other friendly MCU faces. But at this time, it hasn't been confirmed if Hawkeye is expected to be connected to the events of any other MCU movies or shows directly. Or if, similar to Moon Knight or She-Hulk (presumably), it'll be more of a standalone series, focusing mainly on our title character and his future apprentice.
With no confirmation either way, we could possibly expect a few surprise cameos, but it's hard to say for certain. The guy doesn't seem like the type of person who makes lots of friends. Therefore, it wouldn't be shocking if we didn't see too many other MCU characters in this upcoming series. But will we maybe get to see a few villains? Possibly. Or possibly not.
Will Hawkeye Be Connected To Other Disney+ MCU Shows?
Additionally, it's unclear if the events of Hawkeye will be interconnected with any of the other upcoming MCU Disney+ shows. While Disney has made it clear that these shows are firmly interloped with Marvel's Phase 4, that doesn't mean Hawkeye's story will be critical to the future of the franchise. Sure, it might tie up his journey and eventually allow him to pass the torch over to Kate Bishop, who would then be able to assume the role of Hawkeye in future Avengers movies/shows, but will these events connect with, say, WandaVision or The Falcon and The Winter Soldier? The jury is still out there. It's possible that it might just be a standalone series, or it might be more important than we realize. Ultimately, with so few details known about this upcoming streaming series, either option is possible at this point.
When Will Hawkeye Start Filming?
Similar to Moon Knight, She-Hulk, and Ms. Marvel, Hawkeye is expected to be released sometime in 2022. Therefore, there's a little bit of wiggle room when it comes to its production start date — even amid the novel coronavirus pandemic. The streaming series is presumably still in the writing phase, which means there are some steps left to go before cameras roll. But when should we expected Hawkeye to start shooting? It'll be a minute or two before it happens. It is unclear when any Hollywood production will start up and/or continue, so this question is perhaps more general than most. But if we can expect things to get close to semi-normal in the next few months, it wouldn't be out-of-the-question to see shooting begin in late fall to meet its currently-unspecified 2022 release. But will that happen? Or will production still be delayed?
When Will Hawkeye Premiere On Disney+?
This leads us to our next question. With progress on Hawkeye potentially stalled, should Marvel fans still expect to see the show premiere on Disney+ in 2022? Or will it take a little longer, if it's not delayed indefinitely? The latter is something that's been speculated on in recent months. While there was a chance that Hawkeye would premiere in 2021 with Loki, What If, and Ms. Marvel, those plans have changed. In April, a press release from Disney+ France (via Comic Book Resources) revealed that Loki and What If will debut in 2021, while Ms. Marvel and Hawkeye are currently scheduled for 2022 alongside Moon Knight and She-Hulk. Given that the production dates for Marvel productions have shifted a whole year, the schedule will also reflect that. Because this cinematic universe is dependent on the various events of each individual installment, everything's in a state of flux.
Will Hawkeye Be The Last Time We See Clint Barton?
Throughout his time in the Marvel Cinematic Universe, Hawkeye has never taken the center stage. He made his first MCU appearance with a brief cameo in 2011's Thor, but it wasn't until 2012's The Avengers that audiences were formally introduced to the arrow-slinging character. But he still only had a supporting role. Even though Jeremy Renner got more screen-time in Avengers: Age of Ultron, Captain America: Civil War, and Avengers: Endgame, respectively, this Disney+ series is the first time Hawkeye plays a lead in an MCU production — despite his prominence in Avengers movies. Does that mean Hawkeye's journey ends here? With the announcement of this streaming series, one is left to wonder if Hawkeye will set up Clint Barton's exit, with Renner expected to step away from his arrows and bid farewell to his reoccurring bow-slinging master marksman.
If Clint Burton is finally getting his own starring vehicle, notably after a more prominent role in Avengers: Endgame, it'd make sense if Marvel used this opportunity to let Jeremy Renner's character say his goodbye before exiting the MCU. While he never had the same prominence of his fellow Avengers, including Iron Man, Captain America, or Black Widow, Hawkeye was a core member of the super-heroic team. Giving Hawkeye his own show to wrap up his story and allow him to train his apprentice makes sense, notably with Iron Man and Captain America concluding their stories in Avengers: Endgame and Black Widow expected to exit the superhero franchise after this year's prequel. Thor 4 will probably provide closure for its titular character too. With the exception of The Hulk/Bruce Banner, every Avenger has their tidy goods in store— including Hawkeye, possibly, with this Disney+ series.
There are more topics worth exploring with Hawkeye's upcoming show (Will his mohawk(eye) return?), but what are some questions you have about this Disney+ series? Let us know in the comments!
Your Daily Blend of Entertainment News
Will is an entertainment writer based in Pittsburgh, PA. His writing can also be found in The Playlist, Cut Print Film, We Got This Covered, The Young Folks, Slate and other outlets. He also co-hosts the weekly film/TV podcast Cinemaholics with Jon Negroni and he likes to think he's a professional Garfield enthusiast.