Sarah Michelle Gellar Honors Buffy Summers On Her 40th Birthday With A Powerful Message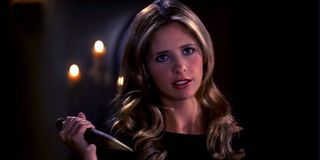 In news we didn't know we needed, Sarah Michelle Gellar wished Buffy Summers a happy 40th birthday yesterday. Gellar is probably most well known for playing the titular teen dream in the iconic '90s series Buffy The Vampire Slayer. Apparently, yesterday she realized that it was Buffy's special day and decided to write a tribute to the badass vampire killa. Gellar's tribute also included a powerful message to everyone to help get fans through these trying times.
What does Sunnydale, the fictional town in Buffy the Vampire Slayer, have in common with the pandemic-oriented world we are living in? Seemingly nothing, but Sarah Michelle Gellar compared the two in her Instagram Buffy tribute by sharing what Buffy taught her in an inspiring message. Gellar implored people to live their lives in the best and safest ways that they can, and in a world that already makes living hard. This is how she put it:
While we don't need to start sleeping with a stake under our pillow, at least hopefully, Sarah Michelle Gellar may be on to something. No matter what an imposing threat may be at any given time, it's a hard world for most people to live in, so we may as well find the beauty of life in whatever we can. Look at the bright side: we don't need to worry about being caught at night without a trusty crossbow.
Speaking of crossbows, is there anyone who looked better while wielding one than Buffy Summers? In Sarah Michelle Gellar's nostalgic post, she included the throwback photo of the Vampire Slayer herself and the '90s never looked so threateningly good.
It's incredibly heartwarming that Sarah Michelle Gellar both knew and remembered Buffy's birthday, since it was around 20 years ago that she played the role. The actress isn't the only one reminiscing, though, as fans are using her tribute to give their own positive thoughts on the matter.
The comments on Gellar's tribute are some fun ones, ranging from hopeful wishes for the new year to nostalgic thoughts of when Buffy was on every morning, and there are even WWBD (What Would Buffy Do?) comments. My personal favorite purports that Buffy would be spending her big 40 sitting back in quarantine with Angel, who shanshued (became human) and is now homeschooling their children. Sounds like the fandom has been thinking about that couple's fate for a while. Now let's see if David Boreanaz chime's in on Angel's birthday.
To keep updated on all things movie, TV, and pop culture either upcoming or of the nostalgic nature, be sure to keep checking back with Cinemablend. Check out our lists of other '90s gems available for streaming at home.
Constantly thinking about books, coffee, and the existential dread I feel from Bo Burnham's Inside. While writing I'm also raising a chaotic toddler, who may or may not have picked up personality traits from watching one too many episodes of Trailer Park Boys.
Your Daily Blend of Entertainment News
Thank you for signing up to CinemaBlend. You will receive a verification email shortly.
There was a problem. Please refresh the page and try again.