Ryan Reynolds Celebrates Father's Day With Some Aviation Gin In Hilariously Snarky Demo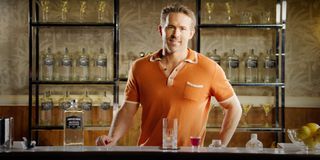 Father's Day is just around the corner. Normally you might be scrambling for a last-minute gift or trying to organize a get-together for a dad who really just wants to sit in his La-Z-Boy and drink beer. But this year, there's no need to worry - Ryan Reynolds has the perfect way to celebrate your favorite dad.
The star of the Deadpool series and the upcoming Red Notice released an instructional mixology video featuring his own Aviation Gin with the caption "The most refreshing cocktail in the world for the most refreshing job in the world... Dad." Take a look (and be ready to chuckle sensibly) below:
Oh, the snark, signature Ryan Reynolds quips and the way he messes up almost every step of the cocktail-making process with aplomb. It makes me wish the third Deadpool movie was already on my TV, waiting to be streamed.
The Vasectomy, as the drink is called, is a fantastic way to celebrate your father, according to Ryan Reynolds. The actor takes us through the steps to craft the perfect cocktail for Dad...partially because it's Father's Day and partially because Dad is probably going to need it. With cranberry juice, tonic and a healthy serving of Aviation Gin, the Vasectomy is sure to make your Dad forget Father's Day ever happened.
Ryan Reynolds, who has three young children with fellow actor and wife Blake Lively, sounds like he's in need of a Vasectomy himself. Every time he makes a comment like "the way children fill our lives with joy" or "sweet, just like their little smiles," you can tell he's trying very hard to not drink straight from the bottle.
This is all in good fun, of course - Ryan Reynolds is known for his snarky sense of humor. After all, it's what made him so perfect to play Deadpool. I'd ask you to imagine someone else's voice coming out of that red jumpsuit, but that would be a waste of your time since it's practically impossible, at least when it comes to live-action film.
Luckily, there's plenty of Ryan Reynolds coming our way. His action flick Red Notice, which also stars Dwayne Johnson and Gal Gadot, just finished production. The movie is slated for a late 2021 release on Netflix.
Additionally, Ryan Reynolds will also star in Free Guy, a satirical sci-fi film about an NPC video game character set to be released in theaters on August 13. The movie's release date was pushed back multiple times due to COVID-19, but it looks like this current date is set in stone. His co-stars include BAFTA Award winner Jodie Comer of Killing Eve, Joe Keery of Stranger Things, and Taikia Watiti of Thor: Ragnarok.
You can keep up with all things Ryan Reynolds (including his ongoing faux-feud with Hugh Jackman) here on CinemaBlend.
Actor, singer, and occasional dancer. Likes: fashion, books, old buildings. Dislikes: cilantro, the NJ Turnpike, sneaker wedges.
Your Daily Blend of Entertainment News
Thank you for signing up to CinemaBlend. You will receive a verification email shortly.
There was a problem. Please refresh the page and try again.