Red Notice: Dwayne Johnson Celebrates Wrapping Filming With Photo Featuring Ryan Reynolds And Gal Gadot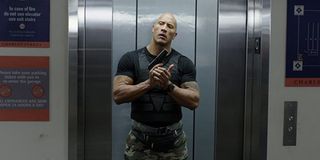 Up to this point, Netflix's Red Notice has had a long and arduous filming journey. Like most movies right now, it has struggled through delays and obstacles unprecedented in Hollywood. But it looks like the cast and crew have finally cleared the filming finish line, as Dwayne Johnson celebrated wrapping filming on Red Notice with a photo of him, Ryan Reynolds and Gal Gadot.
This year, Dwayne Johnson has been hard at work on the set of Red Notice. Throughout the production, he has been keeping his fans up-to-date on social media with inspirational stories and behind-the-scenes photos. Now he's posted a photo on social media of him standing next to his co-stars, Ryan Reynolds and Gal Gadot, to celebrate the film finishing filming. Take a look:
This is great news. Red Notice, an international heist and action thriller directed by Skyscraper's Rawson Marshall Thurber, has long been considered a big deal for Netflix, and it marks Dwayne Johnson and Gal Gadot making their streaming debut. It's growing into a much-anticipated movie that has the potential to make serious waves.
Red Notice's road to completion wasn't without trial and tribulation. It started filming back in January in Atlanta. Unfortunately, like most movies at the time, it had to shut down production in March due to the pandemic. Apparently Dwayne Johnson and Ryan Reynolds' joking around on set didn't help much on the delays either.
The production remained on hold for months until the cast and crew returned to work in late September. Of course, production was anything but normal. Dwayne Johnson shared they put "aggressive health and safety measures" in place to keep everyone safe. Those measures included taking COVID tests, wearing masks and face shields, and being isolated away from their families for months.
On a more humorous note, Dwayne Johnson and the crew on Red Notice faced another challenge while filming, namely figuring out a way to get him to fit in a car. Dwayne Johnson recently talked about this on social media, admitting that he struggled to get inside a Porsche due to his ripped physique. Apparently they had to get creative in getting the shots they needed for a high-speed chase scene.
Despite all that, it sounds like the cast and crew of Red Notice rose to the challenge and worked hard to finish the film. With that behind them, Red Notice will move into postproduction, with Rawson Marshall Thurber and his team putting all the footage together. It's unknown at this time when Red Notice will eventually land on Netflix, but it's assumed that it will likely be coming sometime in 2021. Should that end up being the case, boy, will it ever have company.
Your Daily Blend of Entertainment News