Dune's Jason Momoa Reveals The Sweet Way He Saw The Denis Villeneuve Movie For The First Time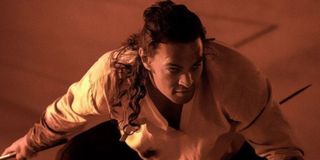 Denis Villeneuve's Dune is the highly anticipated sci-fi epic that will finally arrive this fall, following numerous delays due to the global pandemic. The movie will be released simultaneously in theaters and on streaming, as cinemas are rebounding and movies are beginning revive the box office. Though admittedly, Dune is the type of movie that begs to be seen on the big screen. Now, Jason Momoa has revealed the sweet way he saw Villeneuve's film for the first time.
Jason Momoa is a part of a Dune cast that includes Timothee Chalamat, Zendaya, Oscar Issac, Rebecca Ferguson and many more big-name performers. Momoa recently visited The Tonight Show Starring Jimmy Fallon to promote his Apple TV+ series, See. During his interview, the fan-favorite actor revealed the cool way he saw Dune, telling Fallon:
Jason Momoa says he got to see Dune with his kids, and it sounds like it was a beautiful moment. Momoa remarks that it was the first time he'd been able to experience a film like that with his children, citing the adult nature of the film. Overall though, it sounds like he was happy to be able to share that with them. So all those days in the desert wearing those weird, cooling suits seem to have paid off in the form of a lasting memory for Momoa and his kids.
Dune hasn't come out yet, but some fans are already worried about the sequel. Dune is a film that will have many die-hard fans of the book series critiquing every choice but hoping with everything they've got that Denis Villeneuve pulls it off. A Dune writer has recently clarified how much of the original book is in the film, clearing up and setting fan expectations for what this big-screen adaptation of Frank Herbert's novel will be when it hits theaters
Dune star Jason Momoa is a busy man and has recently shared his thoughts on the surprising fan reaction to Zack Snyder's Justice League. Aquaman director James Wan also finally revealed the title for Aquaman 2, sending fans into a frenzy and down rabbit holes for what it could mean. Momoa is super active when it comes to his role as Aquaman, and he may be contributing more than his acting to the sequel.
Between the Aquaman franchise and Dune, Jason Momoa is churning out blockbuster after blockbuster while also fitting in time for a series on Apple TV+. Dune will be an amazing experience in theaters, and let's hope we all get to see it as intimately as Jason Momoa did.
Dune is set to open in theaters and stream on HBO Max on October 1.
Movie and TV obsessive. A good Heist movie is the way to my heart. Enjoyer of everything from Marvel Movies to Rom-coms.
Your Daily Blend of Entertainment News
Thank you for signing up to CinemaBlend. You will receive a verification email shortly.
There was a problem. Please refresh the page and try again.