New Dune Image Reveals Glimpse At Zendaya, Timothée Chalamet, And More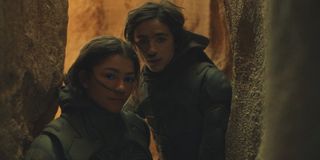 After delays due to the global pandemic resulting in the movie theaters shutting down and the film industry dabbling in streaming, Dune is finally set to be released this October. Dune is a Sci-Fi epic so grand that fans of the series are already wondering about the sequel, and newcomers might need a crash course in what to expect going in. A new Dune image reveals another glimpse at Zendaya, Timothée Chalamet, and more.
A new image from the film shows off Zendaya, Timothée Chalamet, and their castmates Rebecca Ferguson and Javier Bardem. Every teaser and image released for the movie adds a new wrinkle into what we know about the upcoming film and, above all else, just adds more hype for the highly anticipated blockbuster. Here is the image from Twitter:
The new image shows Timothée Chalamet, Zendaya, Rebecca Ferguson, and Javier Bardem in the awesome stillsuits, which are designed to preserve the human body's moisture on the extreme desert planet of Arrakis. According to another Dune Star Jason Momoa, the suits actually had AC units in them to keep the actors cool while working. The image is just another glimpse of Dune's stars in action looking cool even though they were probably boiling.
Timothée Chalamet is playing Paul Atreides and is the son of Rebecca Ferguson's character Lady Jessica. Zendaya plays Chani, a member of the Freman tribe who, in the teasers, is very close with Paula Atreides. While Javier Bardem is playing Stigler, the leader of the Freman.
The tweet comes from the Venice Film Festival announcing that Dune will have its out-of-competition world premiere during the event on September 20th. Director Denis Villeneuve was previously nominated for the Golden Lion award for his film Arrival in 2016. Dune having its official world premiere in Venice will surely be a big event for everyone involved but it probably won't be as sweet and heartfelt as the way Jason Momoa first saw the film.
The resurgence of movie theaters seemed to come into conflict with Warner Brother's announcement that movies like Dune would be going to streaming, which caused Dune's director and many other filmmakers to object to the strategy. It seems the studio has reflected on its announcement and has cleared up the matter. With the box office numbers of some of the biggest movies of the year showing good returns, Dune is poised to make a big splash as it will come when even more people are trying to go to the movies.
Zendaya hasn't seen Dune yet, but she is geeking out like the rest of us. Dune is a movie that has to be seen on the big screen with its stunning visuals, fantastic cast, and master director in Denis Villeneuve.
Movie and TV obsessive. A good Heist movie is the way to my heart. Enjoyer of everything from Marvel Movies to Rom-coms.
Your Daily Blend of Entertainment News
Thank you for signing up to CinemaBlend. You will receive a verification email shortly.
There was a problem. Please refresh the page and try again.