Star Wars' Mark Hamill Pens Sweet Message To Late Co-Star Carrie Fisher After She Finally Gets A Hollywood Star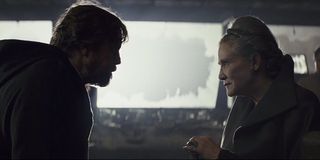 CinemaBlend participates in affiliate programs with various companies. We may earn a commission when you click on or make purchases via links.
Hollywood and the Star Wars community were shaken by the passing of Carrie Fisher in 2016, and the loss continues to reverberate to this day. There has been a constant outpouring of love from co-stars, who, along with many fans, make tributes on the anniversary of the actor's death in December. Harrison Ford gave a tribute to Fisher during Mark Hamill's Hollywood Star Ceremony in 2018, and now the beloved actor has finally received a Hollywood Star of her very own. In response to the news, Hamill has penned a sweet message to celebrate the occasion.
Star Wars fans are excited that Carrie Fisher is finally being recognized with a Hollywood Star. Mark Hamil celebrated the icon-making occasion via Twitter, where he congratulated his late Star Wars co-star and on-screen sibling finally being honored:
Mark Hamill congratulates Carrie Fisher and honors her in the message, saying that her "star will blaze for eternity" – adding in a cute joke about a 1-finger salute given by Fisher in an attached press tour photo. Hamill added several pictures from their relationship that started all the way back in 1977 with Star Wars: A New Hope, and also included a promotional image from their last collaboration, Star Wars: The Last Jedi. The Rian Johnson-directed film completed principal photography prior to Fisher's passing, though her death created technical difficulties in the editing process. Ultimately The Last Jedi was completed and Carrie Fisher was properly honored by the blockbuster. Archive footage and advanced visual effects were used to include Fisher in the J.J. Abrams-directed Star Wars: The Rise Of Skywalker, allowing Princess/General Leia Organa to have a role in the final chapter of the nine-part Skywalker Saga as well.
Mark Hamill has shared some funny stories about Carrie Fisher and their time working on Empire Strikes Back, and behind-the-scenes footage from the film has revealed some delightful clips of the actor. With so many years of history and being such an integral piece of one of the biggest movie franchises of all time, Fisher continues to live on in the minds of fans and her co-stars. To revisit Fisher's work on Star Wars, you can stream the Skywalker Saga films on Disney+, which you can sign up for using this link.
The original trio of the original Star Wars films, Mark Hamill, Harrison Ford, and Carrie Fisher, now all have their Hollywood Stars. The continued impact of the original Star Wars is truly impressive, and the franchise will probably keep going for another 30 years without missing a beat. Carrie Fisher will always be such an important part of the storied sci-fi series, and now she is immortalized with a special place in Hollywood history on Hollywood Blvd.
Your Daily Blend of Entertainment News
Movie and TV obsessive. A good Heist movie is the way to my heart. Enjoyer of everything from Marvel Movies to Rom-coms.