Dwayne Johnson Shares Hopeful Message After Completing Work On Netflix's Red Notice With Gal Gadot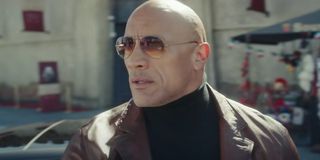 It always feels good to celebrate a job well done. That's especially true when the task at hand runs into unpredictable challenges. That was the case for Dwayne Johnson, Gal Gadot, and the rest of the team on Netflix's upcoming action comedy, Red Notice, as the group had to overcome numerous obstacles during production. So The Rock's hopeful message commemorating the film's wrap feels extra meaningful.
Dwayne Johnson has long used his Instagram account and other social media to keep fans updated about his personal and professional life. Since production began on Red Notice in early 2020, he's chronicled many moments both on and off set -- including, most recently, two photos and a special message regarding his feelings as the film's shoot winds down:
While the actor originally notified fans that Red Noticed had finished production back in November, it looks like he may have headed back to set for a couple of days to do some reshoots. Regardless of the reason for his most recent update, it's clear that the film means a lot to him, and he wants the whole world to know it.
It's understandable why Red Notice is such a big deal for Dwayne Johnson. In addition to starring in the film, he's also one of the film's producers, so he's been hands on with many of the details regarding the unexpectedly complicated production schedule. After filming started in January 2020, Red Notice was shut down in March to help prevent the spread of COVID-19. At the time, Dwayne Johnson shared a video, in which he encouraged the cast and crew and wished them well during the film's hiatus.
In the fall of 2020, the Red Notice team established a successful quarantine bubble that allowed for the film to safely be completed. While cast members like Gal Gadot modeled COVID best practices and showed fans the importance of getting tested for the virus, Dwayne Johnson shared his own experience contracting COVID to also urge fans to stay safe.
A lot is riding on Red Notice, not just for Dwayne Johnson, but for Netflix as well. The studio put forth an ambitious investment to secure the rights to stream the film -- an act that Johnson has now praised on more than one occasion. Given all the setbacks and perils that put Red Notice at risk, he has definitely earned his relief and excitement at finally having completed his acting duties on the film.
The teaser regarding an upcoming announcement about Red Notice in Dwayne Johnson's Instagram post is also cause for excitement. Despite the film having been in the works for over a year, we're still waiting on some key information -- like a trailer, or more important a release date. We'll be sure to keep you updated as soon as we know more about what's next for Red Notice.
Your Daily Blend of Entertainment News