What The Super 8 Cast Is Doing Now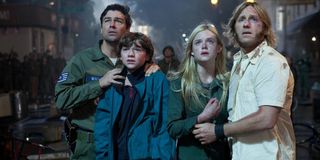 In 2011, between J.J. Abrams' commitments to The Final Frontier and A Galaxy Far, Far Away, the blockbuster writer-director-producer traveled back in time, all the way to 1979, to the fictional town of Lillian, Ohio, to tell his most personal story in Super 8, a heavily Spielbergian coming-of-age monster thriller with pre-fame performances from Joel Courtney and Elle Fanning, while also featuring the dependable acting talents of Kyle Chandler, Noah Emmerich, and Richard T. Jones. However you feel about this standalone effort (in my view, it's arguably Abrams' finest film), the nostalgic genre-fuser was a comfortable commercial and critical hit for the franchise-driven filmmaker, and it's hard to believe that a decade has passed since it premiered in theaters. If you love the Super 8 cast and want to know what they're doing next, we're here to help!
Joel Courtney (Joe Lamb)
As Joe Lamb, our mournful child protagonist caught in a local alien plot, Joel Courtney made his acting debut in J.J. Abrams' Super 8. Most notably, Courtney plays Lee Flynn in Netflix's The Kissing Booth and The Kissing Booth 2. His other movie credits include Assimilate, F the Prom, Don't Let Me Go, Sins of Our Youth, Tom Sawyer & Huckleberry Finn, Dear Eleanor, Spare Time Killers, Mercy, and The River Thief. Additionally, on television, Courtney starred in The CW's short-lived series, The Messengers. The young actor also appeared in The Haunting Hour: The Series, Agents of S.H.I.E.L.D., and APB.
Most recently, Joel Courtney was seen in The Empty Man. Next, he'll appear in Pursued and Players. Additionally, Courtney reprises his role as Lee Flynn in The Kissing Booth 3.
Elle Fanning (Alice Dainard)
In the role of Alice Dainard, a rebellious young woman who pairs with our group of wannabe filmmakers, Elle Fanning plays our female lead in 2011's Super 8. Making her film debut in I Am Sam, Fanning starred in 20th Century Women, The Neon Demon, Phoebe in Wonderland, Somewhere, The Beguiled, How to Talk to Girls at Parties, Teen Spirit, Galveston, Mary Shelley, I Think We're Alone Now, Ginger & Rosa, and the Maleficent movies. The former child star's other movie credits include Live By Night, Trumbo, We Bought a Zoo, Twixt, The Curious Case of Benjamin Button, Babel, Deja Vu, The Vanishing of Sidney Hall, and Daddy Day Care.
Most recently, Elle Fanning starred in The Roads Not Taken, A Rainy Day in New York, Netflix's All the Bright Places, and Hulu's The Great — the latter two she produced. She also lent her voice to Paramount+'s No Activity. Next, Fanning will frontline The Nightingale and she'll appear in Francis and the Godfather and Hulu's The Girl from Plainville. She also produced, wrote, and directed 2020's short film, Gucci Always Wins.
Riley Griffiths (Charles Kaznyk)
Playing the part of Charles Kaznyk, Joe's best friend, Riley Griffiths was a bossy, sarcastic character in J.J. Abrams' Super 8. The same year that this movie came out, Griffiths guest-starred in R.L. Stine's The Haunting Hour. He hasn't appeared in any movies or shows since. The former child actor transitioned into playing football at Montana State University, though he has expressed an interest in working behind the camera someday.
Ryan Lee (Cary McCarthy)
As Cary McCarthy, an energetic, floppy-haired brace face, Ryan Lee plays a prominent part in Super 8. Away from this film, Lee is known for his role as Warren in ABC's Trophy Wife. He also plays a recurring role in IFC's Brockmire. Additionally, Lee was a series regular on Netflix's My Dead Ex. The actor's other notable TV credits include Breaking Bad, Friday Night Lights, Community, Good Luck Charlie, Workaholics, and The Son. He also appeared in My Generation, Dimension 404, and R.L. Stine's The Haunting Hour.
Furthermore, on the big screen, Ryan Lee can be seen in Goosebumps, This is 40, Shorts, White Rabbit, and All Summers End. He also appeared in A Merry Friggin' Christmas, Speech & Debate, Song of Back and Neck, and Kings of the Evening. Next, Lee will be seen in Black Friday!
Gabriel Basso (Martin Reed)
In the role of Martin Reed, the lead actor of the group's amateur zombie movie, Gabriel Basso was a performer in J.J. Abrams' Super 8. Most notably, following this 2011 film, Basso starred in The Kings of Summer. His other movie credits include The Hive, Barely Lethal, Ithaca, American Wrestler: The Wizard, Alabama Moon, The Whole Truth, Alice Upside Down, Meet Bill, and Anatomy of the Tide.
Additionally, on television, Gabriel Basso played Adam Jamison in Showtime's The Big C. His other TV credits include iCarly, The Middle, Perception, Eastwick, The Red Road, and The Haunting House: The Series. Also, Basso is heard in NBC's Scared Shrekless. Furthermore, the young actor appeared in web series like Ghost Town and Silverwood. Most recently, Basso starred in Ron Howard's Hillbilly Elegy.
Zach Mills (Preston Scott)
Playing the part of Preston Scott, a fellow filmmaking friend, Zach Mills provides a supporting role in Super 8. Prior to this performance, Mills also provided supporting roles in The Santa Clause 3: The Escape Clause, Hollywoodland, Changeling, Kit Kittredge: An American Girl, and Mr. Magorium's Wonder Emporium. Additionally, the actor appeared in Steam, Insult to Injury, Dreams of an Angel, and Raspberry Magic.
Furthermore, on television, Zach Mills was seen in Rita Rocks, Numb3rs, Rules of Engagement, October Road, Malcolm in the Middle, Cold Case, Ghost Whisperer, and Scrubs. Following his supporting turn in Super 8, Mills appeared in The Hub's miniseries, Clue. This TV performance remains the child actor's last screen role.
Kyle Chandler (Deputy Jack Lamb)
As Jack Lamb, the Deputy of the town and Joe's dysfunctional father, Kyle Chandler plays an authoritative father figure in J.J. Abrams' Super 8. Most notably, the actor won an Emmy for his lead performance as Coach Eric Taylor in NBC's Friday Night Lights. Additionally, Chandler gave a two-time Emmy-nominated performance in Bloodline. He was also Emmy-nominated for his guest turn in Grey's Anatomy. Furthermore, Chandler starred in Early Edition, which he also produced, Homefront, What About Joan?, and The Lyon's Den. His other TV credits include Catch-22, Robot Chicken, and King of the Hill.
Additionally, on the big screen, Kyle Chandler played Hamilton Jordan in Argo. Also, the actor was seen in The Wolf of Wall Street, Manchester by the Sea, King Kong, Game Night, First Man, and Godzilla: King of the Monsters. Furthermore, Chandler appeared in The Kingdom, The Spectacular Now, Zero Dark Thirty, Carol, and The Midnight Sky. Most recently, he starred in Godzilla vs. Kong. Next, Chandler will appear in Slumberland. The actor is also signed on to star in Showtime's Super Pumped.
AJ Michalka (Jen Kaznyk)
In the role of Jen Kaznyk, AJ Michalka has a brief part in 2011's Super 8. Most notably, Michalka is one-half of the musical duo, Aly & AJ, alongside her sister, Aly Michalka. Additionally, the actress played Lainey Lewis in ABC's The Goldbergs. She reprised this role in the short-lived spin-off series, Schooled. Additionally, Michalka voiced a main character in Netflix's She-Ra and the Princesses of Power. She also lent her voice to Steven Universe. The actress's other notable TV credits include Oliver Beene, The Guardian, Six Feet Under, General Hospital, Hellcats, and Silicon Valley.
Furthermore, on the big screen, AJ Michalka starred in Grace Unplugged. She can also be seen in Secretariat, Angels in Stardust, The Lovely Bones, Weepah Way for Now (which she also produced), and Support the Girls. Currently, Michalka is filming Ray Donovan, the movie continuation.
Ron Eldard (Louis Dainard)
Playing the part of Louis Dainard, Alice's father and the drunk that Jackson believes is responsible for the death of Joe's mother, Ron Eldard takes on a guilt-ridden character in J.J. Abrams' Super 8. Away from this sci-fi film, Eldard played Mickey Bunce in Drop Dead Fred, John Reilly in Sleepers, and CWO Michael Durant in Black Hawk Down. His other movie credits include House of Sand and Fog, Jobs, Ghost Ship, True Love, Deep Impact, Freedomland, Just a Kiss, and Mystery, Alaska. Additionally, Eldard is seen in The Last Supper, Scent of a Woman, True Love, The Runner, Roadie, and Poker Night.
Furthermore, on TV, Ron Eldard played Colton "Colt" Rhodes in FX's Justified and Ray "Shep" Shepard in NBC's ER. His other television credits include Men Behaving Badly, Bakersfield P.D., Arresting Behavior, Homicide: Life on the Street, Blind Justice, Law & Order: SVU, and In Plain Sight. Most recently, Eldard played a part in Higher Power.
Noah Emmerich (Colonel Nelec)
As Colonel Nelec, a menacing Air Force member who sets up base in Lillian, Ohio following the mysterious train crash, Noah Emmerich plays our scowling antagonist in Super 8. Away from this film, Emmerich is known for his performance as Stan Beeman in FX's The Americans. His other TV credits include Billions, The Spy, The Hot Zone, White Collar, The Walking Dead, Master of None, The West Wing, NYPD Blue, and Law & Order: SVU. Most recently, Emmerich played a recurring role in Netflix's Space Force.
Additionally, on the big screen, Noah Emmerich played Louis Coltrane in The Truman Show, Craig Patrick in Miracle, and Larry Hedges in Little Children. His other film credits include Frequency, Windtakers, Cellular, Pride and Glory, Warrior, Crazy in Alabama, Life (1999), Beautiful Girls, Last Action Hero, The Wilde Wedding, and Julie Johnson. Furthermore, Emmerich can be seen in Trust, Sympathy for Delicious, Blood Ties, Jane Got a Gun, and Tumbleweeds. Next, the actor will appear in The Good Nurse. He's also set to star in Apple TV+'s Suspicion.
Richard T. Jones (Overmyer)
In the role of Overmyer, a member of the Air Force, Richard T. Jones played a notable supporting character in J.J. Abrams' Super 8. Away from this film, Jones starred in Disney Channel's Full Court Miracle. He also starred in The Wood, Why Did I Get Married?, and Why Did I Get Married Too? His other notable film credits include Event Horizon, Phone Booth, Collateral, Soul Plane, Vantage Point, Concussion, CHIPS, G, Kiss the Girls, Twisted, Renaissance Man, and Godzilla (2014). Also, Jones appeared in Hot Pursuit, Jury Duty, The Trigger Effect, Goodbye Lover, Auggie Rose, Lockdown, The Breed, A Question of Faith, The Public, Edge of the World, and Round of Your Life.
Additionally, on television, Richard T. Jones played Bruce Van Exel in CBS's Judging Amy. He can also be seen in Terminator: The Sarah Conner Chronicles, American Horror Story: Hotel, Narcos, Santa Clarita Diet, Criminal Minds, Wisdom of the Crowd, Girlfriends, Hawaii Five-0, and Ally McBeal. Currently, Jones plays Sergeant Wade Grey in ABC's The Rookie. Next, the actor will appear in the short film, Fool for Your Love.
Joel McKinnon Miller (Sal Kaznyk)
Playing the part of Sal Kaznyk, Charles' father, Joel McKinnon Miller plays a brief supporting turn in Super 8. Most notably, Miller plays Detective Norm Scully in Fox/NBC's Brooklyn Nine-Nine. He's also recognized as Dom Embry in HBO's Big Love. The actor's other TV credits include American Horror Story, ER, Melissa & Joey, Glee, Workaholics, Good Luck Charlie, Longmire, Bones, Community, Las Vegas, and The New Adventures of Old Christine. Additionally, Miller can be seen in Deadwood, The Closer, George Lopez, Desperate Housewives, Six Feet Under, CSI, Curb Your Enthusiasm, Malcolm in the Middle, The X-Files, Carrier, Nip/Tuck, and Murphy Brown.
Away from television, Joel McKinnon Miller's other film credits include The Truman Show, Miracle in Lane 2, Galaxy Quest, The Family Man, Rush Hour 2, Men in Black II, Friday After Next, After the Sunset, and Just Like Heaven. The character actor is also seen in Atlas Shrugged: Part I, Little Birds, Delta Farce, Dead Men Can't Dance, Wagons East, and Shotgun Weddings. Additionally, Miller was heard in The Swan Princess.
Super 8 is currently available to stream on Paramount+, Epix, and PlutoTV.
Your Daily Blend of Entertainment News
Will is an entertainment writer based in Pittsburgh, PA. His writing can also be found in The Playlist, Cut Print Film, We Got This Covered, The Young Folks, Slate and other outlets. He also co-hosts the weekly film/TV podcast Cinemaholics with Jon Negroni and he likes to think he's a professional Garfield enthusiast.