Hillbilly Elegy Cast: Where You've Seen Them Before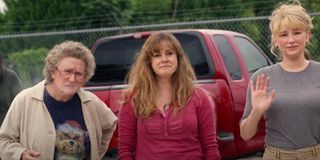 This week, Netflix unveils Hillbilly Elegy, the latest movie in a series of Oscar hopefuls made available on the streaming service this year. After its limited theatrical run, Ron Howard's dramatic adaptation of J.D. Vance's best-selling 2016 memoir will finally become available worldwide, letting movie-lovers see the author's controversial life story for themselves. Starring Amy Adams, Glenn Close, Gabriel Basso, Haley Bennett, Freida Pinto, and Bo Hopkins, it's not hard to wonder why Netflix had lofty hopes for this potential awards contender. While the early reviews aren't flattering, to say the least, there's still a decent chance that its A-list ensemble may receive awards consideration — particularly as we settle into the final month of a highly irregular and unconventional 2020.
If you recognize these familiar faces, you've probably seen them in a variety of well-known movies and shows. This is where you might recognize Hillbilly Elegy's cast.
Amy Adams (Bev Vance)
In the role of Bev Vance, J.D.'s mother and Mamaw's daughter, Amy Adams plays a central character in Ron Howard's Hillbilly Elegy. A six-time Oscar-nominated actress for her performances in Junebug, Doubt, The Fighter, The Master, American Hustle, and, most recently, Vice, Adams may receive her seventh Oscar nomination for this Netflix drama. Additionally, the actress won two Golden Globes for Big Eyes and the aforementioned American Hustle. Adams also received Emmy and Golden Globe nominations for her leading role in HBO's miniseries, Sharp Objects.
Outside of these award-winning or nominated parts, Amy Adams is also well-known for her work in Arrival, Enchanted, Drop Dead Gorgeous, Man of Steel, Batman v Superman: Dawn of Justice, The Muppets, Her, Catch Me If You Can, Night at the Museum: Battle of the Smithsonian, Julie & Julia, Nocturnal Animals, Justice League, Trouble with the Curve, Leap Year, Miss Pettigrew Lives for a Day, Sunshine Cleaning, Charlie Wilson's War, and Talladega Nights: The Ballad of Ricky Bobby, as well as her brief recurring role in NBC's The Office.
Glenn Close (Mamaw Vance)
As Mamaw Vance, the grandmother of J.D., Glenn Close gets a standout role in Hillbilly Elegy. One of the most acclaimed actresses in Hollywood, having won three Emmy awards, three Tonys, and three Golden Globe Awards, she's also the recipient of seven Academy Award nominations for The World According to Garp, The Big Chill, Fatal Attraction, The Natural, Dangerous Liaisons, Albert Nobbs, and, most recently, The Wife. There's also reason to believe that Close might be nominated for Hillbilly Elegy, but it's still too early to know.
In addition to the movies listed above, Glenn Close is known for Hook (see if you can spot her!), Hamlet, Mars Attacks!, Air Force One, In & Out, The Stepford Wives (2004), Guardians of the Galaxy, The Girl With All The Gifts, and The Paper, which Ron Howard also directed. She's also recognized for playing Cruella de Vil in 1996's 101 Dalmatians and 102 Dalmatians. Meanwhile, on television, Close is most well-known for her leading role in FX's Damages, for which she won two of her Emmys. She also played a recurring role in The Shield.
Gabriel Basso (J.D. Vance)
Playing Hillbilly Elegy's author and central protagonist, J.D. Vance, Gabriel Basso fills in the lead role in Netflix's Oscar-hopeful adaptation. For many movie lovers, Basso is best known for his prominent role in JJ. Abrams' Super 8. He also starred in The Kings of Summer, Ithaca, Barely Lethal, Anatomy of a Tide, Meet Bill, Alabama Upside Down, and The Hive. His last two film credits were 2016's The Whole Truth and American Wrestler: The Wizard, prior to his extended years-long break from film and television.
Speaking of TV, Gabriel Basso also had a starring role in Showtime's The Big C. Additionally, the former child actor appeared in episodes of The Middle, iCarly, Perception, The Red Road, R.L. Stine's The Haunting Hour, and Eastwick. And his voice can be heard in NBC's Halloween special, Scared Shrekless.
Haley Bennett (Lindsay Vance)
In the role of Lindsay Vance, J.D.'s sister and Bev's daughter, Haley Bennett plays a prominent part in Ron Howard's Hillbilly Elegy. Making her film debut in 2007's Music and Lyrics, Bennett is most well-known for her performances in 2016's The Magnificent Seven, Hardcore Henry, Kaboom, The Equalizer, College, The Girl on the Train, Thank You For Your Service, The Hole, Kristy, The Haunting of Molly Hartley, Rules Don't Apply, Marley & Me, and The Red Sea Diving Resort. Most recently, Bennet starred in this year's acclaimed thriller, Swallow, where she also served as an executive producer. Additionally, the actress was recently seen in another rural-based Netflix period drama, September's The Devil All The Time.
Currently, Haley Bennett is filming a part in the upcoming drama-musical Cyrano, the latest movie from Joe Wright, her partner.
Freida Pinto (Usha)
As Usha, the future wife of J.D. Vance, Freida Pinto has a key romantic role in Netflix's Hillbilly Elegy. The actress made quite a splash with her film debut in 2008's Best Picture-winning, Slumdog Millionaire. In the years to follow, Pinto played the title characters in Michael Winterbottom's Trishna and Julian Schnabel's Miral, respectively, and she had prominent roles in Immortals, Rise of the Planet of the Apes, You Will Meet A Tall Dark Stranger, Knight of Cups, Love Sonia, Desert Dancer, and Blunt Force Trauma. Additionally, Pinto narrated Girl Rising and Unity. In addition to her film performances, Pinto had a recurring role in Hulu's The Path and she played a lead character in Showtime's mini-series, Guerrilla. She also currently lends her voice to Mira, Royal Detective. Furthermore, before she became an actress, Pinto hosted Zee International Asia Pacific's talk show series, Full Circle.
Most recently, Pinto appeared in two other Netflix titles, Mowgli: Legend of the Jungle and Love, Wedding, Repeat. She also starred in the romantic sci-fi drama, Only, earlier this year.
Bo Hopkins (Papaw Vance)
Playing the part of Papaw Vance, J.D.'s grandfather, Bo Hopkins has a key supporting role in Hillbilly Elegy. A hard-working character actor with over 100 credits to his name, Hopkins' most notable credits include American Graffiti, More American Graffiti, Midnight Express, The Wild Bunch, U-Turn, The Getaway, The Bridge At Remagen, The Man Who Loved Cat Dancing, The Killer Elite, A Small Town in Texas, The Bridge of Remagen, Shade (which he also produced), Open Window, The Newton Boys, and Posse (1975). Hillbilly Elegy is his first film since 2016's The Boys at the Bar.
In addition to his various movie credits, Bo Hopkins is known for his TV work in Dynasty, The Rockford Files, Gunsmoke, The A-Team, Charlie's Angels, Fantasy Island, Doc Elliot, The Mod Squad, Hawaii Five-O, Bonanza, and Murder, She Wrote, among several others. He can also be heard in the video game, Nuclear Strike.
Owen Asztalos (Young J.D. Vance)
As a younger version of J.D. Vance, our central protagonist, Owen Asztalos gives us a child-like view of J.D.'s Appalachian upbringing in Hillbilly Elegy. Starting his career at age three, Asztalos is a child actor who has appeared in a variety of movies, shows, and commercials — though, outside of this role, Asztalos was most notably seen in Diary of a Wimpy Kid: The Long Haul and Jim Jarmusch's Paterson. Additionally, his TV credits include Shades of Blue, Neon Joe, Werewolf Hunter, Hannah Royce's Questionable Choices, Jon Glaser Loves Gear, and Netflix's Jessica Jones and Unbreakable Kimmy Schmidt.
Hillbilly Elegy is his most high-profile performance yet.
Sunny Mabrey (Bonnie)
In the role of Bonnie, J.D.'s cousin, Sunny Mabrey plays a supporting part in Netflix's Hillbilly Elegy. As an actress, Mabrey is also known for her work in Snakes on a Plane, xXx: State of the Union, Teacher of the Year, Species III, and The New Guy. Her television credits also include episodes of CSI: Miami, House, Angel, Without a Trace, Desperate Housewives, Monk, Rules of Engagement, Memphis Beat, In Plain Sight, The Closer, Vegas, The Client List, Once Upon A Time, In the Rough, The Librarians, and MacGyver, the latter of which she appeared in earlier this year. Additionally, Mabrey recently starred in Christmas at Graceland: Home for the Holidays.
Next, Sunny Mabrey wrote, produced, and played the title role in the upcoming horror-comedy short film, Patricia Sterling. It's completed and awaiting release. Additionally, as a model in addition to being an actress, Mabrey is known for her music video work. Notably, she appeared in Limp Bizkit's "Nookie."
Jason Davis (Dr. Newton)
In the role of Dr. Newton, Jason Davis is also a supporting player in Netflix's Hillbilly Elegy. His other film credits include The Accountant, Talladega Nights: The Ballad of Ricky Bobby, Seeking Justice, Doctor Sleep, Boy Erased, Forever My Girl, I, Tonya, Concussion, Mississippi Grind, Goosebumps, Get On Up, Prisoners, The Odd Life of Timothy Green, A Little Bit of Heaven, Step Brothers, Runaway Jury, Identity Thief, and Summer Catch. He can also be seen in episodes of One Tree Hill, Dawson's Creek, Prison Break, Army Wives, Revenge, Revolution, Homeland, Sleep Hollow, Under the Dome, Banshee, Drop Dead Diva, Halt and Catch Fire, Nashville, Secrets and Lies, Being Mary Jane, Outcast, Queen Sugar, Mindhunter, Lore, The Walking Dead, The Resident, The Gifted, Mr. Mercedes, Swamp Thing, and Reprisal.
Earlier this year, Jason Davis also starred in Irresistible and The Banker, as well as episodes of Greenleaf, Robbie, and Paradise Lost.
Keong Sim (Ken)
Playing the part of Ken, Keong Sim plays a supporting role in Netflix's Hillbilly Elegy. He's best known for his television work, notably for TNT's Monday Mornings and Netflix's Dead to Me. He can also be seen in Better Call Saul, The Good Doctor, Law & Order True Crime, Vice Principals, Criminal Minds: Beyond Borders, Glee, Mike & Molly, Sullivan & Son, Grey's Anatomy, Rescue Me, Hope & Faith, and Law & Order. His other film credits include The Last Airbender, Olympus Has Fallen, and The Sun is Also a Star.
Hillbilly Elegy is now playing in theaters. It streams on Netflix (opens in new tab) starting November 24th.
Will is an entertainment writer based in Pittsburgh, PA. His writing can also be found in The Playlist, Cut Print Film, We Got This Covered, The Young Folks, Slate and other outlets. He also co-hosts the weekly film/TV podcast Cinemaholics with Jon Negroni and he likes to think he's a professional Garfield enthusiast.
Your Daily Blend of Entertainment News
Thank you for signing up to CinemaBlend. You will receive a verification email shortly.
There was a problem. Please refresh the page and try again.