Every Sofia Coppola Movie Ranked, Including On The Rocks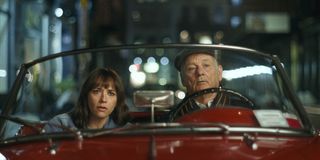 This October, AppleTV+ unveiled On the Rocks, the latest film from writer-director Sofia Coppola. Arriving slightly over 20 years after her feature directorial debut, The Virgin Suicides, her newest movie showcases several returning themes related to emotional searching, familial dysfunction, and upper-class dissatisfaction, all mixed with a couple maturing subjects, including a gentle acceptance of what you can and cannot control. While Coppola's often one to re-explore familiar topics, the established storyteller demonstrates a sense of growth and progression that promises an exciting second half to her filmmaking career.
With that said, let's take this opportunity to look back on her filmography and explore our favorite (and least favorite) Sofia Coppola movies, notably from a career filled with high and low points in equal measure.
Before we jump in, though, we should note that we couldn't find La Traviata, an opera she filmed with Francesa Nesler, which is why it's not included. Also, this list is focused entirely on feature films Sofia Coppola directed.
8. Somewhere (2010)
Sofia Coppola is typically good at capturing the numbing doldrums and acute listlessness that arrive from extravagant or, at least, overly-comfortable living. Her ability to capture displacement and unease with plush lifestyles and picturesque locales shouldn't be dismissed. Yet, Somewhere is a sadly bland, underwhelming father-daughter drama, producing a humdrum celebrity tale that's too distant and disengaging for its own good.
While Elle Fanning provides another dependably good performance as Cleo, the preteen daughter of a newly-famous actor, Johnny Marco (Stephen Dorff), our lead male performance is lacking charisma and intrigue, something Coppola easily found with her regular collaborators like Kristen Dunst and Bill Murray. This is obviously a personal, soulful exploration for the filmmaker, even when it dives into familiar dramatic territory laced with a thick coat of melancholy irony. But, in the end, Somewhere goes nowhere new for the esteemed writer-director — despite its nice visuals and heartfelt story.
7. The Bling Ring (2013)
The Bling Ring has a loyal fanbase, and it's easy to see why. This polished, richly stylish satirical crime dramedy, inspired by Nancy Jo Sales' 2010 Vanity Fair article, "The Suspects Wore Louboutins," follows a group of fame-obsessed teens who broke into and burglarized the homes of the rich and glamorous to flaunt their accessories. As a bubblegum Robin Hood-esque capper, there's an inviting appeal to the true-life story's luxurious big-screen adaptation, complete with writer-director Sofia Coppola's signature brand of delicious irony mixed with teenage longing.
But while it looks gorgeous, thanks to the late and legendary cinematographer Harris Savides, who passed away before its release, and it boasts a poppy sensibility, grand production design, and a wickedly fun-loving attitude, The Bling Ring lacks the singing sincerity that defines Coppola's other movies. While the young cast is nimble, particularly with Watson having loads of fun, the tone doesn't fully find its balance between scorn and sugary sweetness.
6. A Very Murray Christmas (2015)
Admittedly, Netflix's A Very Murray Christmas is technically a Christmas special, not a movie per se. But the first collaboration between Bill Murray and Sofia Coppola since Lost in Translation's phenomenal success was an event nonetheless, and this special proved to be a fun, if frivolous, collaboration.
Playing a mopey fictional version of himself, Murray frontlines this star-studded streaming exclusive (as the title suggests), which includes cameos from George Clooney, Paul Shaffer, Amy Poehler, Chris Rock, Jason Schwartzman, Rashida Jones, Jenny Lewis, and Miley Cyrus, as he enters a gloomy state when a massive snowstorm threatens to cancel his live Christmas event. But the story is a loose thread for Murray to sing songs and play off his idiosyncratic charm. If you're looking for something neat and tidy, look elsewhere. This casual, sophisticated charmer, which Murray co-wrote, is only here to have a good time. And you will, too — if you agree with its groove. Though this Christmas may be too blue for some.
5. The Beguiled (2017)
A restrained, refined retelling of Thomas P. Cullinan's 1966 novel, The Beguiled mixes Sofia Coppola's fixation on isolation and ennui with a lurid, understated, and thrilling presentation, producing a period piece that becomes one of the filmmaker's most accessible, sensationalized works yet.
While it's not as memorable and distinctive as some of Coppola's other works, there's a richness and lavishness to this production that allows the sweltering potboiler plot to become all the more intriguing, even as it plays out in expected fashion. Aided by its starry ensemble, including Nicole Kidman and Colin Farrell, along with Kirsten Dunst and Elle Fanning reteaming with the filmmaker, The Beguiled presents a pointedly more feminine perspective to this already women-driven story, becoming another accomplished win for the moviemaker.
While the revenge aspects seem oddly muted, Sofia Coppola is more invested in the characters' layers, particularly as she once again studies young women caught in an emotional haze of uncertainty and yearning for the outside world they cannot grasp. It's not Coppola's best, but it's also hard to dismiss. It's undeniably... beguiling.
4. On The Rocks (2020)
While often light, Sofia Coppola's On the Rocks, her newest film, is also one of her most mature and reflective, going down as smoothly as a well-mixed martini while also leaving a lovely aftertaste. It results in a delicately dry, warmly bittersweet concoction that contemplates aging, ancestry, and acceptance while never sacrificing its entertainment value, becoming a wistful melody filled with heart and humor that provides Bill Murray with another great showcase for his singular star power, while also allowing Rashida Jones and Marlon Wayans to demonstrate their undervalued dramatic talents.
Similar to Somewhere, Coppola's latest father-daughter dramedy uses extravagance and decadence to explore the laissez-faire lives of its well-to-do characters. But where the former was shortsighted by Stephen Dorff's uninvolving performance, Murray's nuanced, tenderly regretful Felix remains a charming, captivating parental figure, while also being reflectively funny and emotionally resonant. It's not Lost in Translation, but it's a lovely reunion.
3. Marie Antoinette (2006)
Though it was initially divisive (notably with a contentious Cannes debut), Sofia Coppola's daring, punk-rock interpretation of Queen Marie Antoinette's short life is full of spunk and attitude, resulting in a sumptuous, scandalous historical account that deliberately doesn't follow the time period too closely, yet it captures the spirit of being young and ravenous, all while having the expectations of the world thrown onto your shoulders.
Featuring one of Kirsten Dunst's best, most vulnerable performances in the title role, Coppola's vivid, energetic filmmaking is among her most inspired and captivating, displaying a beautiful boldness that results in some of her most stunning creative choices and captivating artistic liberties. These aesthetic decisions helped Marie Antoinette discover its cult following.
Splendidly dazzling and posh in its costuming, color scheme, and art direction, while boosting a liberated soul and a wild-at-heart personality to effectively counterbalance against its formal appearances, Coppola's third feature has its cake and eats it too.
2. Lost In Translation (2003)
Inspired by the filmmaker's time in Japan while promoting The Virgin Suicides, Lost in Translation is the film that, for audiences and critics alike, solidified Sofia Coppola as a premier young talent, while also cementing Bill Murray's status as a dynamic dramatic actor and paving the way for Scarlett Johansson's career ascension.
Once again tackling disassociation, displacement, and alienation, Coppola's more refrained, searching sophomore feature is still filled with the lyrical, enveloping qualities discovered in her previous film. But through Murray's quietly pained, gently yearning performance, as well as the director's growing confidence to defy narrative conventions, Coppola demonstrated exceptional range, along with the poeticism that made Virgin Suicides so haunting.
While not faultless, notably with several critics questioning its depiction of race, Lost in Translation is an immensely poignant feature, filled with pathos and understated character depth, that proved that Coppola's first filmmaking success was no fluke. With Lost in Translation, she kept finding and honing her style to great acclaim.
1. The Virgin Suicides (1999)
While Sofia Coppola continues to become more distinctive and distinguished in her evolving career, there's still a keenly-observed innocence and rapturous sense of disassociation and desolation to her soulful coming-of-age feature directorial debut, The Virgin Suicides, that's hard to top.
From its affecting sense of place, time, and character, to its well-honed look at depression and stewing trauma that's at once divine and devasting, Coppola makes a gorgeously evocative work of nostalgia and introspection, one that's both coated in somber remorse and filled with momentous vibrancy and invigoration. It's a credit to any filmmaker who can find this balance so richly and movingly. To know it comes from a director's debut makes it all-the-more incredible. Few filmmakers reach these heights, let alone during their first swing.
What's so impressive about Virgin Suicides is how much of Coppola's signature style was established from the first frame onward. The disquieting sense of malaise and melancholy painted inside this Jeffrey Eugenides adaptation is profound and poetically painful. The tale of these tragic suicides was an astounding start to her filmmaking career.
What's your favorite Sofia Coppola film? Tell us below!
Will is an entertainment writer based in Pittsburgh, PA. His writing can also be found in The Playlist, Cut Print Film, We Got This Covered, The Young Folks, Slate and other outlets. He also co-hosts the weekly film/TV podcast Cinemaholics with Jon Negroni and he likes to think he's a professional Garfield enthusiast.
Your Daily Blend of Entertainment News
Thank you for signing up to CinemaBlend. You will receive a verification email shortly.
There was a problem. Please refresh the page and try again.