Godzilla Fan Adds Clifford The Big Red Dog To The MonsterVerse, And I Can't Look Away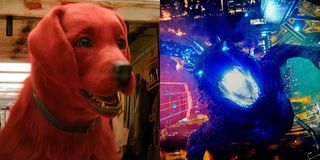 It's hard not to look at Clifford The Big Red Dog's canine star and think only warm and fuzzy thoughts. Though as we saw in the recently released trailer for his big screen debut, there is quite a bit of chaos that comes along with the care and feeding of that gigantic presence. In fact, people might change their tunes on that subject rather quickly after today, as Clifford's potential for wreckage has inspired a Godzilla fan to add Norman Bridwell's iconic creation to the MonsterVerse, and I can't look away.
This dangerous dog tale comes from YouTube video game enthusiast Matt McMuscles, as he mixed the footage from Clifford The Big Red Dog's trailer with scenes from a Toho Godzilla movie. As much as I think Clifford is more lovable beast than a destructive menace, the results of this mashup do have me intrigued. Take a look at this hypothetical trailer for a very different Clifford The Big Red Dog, courtesy of Matt's Twitter feed, and see what nature hath wrought:
Just when you thought it was safe to walk the streets of a metropolitan area, and when Godzilla vs. Kong felt like it was the apex of MonsterVerse crossovers, here comes Clifford bringing his own brand of havoc. Of course, it still looks rather gentle when compared to some of the hijinks we've seen Godzilla or even the newly minted King Kong get up to in director Adam Wingard's contribution to the franchise. Though it can be argued that with those scenes where Clifford The Big Red Dog's doggy protagonist wrecks those inflatable balls with people in them, it's an event that could feel like the end of the world to those inside.
In the realm of reality, Clifford isn't going to mix things up with Godzilla, Kong or anyone else from the Warner Bros' MonsterVerse. Between the competing tones of the two worlds, and the fact that Clifford The Big Red Dog doesn't even look to be operating on the same scale as Godzilla vs. Kong, the incompatibilities are too large to ignore. That is, unless Clifford waits a couple years and enjoys the same growth regimen that Kong underwent to step into the ring, post-Kong: Skull Island.
As always, when it comes to mixing dinosaurs and race cars, or even big red dogs and Titans, reality is the ultimate bummer. Clifford The Big Red Dog will stay in his corner of compassion and kids book adventure, while the MonsterVerse and its creatures will explore how nature oh so constantly points out the folly of humanity. But if you want to dream of a day where a crimson canine could take on the kings of the Hollow Earth and/or the MonsterVerse, just turn your eyes to this video and dream away.
You may not be able to see Clifford and the MonsterVerse clash, but both worlds are still alive and well! Moved to the prime release date of September 17, Clifford The Big Red Dog will politely stomp into theaters on that very day. Should you want to enjoy Godzilla vs. Kong, and didn't make it to the theater in time to see the film, you can grab that title on physical and digital home video release now.
Senior Movies Contributor
CinemaBlend's James Bond (expert). Also versed in Large Scale Aggressors, time travel, and Guillermo del Toro. He fights for The User.
Your Daily Blend of Entertainment News
Thank you for signing up to CinemaBlend. You will receive a verification email shortly.
There was a problem. Please refresh the page and try again.