The Forever Purge Cast: Where You've Seen The Actors Before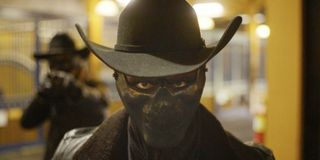 When The Purge came out in theaters several years ago, I don't think anyone expected for it to grow into the huge franchise that it did, on one specific night a year where all of America could literally just kill people and get away with it. However, here we are, many years later, watching the fifth movie in the franchise. I know, I can hardly believe it too. But that's where we are right now.
The Forever Purge looks like a great addition to an already fun horror franchise, giving more of a dystopian sort of feel rather than just the plain horror. The movie, serving as a followup to the events of The Purge: Election Year (as The First Purge, which released more recently, was a prequel) appears to offer a different feel than some of the others, and a nice change. The Forever Purge cast has been around the block before, with plenty of films and TV roles up their sleeves, some of which you might have seen. Let's take a look into why some of those faces look so familiar in The Forever Purge.
Ana de la Reguera (Adela)
As one of the leading characters in The Forever Purge, Adela doesn't screw around and she gets stuff done, no matter what. You would never expect any less from the woman playing Adela, Ana de la Reguera. The actress has appeared in many telenovelas and Spanish films, creating a big name for herself amongst the Spanish community. However, if you're thinking, "No, I've definitely seen her somewhere else before," she's been in plenty other than that.
For example, Ana de la Reguera tested her comedy skills by having a role in the Jack Black-leaded film, Nacho Libre back in 2006. If you're thinking you've seen her in drama, you might have seen her as Carla in the film, Everything, Everything. Or if action is more your scene, maybe you saw her in Cowboys & Aliens. She also played the role of Elisa Alvaro in Narcos.
However, 2021 has also been de la Reguera's year, because other than starring in The Forever Purge, she also had a lead role in the Netflix original film, Army of the Dead alongside Dave Bautista. Truly, she's been all over the film world. I can't wait to see what she does next.
Tenoch Huerta (Juan)
The second half of this bad-ass Spanish-speaking couple is Juan, the man who is the partner of Adela. Behind Juan, we get to see the acting talents of Tenoch Huerta, really for the first time in a starring role in a major film. Huerta, while he has been in several Spanish films as well as big-time blockbusters like Spectre and Tigers Are Not Afraid, hasn't really had the spotlight on him, but The Forever Purge gave him a chance to shine.
However, in terms of television, Tenoch Huerta has been in plenty. Huerta portrayed Alejandro Munoz, otherwise known as the Blue Demon in the biographical television show, Blue Demon, based on the life of the famous wrestler. But, if you're thinking you've seen him somewhere else, you're not wrong, as Tenoch had a main role of portraying famous drug lord Rafael Caro Quintero in Narcos: Mexico on Netflix. Talk about someone who has an amazing range.
Josh Lucas (Dylan Tucker)
Dylan Tucker may not be one of those doing the purging in The Forever Purge, but that doesn't mean you shouldn't be scared of him. He knows how to handle a shotgun well. Josh Lucas is definitely someone you have seen around the block once or twice when it comes to Hollywood. In terms of film, Lucus has done plenty in so many genres, including a role in the psychological film, American Psycho, starring alongside Reese Witherspoon in Sweet Home Alabama, playing Leo Beebe in Ford V. Ferrari and so many more.
In terms of television, Lucas has also appeared in a couple of television films and episodes of TV shows but had a main role in the police procedural comedy-drama, The Mysteries of Laura on NBC, and a recurring role as young John Dutton on the drama series, Yellowstone. With someone who has done as much as he has, it's likely you've seen him before his appearance in The Forever Purge.
Cassidy Freeman (Emma Kate Tucker)
Playing Dylan Tucker's better half, Emma Kate Tucker, is Cassidy Freeman. Freeman herself hasn't done a lot of films, with most of her work in that department being in short films. However, TV has been her home for quite some time.
Her most-known role was portraying Tess Mercer in the popular WB (later moved to The CW) show, Smallville, a superhero show that focuses on the origins of one of the most famous superheroes - Superman. Other than that, Cassidy Freeman has had plenty of guest roles in television, such as CSI: Crime Scene Investigation and The Vampire Diaries, before getting another main role in Longmire, a Western drama. Currently, she stars as Amber Gemstone in HBO original, The Righteous Gemstones, so keep an eye out for this versatile actress. I hope that The Forever Purge will open more doors for her in the film world too.
Leven Rambin (Dylan's Sister)
Every bad-ass shot-gun-wielding cowboy needs a family behind him, and that's where Dylan's sister comes into play throughout The Forever Purge. Leven Rambin portrays the family member in the horror film and has done plenty prior to her role. In The Hunger Games, Rambin played rival to Katniss, Glimmer. After her role in the famous film, you might have seen her in other blockbuster hits such as Percy Jackson: Sea of Monsters, The Big Ugly, or the 2020-Oscar-nominated film, Mank.
Prior to her roles in film, however, Leven Rambin had a main role in the soap opera, All My Children from 2004-2010, portraying Lily Montgomery and Ava Benton – two characters in one show? Now that's some talent. Rambin also went on to have parts in a variety of other shows, such as Terminator: The Sarah Conner Chronicles and Grey's Anatomy, both of which were recurring roles. One of her most recent main roles was in NBC police-procedural crime drama, Gone, which came out in 2017, portraying a former child abduction victim.
Alejandro Edda
Prior to his role in The Forever Purge, Alejandro Edda has been around the block a little, with not just film and TV but with video games as well. Like some of his other castmates, Edda has had many roles in Spanish films, but if you're thinking you've seen him before, you aren't wrong. In 2017, Alejandro had a part in the Tom Cruise-led film, American Made, and a part in the Netflix original film, Reality High.
With television, there's probably a higher chance you've seen him. Not only did he portray Marco in Fear the Walking Dead back in 2016, since Narcos: Mexico premiered, Alejandro Edda has starred as the famous drug lord, Joaquin "El Chapo" Guzman in the popular original Netflix show, and had a voice role in the animated show, Dreamworks Dragons: Rescue Riders. If you're still wondering where you might have seen him recently, Alejandro Edda also had a pretty prominent role as Manny Alvarez in the hit game, The Last of Us: Part II in 2020. Truly, a jack of all trades.
Will Patton (Caleb Tucker)
Playing the role of Caleb Tucker in The Forever Purge, Will Patton has been around in Hollywood for several decades. With some appearances as early as the eighties for this awesome actor (including a role in the Madonna movie, Desperately Seeking Susan), Patton has had plenty of roles in films, such as the biographical sports film, Remember the Titans, the vigilante action film The Punisher, the famous sequel to one of the most-known horror films of all time, Halloween, and even Paul in the Academy-Award winning film, Minari.
Will Patton has also had a very prominent TV career, with almost too many appearances to talk about. Some of his highlights were portraying Kentucky Bluebird in Search for Tomorrow, Jackson Haisley in The Agency, Captain Dan Weaver in Falling Skies, and a prominent recurring role in the drama series mentioned before, Yellowstone. If none of those roles ring a bell, you may also recognize him as Chick, the father seeking redemption with his estranged ex and young son in the '90s disaster film, Armageddon.
Even with all that he's done, I can't wait to see what else he does soon – especially the new upcoming Halloween Kills film.
All of these 2021 movies have me so excited! Which one of these actors or actresses are you most excited to see after watching them in The Forever Purge?
Big nerd and lover of Game of Thrones/A Song of Ice and Fire. Will forever hate season eight. Superhero and horror geek. And please don't debate me on The Last of Us 2, it was amazing!