Wait, Is Shazam 2's Director Teasing A Cameo From The Rock's Black Adam With New Set Photo?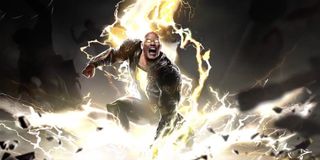 More details about Shazam! Fury of the Gods are being revealed, and the upcoming DC film is climbing up the ladder of most anticipated comic book movies. New costumes for the Marvel family have been teased as well as a cool video of star Zachary Levi looking very heroic in a Shazam type of way. There have also been rumors about Henry Cavill's Superman making a cameo in the sequel, which have since been addressed by director David F. Sandberg. Now, thanks to a recent set photo, the filmmaker has us wondering if he's teasing a cameo from The Rock's Black Adam.
With Dwayne "The Rock" Johnson's long-awaited Black Adam finally on track, fans have been wondering how Shazam and Black Adam will meet on screen or if the films will even be connected. Black Adam currently in production gearing up for a 2022 release, and the anticipation for a cameo of sorts is growing. And David F. Sandberg's cheeky Instagram photo may just up the speculation and hype. Check out his post down below:
In the Instagram post, David F. Sandberg posts a fluorescent lighting bolt on a dark stone wall. So why would this indicate a possible Black Adam cameo or Easter egg? Well, fans are speculating because it is literally a lightning bolt on a black rock, and Dwayne Johnson's Black Adam wears a black costume with a bright lightning bolt at the center, not unlike the members of the Shazam! family.
This photo was clearly done on purpose, to get fans wondering about the possibilities. David F. Sandberg has proven to be pretty funny and social media savvy in the past, so this is on-brand for him. With Black Adam coming out before Shazam 2, there's always a chance we could even see Shazam himself make a cameo in Dwayne Johnson's solo movie, leading to a Black Adam cameo in Shazam! Fury of the Gods. It's honestly seems to be a longshot at this point, but anything is possible in the world of comic book movies, right?
Dwayne Johnson recently had an A+ response to Zachary Levi's photo with Black Adam's Aldis Hodge, so there has been some off-screen crossover between the two godly DC films. Aldis Hodge is playing Hawkman in Black Adam, though there's currently not telling if Hodge's winged hero will be flying into Shazam! Fury of the Gods for a cameo appearance.
Regardless of whether The Rock's antihero shows up in the sequel, it's just exciting to know that we're getting close to seeing him on the big screen, and it's really starting to feel real. It'll definitely be exciting to see Johnson's take on the iconic DC Comics character. And while fans wait, they can get many behind-the-scenes looks and shirtless teasers from The Rock's Instagram, which could hopefully give us a few hints about what's to come in this corner of the DC Extended Universe.
Black Adam hits theaters on on July 29, 2022, while Shazam! Fury of the Gods arrives on June 2, 2023.
Your Daily Blend of Entertainment News
Movie and TV obsessive. A good Heist movie is the way to my heart. Enjoyer of everything from Marvel Movies to Rom-coms.