Why Harry Potter's Bonnie Wright Is Fine With Possibly Never Playing Ginny Weasley Again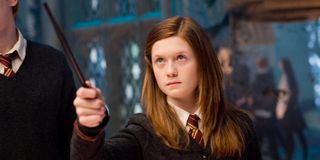 When you've played one of the most famous characters of all time, it has to be hard to move on. But Bonnie Wright, who played Ginny Weasley in the Harry Potter films, seems to have figured out a great way to continue on with her life and career, while also never forgetting where she came from. She's even admitted that even if there are more Harry Potter movies, she'd be fine never reprising the role that made her famous.
It's now been nearly ten years since Harry Potter and the Deathly Hallows - Part 2 was released. Fans of J.K. Rowling's series are constantly debating how, and if, it should continue on. While there's already Fantastic Beasts and another Hogwarts series slated for HBO, everything from a reboot to a sequel or more prequels has been bandied about. Bonnie Wright, for her part, told People that she thinks Harry Potter should ideally be left as is:
Bonnie Wright was just ten years old when Harry Potter and the Sorcerer's Stone hit theaters worldwide. While her character -- the youngest of the Weasley children -- had a small role in that film, she took on more responsibilities as the series went on, playing a prominent part in The Chamber of Secrets and eventually becoming Harry Potter's (Daniel Radcliffe) love interest in the last three films.
During the same interview, Bonnie Wright did offer another side to this situation. She admitted that despite any misgivings about playing Ginny again, her time with the Harry Potter cast and crew was, well, magical:
So, even though she had a great experience on the Harry Potter set and she wouldn't be opposed to reuniting with the crew for more films, it sounds like she'd be perfectly happy to leave Ginny's wand on the shelf for good. That's a pretty good mentality to have about the many potential futures for the Harry Potter franchise.
It's not a surprise that Bonnie Wright wouldn't turn down an opportunity to work with her Harry Potter castmates again. In the years since the series wrapped, many of them have continued to promote the franchise. They've also remained close friends. Tom Felton, who played Draco, frequently gives fans a glimpse into the cast's semi-frequent get togethers. When Afshan Azad, who played Padma Patil, announced her pregnancy, many Harry Potter castmates, including Bonnie Wright, were quick to congratulate her.
If Warner Bros. greenlights a new Harry Potter movie, Bonnie Wright isn't the only star who would be up for the challenge. Rupert Grint, who played her brother Ron, has also said he'd be willing to return if the timing was right. So maybe there could be a Weasley family reunion after all.
Your Daily Blend of Entertainment News
Thank you for signing up to CinemaBlend. You will receive a verification email shortly.
There was a problem. Please refresh the page and try again.