Ginny Weasley Actress Bonnie Wright Updates Us On She And Harry Potter's Marriage 10 Years Later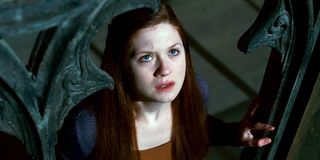 If you don't think about where your favorite Harry Potter characters are now, are you even a real Potterhead? Sure, we're well into adulthood and so are they, but those that we love never truly leave us, right? That is certainly true for Bonnie Wright, who I'm still jealous of for getting to play Ginny Weasley in the Harry Potter films. Wright apparently still thinks about her character, because she's given us an update on where she feels Ginny and Harry are now after 10 years of marriage, and I honestly couldn't agree more.
Clearly Bonnie Wright is still very much on the Harry Potter train, because she recently visited the Warner Brother's studio tour in Hollywood, where there are plenty of Harry Potter sets on display. While there, Wright spoke with Entertainment Weekly about her love for the franchise and where her character and her character's world famous husband are now. And her thoughts are sure to sit well with longtime fans of the franchise. Here's what Wright says, exactly:
Thanks to the newer addition to the franchise and now canon Harry Potter and the Cursed Child, we know Harry Potter became the Head of Magical Law Enforcement for the Ministry of Magic (now that it's not, like, super corrupt). With this, Bonnie Wright's "he's keeping things under control" comment definitely makes a lot of sense. This is because he basically became the person who watches over all of the Wizarding World and makes sure nothing like Voldemort ever happens again.
Now that the Wizarding World is "under control", it's nice to think that Harry and all the other witches and wizards can focus on parenthood and the things that make life enjoyable. Which is, of course, something their own parents didn't get much of during the time of Death Eaters and when the Wizarding World was at war.
Bonnie Wright also points out something that a lot of fans may not remember, and that is that Ginny had her own career after Hogwarts as a professional quidditch player. It's canon that she retired early to raise her and Harry's 3 children. However, Wright has her own theory own how things might've progressed with Ginny's journey as time went on:
While a lot of fans tend to also have fun making up stories about their favorite fictional characters, it totally makes sense that Bonnie Wright would love to do this, too. After her time acting in the Harry Potter films, she became a director herself, telling her own stories on camera. She hasn't directed any feature-length films yet, but she's one to watch out for. As for her thoughts on where the head Harry Potter couple is now, I'd be thrilled to see something of that story come alive on screen - especially when it comes to an exploration of Ginny's quidditch career.
Your Daily Blend of Entertainment News
Constantly thinking about books, coffee, and the existential dread I feel from Bo Burnham's Inside. While writing I'm also raising a chaotic toddler, who may or may not have picked up personality traits from watching one too many episodes of Trailer Park Boys.