Black Adam Star Reveals More DC Villains Will Be In Dwayne Johnson's Movie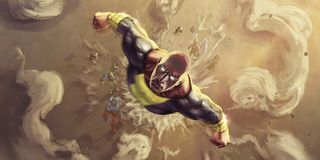 Black Adam is in its final days of production, and Dwayne, "The Rock" Johnson, has shared a celebratory message with fans recognizing the two years of hard work that's gone into the movie and his massively muscular body. Black Adam is almost exactly a year out from its 2022 release, and fans want to know everything they can about the film. Now just when thought things get more exciting, a Black Adam star has revealed that more DC villains will be in the Rock's movie.
Black Adam already boasts an incredible roster of DC heroes and characters, which is a big reason for the hype around the film. Sarah Shahi spoke to The Hollywood Reporter about her role in the upcoming Black Adam movie and revealed that there will be even more DC villains than we thought, saying:
Sarah Shahi reveals the name of her character, Adrianna, and the possible conflict of the movie. Adrianna is supposedly a freedom fighter leading a group against a group called Intergang. The implications could be huge for Black Adam and will undoubtedly just add to the hype.
Adrianna is the name of Black Adam's wife in the comics, but we aren't sure if that is carrying over to the film version, but her character probably isn't named Adrianna for no reason. Intergang is a villainous organized crime group that is very dangerous and goes toe to toe with DC's strongest heroes on numerous occasions. They get technology and weapons supplied by The New Gods, so we could end up seeing some sort of connection to Darkseid and Apokolips in a Black Adam.
There are already rumors of a Black Adam cameo in Shazam 2, and Dwayne Johnson has commented on Black Adam Star Aldis Hodge, who will play Hawkman, hanging out with Shazam Himself Zachary Levi. We also can't forget former 007 pierce Brosnan is playing Doctor Fate in the film, and he has some thoughts on his costume. The Black Adam cast is excellent, and they are all putting the work in to be the best version of their characters.
Black Adam is one of the most anticipated DC movies to date and has been years in the making. We cant wait to see how The Rock's take on the iconic divine anti-hero/villain and how all the various pieces and characters like Hawkman and Doctor Fate will fit together. We do know that the years-long project will feature The Rock's crazy physique that he keeps showing off, and that might be enough to carry the movie on its own.
Your Daily Blend of Entertainment News
Movie and TV obsessive. A good Heist movie is the way to my heart. Enjoyer of everything from Marvel Movies to Rom-coms.