Anthony Ramos And Melissa Barrera Swapped In The Heights Roles, And I Can't Stop Watching It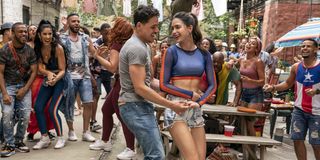 Anthony Ramos and Melissa Barrera are two of the biggest standouts from the film adaptation of In The Heights. They perfectly embodied their characters and helped countless new fans fall in love with Lin-Manuel Miranda's first Tony-winning musical. Maybe the fact that they were so good in their roles is what makes their recent TikTok collab, in which they swap roles to take on a now-viral moment from the film, especially addictive.
Recently, Anthony Ramos shared a clip featuring Melissa Barrera on his social media accounts. The two actors, in split screen, lip sync their way through a snippet of the song "Blackout" from In The Heights, with Barrera taking on Usnavi's lines and Anthony Ramos playing the role of Vanessa. Take a look at the hilarious video here:
If you haven't seen In The Heights, the actors are reenacting a dramatic moment during a neighborhood-wide street party when their characters argue about their devotion to each other before Vanessa storms away. It's a powerful scene and one that's definitely a highlight in a film with so many other memorable moments.
On the surface, it may seem like a random moment for the pair of actors to recreate. However, the scene itself has gone viral on TikTok, where according to Newsweek, fans who haven't even seen the film yet can't stop replaying the verse and using it in their own videos. They're seemingly more obsessed with the way Ramos delivers his character's bruising line than they are concerned with plot details.
When celebrities join in on a social media trend, it can go a few different ways. Sometimes, it produces hilarious results, while other times it ends up feeling like they ruin the joke by trying too hard to be in on it. Thankfully in this case, Anthony Ramos and Melissa Barrera nailed the assignment. From Barrera's impassioned frustration to Ramos' inspired t-shirt -- er, hair -- flip, they fully committed to the bit and upped the ante for anyone else hoping to latch onto the clip's virality.
While there has been some backlash surrounding casting in the In The Heights adaptation, the movie's release has still been a big career moment for both of the actors. They've both earned critical praise for their convincing turns as the film's romantic leads. Ramos was already making a name for himself, thanks to his work in both the stage and screen versions of Hamilton but, now that he's proven he can carry a high profile film, he's leveled up. In The Heights is Barrera's first major Hollywood film role and, thanks to her compelling performance, it's one that has already helped her make major career moves.
So it's nice to see both of them make the most of this moment -- and also have a chance to have a little fun with it, too. In The Heights is currently playing in theaters.
Your Daily Blend of Entertainment News
Thank you for signing up to CinemaBlend. You will receive a verification email shortly.
There was a problem. Please refresh the page and try again.