Is F9, One Of The First Big Budget 'Success' Of The Pandemic, Really A Box Office Hit?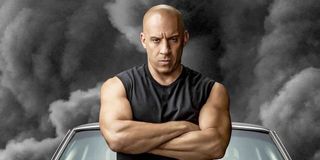 Three weeks in and the Vin Diesel and John Cena starrer F9 has been touted as one of the first successes of the post-pandemic box office, an honor also given out to flicks like A Quiet Place Part II and this weekend's Black Widow. But while the latest Fast and Furious movie has absolutely helped to revive the moviegoing audience, has it been an actual hit? The answer is actually pretty complicated.
At the time of this writing, F9 has opened in a slew of countries starting with its world premiere happening in South Korea back on May 19. In the weeks following, the film saw a staggered opening, only hitting theaters in the United States and Canada on June 25. We're well into July now and at the time of this writing, the ninth Fast and Furious film has brought in a little over $378 million dollars internationally and a little under $138 million domestically.
Globally that means the flick has gone well over the half a billion benchmark, a seemingly hefty sum, particularly in the current theatergoing climate. This has meant that F9 has hit several box office milestones, including helping theater revenue get back to the point where all Top 10 films made over a million dollars at the box office and hitting pandemic records for revenue. The movie even edged out Hobbs and Shaw on its opening weekend, making over $70 million (compared to the $60.8 million the spinoff made).
All of this sounds like great news, however, it's a little more complicated than that. First and foremost, it's worth noting that while F9 enjoyed a very successful opening weekend at the box office, those numbers fell off drastically during Week 2. The movie managed to hit the $100 million mark domestically during Week 2 (a pandemic record!) but that also meant that the movie dropped 67% during Week 2. While Variety noted that's typical for the franchise in its second weekend, the opening weekend numbers were not.
For example, The Fate of the Furious ultimately brought in $226 million domestically and over $1.2 billion globally by the end of its run. While F9 still has weeks yet to go at the box office, Digital Spy and other early estimates have the new movie only making around $160 million domestically. In China, where the franchise usually makes a large portion of its revenue, ticket sales have also been lower, and the movie is expected to make about 45% less in revenue in that country than past Fast and Furious movies have made. So the numbers are down across the board.
Made on a budget north of $200 million, it's also worth noting that Universal has had to keep people amped up for F9 for more than a year. It's really unclear how much advertising for the movie has cost in that time. Given movie theaters take a percentage of revenue, the average guesstimate is that a movie has to make at least 2.5 times its budget in order to break even and start making money. With the additional cost of advertising and no clear number for the sequel's actual budget, it's unclear if the movie is there yet.
Plus, F9 is not some random old action movie. It's part of a billion dollar franchise and right now it's not even halfway to the $1.2 billion The Fate of the Furious made during its big screen run in 2017. The franchise obviously faced a slew of challenges that the last movie didn't face, but it's also true that it's just not performing as well as the eighth flick did. So, even if the film ends up well into the green, is it really a success compared to the last movie? That's another big question.
F9 has had plenty of pros: bringing in John Cena as Dom's brother, bringing back Han and even giving the good old Tokyo Drift boys something new to do. It's also setting up for the final two movies in the franchise, so if this is the new normal for a Fast movie, it's a trend Universal is going to want to look at as it figures out its budgets for the final two outings. And if budgets change, I'm just saying, don't expect the last few flicks to send the guys back to space.
As the numbers are rolling in for more movies in the coming weeks and as Black Widow has also had a milestone weekend in this new era, more trends and patterns will likely start emerging. We'll be sure to keep you updated as more and more movies that have been hotly anticipated for over a year now start seeing the light of day.
Your Daily Blend of Entertainment News
Reality TV fan with a pinch of Disney fairy dust thrown in. Theme park junkie. If you've created a rom-com I've probably watched it.