Fear Street Part 2: 1978 Ending Explained: What Happened At Camp Nightwing, And How Does It Tie Into The Curse Of Sarah Fier?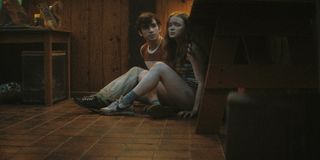 Warning: Spoilers for Fear Street Part 2: 1978 are in play. If you haven't seen the film yet, and want to avoid spoilers, consider this your last chance to escape.
Previously on Fear Street Part 1: 1994, the historic rivalry between Shadyside and Sunnyvale caused a rift between young lovers Deena (Kiana Madeira) and Sam (Olivia Welch). Thanks to heated tensions, and an unfortunate car accident, Sam found herself the target of the fabled curse of Sarah Fier; a fate that has come to possess Shadyside residents and turn them into a killer in this interpretation of R.L. Stine's famous book series. But now, with the flashback to the Camp Nightwing Massacre completed, Fear Street Part 2: 1978's ending furthers our understanding of the killer curse that comes to visit every so often. Last call for those to abandon the spoiler train, as we're about to look deeper into just what the second film in the Fear Street trilogy does to set up its third, and final, chapter.
Where Does The End Of Fear Street Part 2 Leave Off??
After learning the truth about the Camp Nightwing Massacre from Christine Berman (Gillian Jacobs), known as Ziggy back in 1978 (Sadie Sink), the solution to breaking the curse of Sarah Fier seems to be at hand. The story of how Christine and her sister Cindy (Emily Rudd) tried to stand up to the very forces that mowed down so many campers at Camp Nightwing comes to a close, with Cindy dead and Christine traumatized for life. Meanwhile, if Deena wants to see Sam return to her normal self, it looks like she's going to have to reassemble the body of Sarah Fier.
With her body buried in the woods, as seen in Fear Street Part 1: 1994, we learn that her hand was buried under the tree she was hung at. Currently located in the Shadyside Mall, that tree still has Sarah Fier's hand firmly planted, with Deena recovering it and planting it alongside Sarah's body in the woods. The only trouble is, after doing that, Deena doesn't quite feel herself, as she seems to be inhabiting the body of Sarah Fier in 1666.
The Curse Of Sarah Fier - What Do We Learn From 1978?
Working backwards, the big revelation of Fear Street: Part 2 - 1978 is that Sarah Fier's body was separated, with her corpse and her hand acting as two pieces. Supposedly, if you reunite Sarah Fier's hand with her body, her soul should be at peace, which is exactly what Deena does. However, that's not the end of it, as with Deena's consciousness apparently transported into Sarah's body, it looks like it's story time in old 1666.
The fate of Sarah Fier's hand is very important to Fear Street: Part 2 - 1978, as it's allegedly how her curse was formed in the first place. With local legend stating that Sarah "cut her hand on Satan's stone" in a pact with Old Scratch themself, putting her body back together is supposed to be the cure all. But one more revelation remains in this volume of terror, and it's literally where Sarah Fier's curse originated from.
As Ziggy and Alice (Ryan Simpkins) find a secret passage in Sarah Fier's house, they uncover an underground tunnel system. The list of victims possessed by the curse over the ages is discovered, as well as a gigantic organ that acts as the heart of Sarah Fier's curse. We previously saw this heart send forth the previous killers that were folded into the curse, which now includes one more soul.
Who's The Nightwing Killer, And Who Died In Fear Street: Part 2?
The Nightwing Killer is Fear Street: Part 2 - 1978's latest murderer, and after this adventure we now know his true identity. Tommy Slater (McCabe Slye), all around nice guy and boyfriend to Cindy Burman (Emily Rudd), is the unfortunate soul that's claimed by the curse of Sarah Fier. And he mows down a lot of campers during this bloody chapter in Shadyside history.
While we're not working with a bread slicer or anything fancy like in Fear Street: Part 1 - 1994, that axe does leave its mark on the trilogy's killer legacy. With most of the featured campers taken out by Tommy as The Nightwing Killer, we're left with a trio of final fighters: Alice (Ryan Simpkins,) Cindy, and Ziggy. By the end of Fear Street: Part 2 - 1978, Ziggy is the only survivor of the group, doomed to carry the trauma of the Camp Nightwing Massacre for almost 20 years.
Shadyside Vs. Sunnyvale: The Fallout Of The Camp Nightwing Massacre
Continuing the Fear Street trilogy's tale of terror, Shadyside's image as "Killer Capital USA" continues. Once again, the Shadyside kids are the problem, with Tommy Slater being the latest addition to the ranks of those possessed by Sarah Fier. And while it looked like young Nick Goode (Ted Sutherland) and Ziggy's budding romance could have been a thing, it eventually fades, as he's destined for better things as the eventual sheriff of Sunnyvale.
But hey, with the closure of Camp Nightwing, the Shadyside Mall found the perfect place to build its eventual self. And as for the Goode family, well not only does Nick become a sheriff, but his family seems to find themselves in their prime, holding positions of power and making Sunnyvale a great place to live. At least, that's what it seems like for the time being, as we've got one more movie to make our way through, and Fear Street: Part 3 - 1666 surely has some surprises up its sleeve.
How Fear Street Part 2: 1978 Teases Part 3: 1666
In the teaser for the next installment of Fear Street, (opens in new tab) we see some of what awaits Deena's look through the eyes of Sarah Fier. The big finale takes us all the way back to the colony known as Union, and we'll get to see the events that not only start this curse, but separate Shadyside and Sunnyvale into their respective factions. And we see a lot of familiar faces, as actors from both previous films play some of the characters we'll get to know, love, and watch die.
Another point of interest is in the return of nurse Mary Lane (Jordana Spiro). We not only see her as the camp medic at Camp Nightwing, but we're also reminded of her mention of that very profession in Fear Street: Part 1 - 1994. Seeing what looks like her ancestor in 1666, it would seem that her bloodline may have a connection to the curse of Sarah Fier. Which is interesting, considering it was she who claimed to know that Tommy Slater was going to die, "one way or another," in 1978.
If I had to leave you with one word for what Fear Street: Part 3 - 1666 is going to give us all, it'd be "answers." Now's as good a time as any to watch and re-watch Fear Street: Part 1 - 1994 and Fear Street: Part 2 - 1978, as there's a multitude of clues signalling where things could be going in the Fear Street movies. But before you go and do that, don't forget to check out guides that run down the 2021 new movie releases, as well as 2021 Netflix movies!
CinemaBlend's James Bond (expert). Also versed in Large Scale Aggressors, time travel, and Guillermo del Toro. He fights for The User.
Your Daily Blend of Entertainment News
Thank you for signing up to CinemaBlend. You will receive a verification email shortly.
There was a problem. Please refresh the page and try again.