Fear Street Part 1: 1994 Ending Explained: What Happens And How It Resurrects The Curse Of Sarah Fier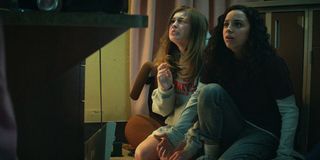 Warning: spoilers for Fear Street: Part 1 - 1994 are in play. If you don't want to be spoiled, turn back around and return once you're ready to learn about the curse of Sarah Fier.
Something infernal lies at the heart of Shadyside, Ohio, and it's a curse that spans three centuries, claiming countless lives in its wake. Luckily, you the audience don't have to worry too much, as all the hexing lies on the other side of the screen, firmly contained in Netflix's Fear Street movies. There's a lot of groundwork to lay down in Leigh Janiak's adaptation of R.L. Stine's teen horror anthology. By time Fear Street Part 1: 1994's ending lands its final punch, that foundation is solid as ever; and we're about to discuss where the conclusion of this film leaves things. Last call for spoilers, friends; as it's time to get fearsome.
Where Does The End Of Fear Street Part 1 Leave Off?
We're led to believe that Fear Street: Part 1 - 1994 will end with the death and resurrection of Samantha Fraser (Olivia Welch), as the curse of Sarah Fier is alleged to end when the current victim bites the dust. Just as Sam is about to enjoy her newly reconciled relationship with Deena (Kiana Madeira) interruptions derail the celebration. One such interruption is a phone call, which sees Deena finally getting in touch with C. Berman (Gillian Jacobs), a survivor of the Camp Nightwing Massacre in 1978.
As the Fear Street gang was trying to get some advice from Ms. Berman after their attempt to blow up Shadyside's most notorious killers, now resurrected in the name of Sarah Fier's curse, Deena left a message on her machine when she couldn't be reached. Ms. Berman, sadly, is the bearer of bad news, as she warns that Sarah Fier won't be stopped so easily. The fully possessed Sam stabs Deena in the stomach, and eventually Deena and her brother Josh (Benjamin Flores Jr.) subdue and bind her, in hopes that she can still be saved.
The Curse Of Sarah Fier - How It Affects 1994
The entire Fear Street trilogy is built on two storytelling pillars, one of which is the curse of Sarah Fier. Possessing random teens in Shadyside throughout three centuries of history, the town has gotten its bad reputation thanks to her supposedly sinister presence. It's a curse that only ends in death; but eventually sees itself recurring throughout the years. In Fear Street: Part 1 - 1994, we see this curse take over two teenagers: Ryan Torres, the boy who was possessed in Fear Street: Part 1 - 1994's cold open, and Samantha Fraser.
Sam apparently links herself to the curse of Sarah Fier by disturbing her body, seeing her life story flash before her eyes, and ultimately becoming a target for possession. And that's ultimately what led Deena to drown her beloved Sam, reviving her into what she thought would be unpossessed peace. Of course, what sort of horror trilogy would let that sort of happy ending slide in the first act? Sarah Fier's defeat is apparently only temporary, as by the end of the first installment, the resurrected Sam is totally in Sarah's grasp.
Who Died In Fear Street: Part 1?
Horror movies like Fear Street: Part 1 - 1994 are naturally going to have a body count, especially when the carnage involving beloved characters is worn like a badge. In terms of the characters that are dispatched, but barely known, we get to see tons of hospital staff and other innocent bystanders mowed down. Plus, in a nod to Scream and even Psycho, we're introduced to a character named Heather, played by Stranger Things' Maya Hawke. Surely, the audience thought she would have survived; but she's the first sacrifice as Ryan Torres' possession cuts her out before the titles roll.
And then there's the honored dead of Shadyside, those Fear Street friends we made along the way. With the army of killers Sarah Fier apparently commands closing in on our teen ensemble, we see two of our central characters die horrific deaths. Cheerleader Kate (Julia Rehwald) is put through a bread slicer by a resurrected Ryan, while Simon (Fred Hechinger) gets an axe to the head from the Nightwing Killer. And thanks to Shadyside's rather checkered past, Kate and Simon's deaths are used as easy explanations for the rest of the night's gruesome murders.
Shadyside Vs. Sunnyvale: The Eternal Grudge
Another very important thing to consider throughout the Fear Street trilogy is the seemingly eternal grudge between competing towns Shadyside and Sunnyvale. Both part of a colony known as "Union" in 1666, these two locations would be formed that same year. Meanwhile, in Fear Street: Part 1 - 1994, that dynamic is exactly what led to Sam and Deena's falling out, as Sam moved to Sunnyvale and Deena ended their relationship. For Sunnyvale, it's always pleasant and fair, under the watchful eye of the Goode family.
A founding bloodline that reaches back to the town's formation, they find themselves in positions of power, constantly leading a charmed life. Shadyside, on the other hand, is a town seemingly infected with a sinister legacy, and an even worse nickname: "Killer Capital USA." This leads many, including Deena herself, to either attempt to flee, or throw up their hands and declare that "shit's doomed." The legacy of hatred between both towns is something to keep in mind when watching the Fear Street trilogy, as it already provides one of the links we'll see fleshed out in Fear Street: Part 2 - 1978.
How Fear Street Part 1: 1994 Teases Part 2: 1978
Towards the end of Fear Street: Part 1 - 1994, we see Sheriff Nick Goode (Ashley Zukerman) slip a note under a random door with a simple message: "It's happening again." That story will be told in full during Fear Street: Part 2 - 1978, but for now, we'll just say that Nick has some personal ties of his own to these horrific goings on. Much like the mysterious, and for now nameless, C. Berman, the past holds clues to the present, as Sarah Fier's dark legacy has touched them both.
In the teaser for Fear Street: Part 2 - 1978, we see numerous flashes of the Camp Nightwing Massacre that's part of the deadly legacy of Sarah Fier's curse on Shadyside. C. Berman was one of the campers there on that fateful night, and she lost her sister as a result. We see several kills, set to Alice Cooper's "School's Out For Summer," one of which is another Stranger Things cast member, Sadie Sink.
Could she be another sacrifice to the pre-credit sequence gods? You'll have to wait to find out, as Fear Street: Part 2 - 1978 will hold that answer, and more, when it debuts on July 9th! In the meantime, go back and watch Fear Street: Part 1 - 1994 again, as you never know what clues could be hiding in plain sight. And if you're looking for something else to watch, check out the list of 2021 Netflix movies, as well as the more theatrical 2021 movies that will be headed our way as well.
Your Daily Blend of Entertainment News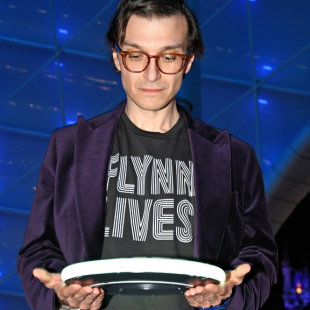 Senior Movies Contributor
CinemaBlend's James Bond (expert). Also versed in Large Scale Aggressors, time travel, and Guillermo del Toro. He fights for The User.