Upcoming Anne Hathaway Movies: The Witches, Sesame Street, And More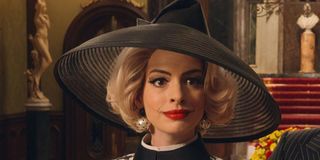 Having proven herself to be a versatile and vulnerable actress through several accomplished and noteworthy roles, Anne Hathaway is a star talent, and she continues to shine in a variety of notable films. While her recent track record leaves something to be desired, there's no denying the Oscar-winner's clear talents, so it should only be a matter of time before she stands out in another exceptional role.
Certainly, Hathaway has a number of exciting new movies to look forward to, including The Witches, which is slated to stream on HBO Max this weekend. But in addition to that upcoming Roald Dahl adaptation, we can also look forward to Sesame Street, a new James Gray picture, a potential Princess Diaries sequel, and several other intriguing and promising titles.
With that said, let's take a look at Anne Hathaway's schedule and see what fans of the acclaimed actress should keep an eye on in the months and years ahead.
The Witches - October 22nd, 2020 (Completed)
Anne Hathaway has often been a bewitching screen presence. Now, that's quite literally the case as she frontlines The Witches, the latest film from director Robert Zemeckis (Back to the Future, Forrest Gump). Based on the novel by Roald Dahl, which was previously adapted into Nicolas Roeg's 1990 film starring Anjelica Huston, this fantastical dark comedy follows an orphaned boy (Jahzir Kadeem Bruno) who stumbles upon a conference of witches, led by The Great High Witch (Hathaway), and gets transformed into a mouse. It's exactly the sort of spooky, kooky family entertainment you'd expect from the author behind Matilda and Charlie and the Chocolate Factory.
Previously set to be screened in theaters, the pandemic pushed its theatrical rollout back before it was announced that The Witches would become an HBO Max exclusive instead. It arrives on October 22nd — just in time for Halloween!
Lockdown - TBA (Filming)
Just a few years after she appeared in Ocean's 8, Anne Hathaway is returning to the heist genre. Following HBO Max's The Witches, Hathaway's next role will be Doug Liman's Lockdown, which also stars Chiwetel Ejiofor, Ben Stiller, Lucy Boynton, Mindy Kaling, Dule Hill, Ben Kingsley, Stephen Merchant, and Lily James. Production recently went underway in London, and it's set against the backdrop of the COVID-19 lockdown (the title is rather cheeky in that way). It'll tell the story of how a sparring couple (Hathaway, Ejiofor) find a truce by attempting a high-stakes jewelry heist at one of the world's most expensive department stores. It's written by Stephen Knight, who previously wrote and directed 2019's Serenity, which also starred Hathaway.
How the pandemic plays into the plot outside of the premise will certainly be intriguing. There's currently no release date set, but it should arrive next year.
Sesame Street - January 14th, 2022 (Pre-Production)
Soon, Anne Hathaway will make her way to Sesame Street. The beloved, generation-spanning children's education series has remained a recurring fixture of family entertainment for over 60 years, and it's only continuing to grow in its cultural prominence. Now, Sesame Street returns to the big screen with a new movie, also titled Sesame Street. The forthcoming film will be the third based on the series, following 1985's Sesame Street Presents: Follow That Bird and 1999's The Adventures of Elmo in Grouchland, but it might very well be the most prominent one yet, notably with Hathaway attached.
The plot of this musical movie remains unconfirmed, but it'll also feature Chance the Rapper and possibly Bo Burnham, and it'll be written and directed by Jonathan Krisel (Baskets, Portlandia) in his feature film debut. With its January 14, 2022 release date set, production hopes to start next year.
Bum's Rush - TBA (Pre-Production)
We've heard Bill Murray's voice come out of a cat thanks to the Garfield movies. Now, Bill Murray is going to the dogs. Specifically, he'll voice a canine character in Bum's Rush, the newest film from director Aaron Schneider (Get Low, Greyhound). Written by C. Gaby Mitchell (Blood Diamond), it'll focus on the relationship between a bootmaker (Anne Hathaway) and her pooch pal, a stray dog named Bum.
As the tale will tell, the owner and the mutt find themselves at a serious crossroads that'll change their hearts and minds in ways they never anticipated, as Variety reported. In addition to Hathaway and Murray, Robert Duvall is also expected to join in an undisclosed role. It's reportedly in pre-production with plans to shoot in Santa Barbara and New Mexico. It should also be noted that Murray voiced a pup once before in Wes Anderson's Isle of Dogs.
Armageddon Time - TBA (Pre-Production)
Folks, it's Armageddon Time. More specifically, writer-director-producer James Gray (The Lost City of Z, Ad Astra) will soon return with a new coming-of-age drama centered around friendship, loyalty, and growing up in Queens in the 1980s. Details aren't developed otherwise, but the cast list is strong. The film will star Oscar Isaac, Robert De Niro, Cate Blanchett, Donald Sutherland, and Anne Hathaway in undisclosed roles. Filming is expected to take place in New York City (no surprise), though it's currently unknown when production will start.
Certainly, in the midst of this ongoing pandemic, it can be hard to say when a lot of movies will move forward. Nevertheless, we should expect production to begin on this autobiographical drama, which is said to be evocative of the works from Federico Fellini and François Truffaut, sometime next year — depending on the circumstances in New York City, naturally.
French Children Don't Throw Food - TBA (Announced)
Back in March, it was revealed that Anne Hathaway was signed on to topline the new comedy, French Children Don't Throw Food, based on Pamela Druckerman's 2012 autobiography of the same name (though it was published as Bringing Up Bebe: One American Mother Discovers the Wisdom of French Parenting in the United States, for whatever reason). The story will follow the real-life experiences of the 35-year-old journalist who is living in Paris and dealing with the trials and tribulations that come with pregnancy and motherhood. Specifically, she tries to figure out what secrets the French hold about proper parenting, as French children seem far better behaved than Americans. However, she realizes this is all a facade.
The screenplay will be adapted by Jamie Minoprio (St. Trinian's) and Jonathan Stern (Children's Hospital). No director is currently attached to the film. Developments still remain early.
The Princess Diaries 3? - TBA (Rumored)
Will we ever get The Princess Diaries 3? Admittedly, there's no good reason to believe that it'll be bestowed upon us anytime soon. The delayed sequel is far from confirmed. Rather, it's only been discussed — and hoped for — by the principal players involved, including Anne Hathaway. But that isn't surprising. While adult roles in Brokeback Mountain, The Devil Wears Prada, and Rachel Getting Married solidified Hathaway as a mainstream talent, these two films were her earliest starring roles, and they lead the actress into stardom. As a debt of gratitude, it makes sense to return. But the chance to reprise the role of Princess Mia Thermopolis should also be appealing in its own right.
Unfortunately, director Gary Marshall passed away in 2016, though there's a script floating around. Maybe someone will pick up the crown and make the third movie happen someday.
The Lifeboat - TBA (Announced)
Soon, Anne Hathaway might be setting shore for The Lifeboat, an adaptation of Charlotte Rogan's book of the same name. In the upcoming drama, we follow a woman (Hathaway) who recounts the tale of how she was shipwrecked at sea while on trial for murder in 1914.
Previously set to be helmed by Joe Wright (Atonement, The Darkest Hour), Deniz Gamze Ergüven, the filmmaker behind 2015's acclaimed Mustang, took over filmmaking duties back in 2017, though the project hasn't picked up any more steam since then. Therefore, it remains unclear if The Lifeboat is still expected to set sail or if it's officially sunken, but it should be noted that Hathaway is also on-board to produce this starring vehicle. For now, though, it's stuck at the docks, waiting to hit uncertain seas. Whether or not it'll get a chance to hit the waves remains unclear.
Untitled Abby Kohn/Marc Silverstein Romantic Comedy - TBA (Announced)
Anne Hathaway is a romantic. Or, at the very least, she knows how to appeal to romantics. The A-list actress has starred in a variety of romance-based movies throughout her varied and distinguished career, including One Day, Becoming Jane, Love and Other Drugs, The Devil Wears Prada, Brokeback Mountain, Valentine's Day, Song One, Nicolas Nickelby, and, yes, The Princess Diaries films, to some extent. Now, she's set to star in — as well as produce — another romantic comedy from screenwriters Abby Kohn and Marc Silverstein (He's Just Not That Into You). It'll be a contemporary comedy that explores the dating world wherein technology rules everything. Details are otherwise limited.
It's unclear who'll direct, though Kohn and Silverstein recently helmed 2018's I Feel Pretty. There haven't been any developments on this project since 2017, however, so it's unclear if it's still happening.
Which new Anne Hathaway movie are you most looking forward to seeing in the near future? Be sure to let us know in the comment section below!
Will is an entertainment writer based in Pittsburgh, PA. His writing can also be found in The Playlist, Cut Print Film, We Got This Covered, The Young Folks, Slate and other outlets. He also co-hosts the weekly film/TV podcast Cinemaholics with Jon Negroni and he likes to think he's a professional Garfield enthusiast.
Your Daily Blend of Entertainment News
Thank you for signing up to CinemaBlend. You will receive a verification email shortly.
There was a problem. Please refresh the page and try again.