No Big Deal, Just Star Wars Legend Mark Hamill Showing Love To Co-Star Harrison Ford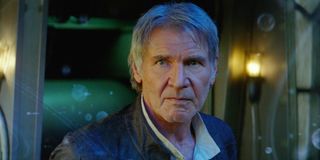 You may think you're a Harrison Ford superfan, but you're not as big of a Harrison Ford superfan as Mark Hamill. At least, that seems to be the case after the actor showed his fellow Star Wars legend some serious love on social media.
Twitter aficionado Mark Hamill recently shared his appreciation for his longtime co-star with an effusive tweet devoted exclusively to him. Since Harrison Ford isn't on Twitter, he had to settle for hashtagging his name rather than at-tweeting him, but that didn't lessen the obvious affection for the Hollywood icon. Take a look at the #HarrisonFord love fest here:
Any day is a good day to celebrate Harrison Ford. After all, in the last decade the man has reprised his roles in his biggest Hollywood film franchises. And after more than five decades in the business, he's still doing action sequences. Most of us could only dream of being that awesome.
The evidence Hamill provided in his tweet definitely helps justify his seemingly random social media shoutout, because the range of photos show that Ford has a talent for being handsome and cool no matter what -- if he's young, old, bearded, clean-shaven, in character or just hanging out with friends. However, it turns out that Mark Hamill's tweet celebrating Harrison Ford wasn't that random after all.
July 13 was Harrison Ford's 79th birthday -- so Mark Hamill was only pretending to randomly share his love for his fellow Star Wars alum. He wasn't the only person on Twitter to acknowledge the momentous date, either. If you browse the #HarrisonFord hashtag, you'll see plenty of other users wishing the star a happy birthday and celebrating his most epic moments, both on-screen and off.
Still, the celebratory tweet might mean a little bit more to Star Wars fans, since it's coming from one of the actors who stood alongside Ford during one of the biggest career moments of his life. As Luke Skywalker and Han Solo, they both cemented an undeniable Hollywood legacy.
Hamill has remained deeply connected to the Star Wars community over the years in a way that Ford has not, and he's never shied away from celebrating (and sometimes affectionately teasing) his co-stars. He often shares memories and tributes to the late Carrie Fisher. And earlier this year, he shared a video of Ford being freaked out by a magic trick and tagged it #ClassicHarrison. It's all in good fun, though, and it's clear he has nothing but love for his friend and co-star.
We'll see if and how Hamill chooses to continue to hype up Harrison Ford in the future. With the highly anticipated Indiana Jones 5 right around the corner, maybe he'll even show some love to his co-star's other huge movie franchise.
Your Daily Blend of Entertainment News
Thank you for signing up to CinemaBlend. You will receive a verification email shortly.
There was a problem. Please refresh the page and try again.