Pixar's Turning Red: Release Date, Cast And Other Quick Things We Know About The Movie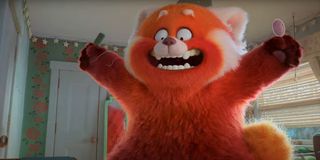 Pixar has continues to turn out the hits, with Soul winning the Academy Award for Best Animated Feature, and Luca becoming one of the most popular Disney+ movies thus far on the platform. Among the movies to look forward to for Pixar fans is the upcoming Turning Red.
But what exactly is this new movie going to be about? Who is going to be starring in it? And how soon can we expect it to release? Fear no longer, because this is everything we know so far about the new Pixar film, and how quickly you might be able to see it.
Turning Red's Release Date Is Set For March 11, 2022
Thankfully, we don't have to wait long for this new Pixar film to release. According to Disney, Turning Red is set to come out on March 11, 2022, not even a year from now. However, one should always take into account the possibility of COVID pushbacks and delays, so take all release dates with a grain of salt.
Even so, with how things have seemed to be running a bit smoother lately, the chances of that release date look better and better.
Turning Red Follows A Young Girl Who Uncontrollably Turns Into A Giant Red Panda When She Gets Excited
Okay, to me, this sounds almost like a kid-friendly version of everyone's favorite green superhero, the Hulk. In Turning Red, we follow the story of a young girl, who, when she gets too excited, turns into a giant red panda – hence the title, Turning Red.
This is a completely uncontrollable behavior that she can't seem to get a hold of, so there's no doubt that during the film we're going to try and see her grapple with how to handle it. Regardless, I think all of us will watch this just for the big, fluffy red panda. Am I right?
Turning Red Will Star Sandra Oh And Rosalie Chiang
While not much is known about the upcoming cast of Turning Red, there were two cast members that were announced to star in the film. Starring as Mei Lee, the young 13-year-old girl who turns into a red panda, is young actress Rosalie Chiang, a newcomer in Hollywood.
Starring as her overprotective mother is Sandra Oh, an actress who has been around for some time in Hollywood, with major roles in television hits like Grey's Anatomy and Killing Eve. Sandra Oh has also done some voice work before, with one of her most recent roles being in the Amazon Prime original show, Invincible, voicing Debbie Grayson.
As more stars are announced for this new film, there will surely be more updates, but for now, it's good to know that at least two are confirmed at this point.
Turning Red Will Feature The Return Of A Pixar Short Film Director
While Pixar is no stranger to having former directors return time and time again to produce new films, such as Pete Doctor for films like Monsters Inc. or Soul, the director for Turning Red, Domee Shi, is new to feature films at Pixar, but has worked with Pixar previously in the past.
Domee Shi was actually the director of Bao, the Pixar short film that played prior to the premiere of The Incredibles 2 back in 2018, a film that actually won the Academy Award for Best Animated Short Film. However, this is going to be Domee Shi's first entry into the feature film world, where she will be directing a full-length movie.
Back in 2018, Domee Shi spoke with IndieWire about her short film, saying that Bao was a bit of a leap of faith to tell her story.
For those who haven't watched Bao, it's available to stream right now on Disney+. With how passionate Domee Shi was about her short film, one can only imagine the amount of heart and love to this new addition in Pixar. I for one am super excited.
Turning Red Will Be The First Pixar Film To Take Place In Canada
Pixar has explored a variety of different places in their films, from the setting of Coco in Mexico, or to a completely fictional world in Monsters Inc. Even in Finding Nemo, we got to explore the ocean and see the beautiful sea life that is near Australia. However, in Turning Red, Pixar will be treading into uncharted land – Canada.
According to CTV News, Turning Red is going to be the first Pixar film to take place in Canada, specifically Toronto. Throughout the teaser, there are several easter eggs for Canadians from Toronto that they might recognize, such as streetcar tracks, the CN Tower, and graffiti-covered alleyways.
Domee Shi herself is Canadian, so it's not surprising that her first feature film with Pixar is almost a love letter to the country. Sandra Oh as well, according to CTV, was also born in Canada, specifically Ottawa, so it's not like they haven't been trying to keep the voice cast and setting as close to home as possible.
Turning Red Is Expected To Release In Theaters, Unlike Soul And Luca
Even though Pixar has been turning out the hits on Disney+ recently with both Soul and Luca, there's no denying that there's nothing quite like sitting in a theater watching a Pixar film with your family or friends or even just by yourself. Soul and Luca were both fantastic additions to Pixar's line-up of films, but both were released on Disney+ due to the ongoing COVID-19 pandemic.
However, with how films have slowly been coming back to theaters and restrictions are being lifted, Pixar seems to be heading in the right direction of releasing its film in theaters in 2022.
According to Insider, Pixar is aiming to return back to theaters for a regular release for Turning Red, marking a return to theaters for the animation giant since Pixar's Onward was in theaters back in 2020. The primary concern is the safety of the public and the theatergoers.
If all works out, we might be able to see this awesome new film on cinema screens sooner than we think. And if so, I for one can't wait to go to the movie theater and watch Turning Red with all of my fellow Pixar fans.
Check Out The Turning Red Trailer Below
Pixar has always churned out some of the best-animated films to date to me – will Turning Red be one of the best Pixar movies to date? Only time will tell. 2022 can't come soon enough with all these new films.
Your Daily Blend of Entertainment News
Big nerd and lover of Game of Thrones/A Song of Ice and Fire. Will forever hate season eight. Superhero and horror geek. And please don't debate me on The Last of Us 2, it was amazing!