Joe Bell: 6 Things To Know About The True Story Behind The Mark Wahlberg Movie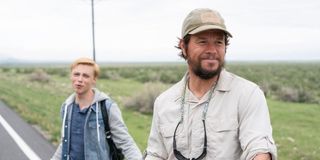 SPOILER WARNING: The article contains details related to the story of Joe Bell. If you don't want anything revealed for you then come back after watching the Mark Wahlberg movie.
By now, you have either seen, plan on seeing, or at least heard about Joe Bell, the Mark Wahlberg movie based on the true story of a grieving father who found a rather unique way of coming to terms with his teenage son's suicide and making sure something like this doesn't happen to another family. This tragic yet incredibly uplifting story of a father's undying love for his child, even when he doesn't fully understand his son and his sexuality, has helped shed light on the tragedy that can come from bullying, hate, and a failure to empathize with those around us.
If you want to better understand why Joe Bell put his life on hold to tell his son's story and reach out to those in a similar position on what was to be a remarkable two-year journey across the United States, you have come to the right place. Below we will break down some information about the father's motivations and how the real life Joe Bell's story unfolded in the months following the death of his son.
Jadin Bell Was Constantly Bullied Because Of His Sexuality Throughout High School
In the years before his 2013 suicide, Jadin Bell, who was the only openly gay student at La Grande High School in La Grande, Oregon, was constantly bullied and ridiculed by his classmates, but the bullying wasn't exclusive to the hallways and locker rooms of the the small-town school. In a 2013 Salon profile on his son, Joe Bell said that whenever his son would perform as a cheerleader at games — the only male member of the team for as long as anyone could remember — people in the stands would yell at Jadin, verbally assaulting him:
Despite the abuse and shouting coming down on him from those in the crowd at weekly football games, Jadin Bell took cheerleading very seriously, according to what his mother told Salon, stating that the sport is "what drove him." But when his passion was taken away after being suspended from the team for smoking a cigarette, Jadin's world came crashing down.
Jadin Bell Hanged Himself On January 19, 2013 And Was Pulled Off Life Support Two Weeks Later
On Saturday, January 19, 2013, Jadin Bell walked to Central Elementary School in La Grande, Oregon and attempted to hang himself on a piece of playground equipment, per The Oregonian. And although a passerby discovered Bell while he was still alive, the damage had been done and the 15-year-old high school sophomore would never wake up again.
As the prospect of their son never regaining consciousness became more and more realistic, the Bell family pulled Jadin off life support in late January and he passed away a little more than two weeks after he attempted to hang himself on February 3, 2013, according to a report from The Oregonian.
Following His Son's Death, Joe Bell Said He Accepted His Son And Hoped HIs Death Would 'Stand For Something'
A couple of days after the death of Jadin Bell, a gathering was held at La Grande High School where some 200 students, friends, and community members congregated to honor the bullied 15-year-old boy, per The Oregonian. During the ceremony, Joe Bell said that he not only loved his son but he had accepted him for who he was before saying he hoped something could come from this tragedy:
That "something" would become the non-profit organization Faces 4 Change, a group that would set out to raise awareness for those who have fallen victim to intense bullying. But this was just one part of Joe Bell's plan to honor his late son's memory.
In April 2013, Joe Bell Set Off For What Was Supposed To Be A Two-Year Walk Across The Country
In April 2013, just two months after his son's death, Joe Bell began what was supposed to be a two-year, 5,000-mile cross-country walk to speak out against bullying. Called Joe's Walk for Change, the trek, which is the inspiration for Joe Bell the movie, took the grieving father to churches, schools, and other places with people willing to hear his message, per the La Grande Observer.
Just before Joe Bell set-off on his journey, he told KATU 2 News in Portland, Oregon, that he was headed to New York City, which is where Jadin wanted to move after he graduated from high school. Bell also made plans to stop in Philadelphia as a way to remember his son and the way the City of Brotherly Love impacted his life on an eighth-grade trip, per Philly Mag. The trip, which was supposed to go from Oregon, down into the American South, and up to the Northeast before ending on the Delaware coastline, would end in another tragedy for the Bell family.
On October 9, 2013, Joe Bell Was Struck And Killed By A Semi Truck In Rural Colorado
Not even six months into his journey to raise awareness for his late son and others whose lives had been cut short because of bullying, Joe Bell's cross-country walk came to an abrupt and tragic end. On October 9, 2013, while walking along a highway to another speaking appearance in rural eastern Colorado, Bell was struck by a semi truck who failed to see him on the side of the road. According to the Denver Post, Bell was pronounced dead at the scene of the accident.
Plans To Turn Jadin And Joe Bell's Story Into A Movie Initially Started In 2015, Just Two Years After Both Had Passed Away
Joe Bell was in the works for more than a half-decade before it finally debuted on the big screen. In April 2015, The Hollywood Reporter revealed that Brokeback Mountain writers Larry McMurtry and Diana Ossana were working on a script that would be helmed by future No Time to Die director Cary Fukunaga and developed and released by A24 (though the studio would later leave the project). In a statement provided to THR when the news first broke, A24 called the story of Jadin and Joe Bell an "example of love transcending the prejudice and victimization familiar to many."
In 2019, when Variety reported that Mark Wahlberg, Connie Britton, and Reid Miller had all joined the Joe Bell cast, it was also announced that Reinaldo Marcus Green (Monsters and Men) had taken the directing duties from Cary Fukunaga, who stayed on as a producer. Production would start and wrap later that year.
Joe Bell opened in theaters Friday, July 23.
Your Daily Blend of Entertainment News
Philip grew up in Louisiana (not New Orleans) before moving to St. Louis after graduating from Louisiana State University-Shreveport. When he's not writing about movies or television, Philip can be found being chased by his three kids, telling his dogs to stop barking at the mailman, or yelling about professional wrestling to his wife. If the stars properly align, he will talk about For Love Of The Game being the best baseball movie of all time.