The Best A24 Films By Genre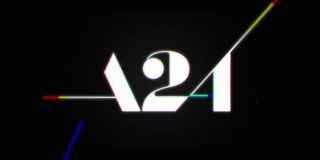 In the last decade, few independent companies in the movie business have been able to make the kind of impact that has been achieved by A24. While not releasing the biggest titles in the industry, they regularly work with some of the most impressive young talents in the game, and yearly produce some of the best titles hitting the big screen. They have no real defined house style, but instead simply seem to provide filmmakers with the tools needed to produce some excellent and exciting work.
The future is bright for A24, and one need only look at their list of releases thus far to realize it. To highlight the cream of the crop, we've broken down the films that they've put out by genre, and picked the best examples of each. We're going in alphabetical order, so let's start with…
Action: Free Fire
Admittedly action is not a genre rich with titles when it comes to A24's catalog, but there is still a great movie to highlight. Ben Wheatley's Free Fire from 2016 is a star-filled, bullet-riddled blast entirely centering on an arms deal gone wrong. Brie Larson, Sam Riley, Cillian Murphy, and Armie Hammer are just some of the talented performers firing weapons in this one, and it delivers a story that successfully manages to be both tense and at times screamingly funny.
Comedy: The Disaster Artist
It was with the release of a comedy in 2012 (Roman Coppola's A Glimpse Inside the Mind Of Charles Swan III) that A24 established itself as a distributor, and in the years since we've seen some really hilarious titles, including Daniel Kwan and Daniel Scheinert's ridiculous Swiss Army Man, Yorgos Lanthimos' bizarre The Lobster, and Harmony Korine's over-the-top Spring Breakers. The king of the crop, however, is James Franco's The Disaster Artist – which manages to be both a hilarious glimpse into the making of one of the worst movies of all time, and also a fantastic examination of creative energy and friendship.
Coming-Of-Age: Lady Bird
The coming-of-age genre has become a kind of specialty for A24, as while there's not an overabundance of titles that fit that description in the catalog, each one is extremely impressive. As much as we love James Ponsoldt's The Spectacular Now, Bo Burnham's Eighth Grade, and Jonah Hill's Mid90s, however, the best we've seen thus far is Greta Gerwig's spectacular Lady Bird. It does an outstanding job capturing what can be a hard and terrifying time in life, and will long stand not only as one of A24's best titles, but one of the best modern coming-of-age tales period.
Crime: A Most Violent Year
J.C. Chandor's A Most Violent Year admittedly doesn't have the most fitting title, as there is actually very little violence to be found in the story, but what is delivered is an amazing, tense crime drama that occasionally has the effect of making you feel like your heart is beating in your throat. Oscar Isaac delivers one of the best performances of his career as Abel Morales, the owner of a heating oil business practicing some shady operations, and there's a sharp-as-a-knife supporting cast including Jessica Chastain, David Oyelowo, Albert Brooks, and Alessandro Nivola.
Documentary: Amy
Of the 95 films thus far released by A24, the vast majority have been narrative features, but the company has had some success with documentaries as well – most notably with the Academy Award-winning Amy from directors Asif Kapadia and James Gay-Rees. Centering on departed singer/songwriter Amy Winehouse, it's a beautiful and heartbreaking story about a real and incredible talent who tragically saw her story come to an end far too early, and the movie provides a deep and intimate look at her life both publically and privately.
Drama: Moonlight
In its eight years of distributing films, A24 has gotten quite a bit of attention from the Academy of Motion Picture Arts and Sciences, and it's with that history in mind that it should be little surprise what film we see as the best drama thus far put out by the company. This is a category that also includes titles like James Ponsoldt's The End Of The Tour, Paul Schrader's First Reformed, Lulu Wang's The Farewell, Lenny Abrahamson's Room, and Joe Talbot's The Last Black Man in San Francisco, but Barry Jenkins' Best Picture-winning Moonlight is a true jaw-dropper. Taking us on a journey following the growth of a young man through three distinct phases in his life is a powerful and unforgettable experience.
Horror: Midsommar
A24 has found a certain niche releasing horror films with remarkable atmospheres that take over an audiences' brain, with standout titles thus far being the Robert Eggers double feature The Witch and The Lighthouse, and Gaspar Noe's Climax. The list also includes Ari Aster's brilliant Hereditary, but in this category we're going to give the edge to his sophomore effort, Midsommar. Unlike most scary movies, which keep the audience terrified of the mystery that comes with the night, Aster's Sweden-set nightmare is basically all sunlight all the time, and the results are terribly magical as a group of graduate students experience the monstrous traditions of a commune midsummer festival.
Sci-Fi: Ex Machina
Given that A24 doesn't release big budget blockbusters, the science-fiction films in their catalog tend to be more small scale than what's seen from the major studios – but what helps produce a lot from a little is working with awesomely talented filmmakers like David Michod (The Rover), Jonathan Glazer (Under The Skin), and Claire Denis (High Life). Alex Garland is arguably the best sci-fi filmmaker working today, and his directorial debut, Ex Machina, is the best genre film we've seen yet from the distributor. It's a film that grabs you by the throat as a genius inventor (Oscar Isaac) has one of his programmers (Domhnall Gleeson) run a week-long Turing Test on his latest A.I. creation (Alicia Vikander), and it unfolds your brain as it unfolds its story.
Thriller: Uncut Gems
With titles including Denis Villeneuve's Enemy, Steven Knight's Locke, Jeremy Saulnier's Green Room, and Yorgos Lanthimos' The Killing of a Sacred Deer, A24 Films has no shortage of films that can send persistent chills down your spine for 90 minutes to an hour, but no film of theirs has the effect of Ben and Josh Safdie's Uncut Gems. This is a movie that really should start with a warning for anybody experiencing any kind of cardiac dysfunction, because you almost start foaming at the mouth watching Adam Sandler's character stack bet on top of bet, all while putting his entire faith in a rare imported stone that seems to possess mystical properties.
Western: Slow West
Similar to action, another genre that has not gotten much exploration in films released by A24 is westerns, but at the same time the distributor counts a genuinely great modern example as part of the body of releases. John Maclean's Slow West is at times funny, romantic, and badass as it follows the journey of a young man (Kodi Smit-McPhee) who has lost the love of his life and teams up with a kick-ass bounty hunter (Michael Fassbender) so that he can both survive the wild west and find her – not knowing that his love and her father are wanted, and the bounty hunter is looking to collect. Released in 2015, it's an underappreciated gem in the A24 catalog.
What's your favorite A24 film, both overall and in each genre? Hit the comments section with your thoughts, feelings, and opinions, and stay tuned for more news and updates about this awesome studio in the coming days, months, and years here on CinemaBlend!
NJ native who calls LA home; lives in a Dreamatorium. A decade-plus CinemaBlend veteran; endlessly enthusiastic about the career he's dreamt of since seventh grade.
Your Daily Blend of Entertainment News
Thank you for signing up to CinemaBlend. You will receive a verification email shortly.
There was a problem. Please refresh the page and try again.