Fear Street Part 3: 1666 Ending Explained: The Truth About Sarah Fier And The Shadyside Curse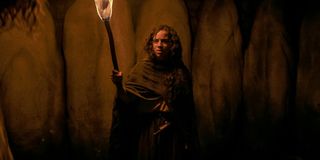 Warning: spoilers for Fear Street: Part 3 - 1666 are in play. If you haven't caught any of the films just yet, and want to remain unspoiled, then you should turn around now while you still can.
When the Fear Street movies began their cycle of witchcraft and historical grudges, what we knew as the Curse of Sarah Fier acted as the thread to connect all three stories. An over 300-year history of death and misfortune plagues the town of Shadyside, Ohio, and by time we hit Fear Street: Part 3 - 1666's ending, all of the secrets we'd been digging for were revealed. Last call for spoilers, folks, as we're about to dive deep into the truth about Sarah Fier, as well as the true history behind The Shadyside Curse.
How Does Fear Street: Part 3 - 1666 End?
There's two different endings to Fear Street: Part 3 - 1666, as Fear Street: Part 2 1978's ending saw Deena (Kiana Madeira) flashing back to the year 1666, after learning about Christine "Ziggy" Berman (Gillian Jacobs) and her past with the curse of Sarah Fier (Elizabeth Scopel). However, after Deena relived the final days of Sarah, she learned that the curse that's overtaken Shadyside isn't borne from a deal between Ms. Fier and The Devil. Rather, the curse of Sarah Fier is to reveal the true villain in Fear Street's feud between Shadyside and Sunnyvale. As it turns out, the Goode family is the bloodline that's been dealing with Old Scratch itself, with Sheriff Nick Goode (Ashley Zukerman) being the latest to control this dark secret.
With the Goode family secret uncovered, and our band of heroes engaging in one final showdown at the Shadyside Mall, the pact between the Goode family and The Devil is severed. With Sam (Olivia Welch) freed, and the true secret of Shadyside's dark legacy exposed, things look like they can start to head back to normal. At least, until a mysterious party pilfers the book of spells that the Goode family used to carry out their evil deeds.
The Truth Behind "The Curse Of Sarah Fier"
Sarah Fier wasn't a witch, and nor was her magical influence responsible for cursing Shadyside, Ohio. As we learn throughout Fear Street: Part 3 - 1666, all Sarah ever wanted was to be with her beloved, Hannah Miller (Olivia Welch). However, once their secret romance was revealed to the colony of Union by the scorned Caleb (Jeremy Ford), coincidentally around the time that some cursed events started to happen, Sarah Fier became an easy scapegoat for allegations of witchcraft. Matters only became worse when Hannah's father, Pastor Cyrus Miller (Michael Chandler) is apparently bewitched, which leads to his murder of several children in his congregation.
Gouging their eyes out, a demonic influence is claimed to be the culprit, and a witch hunt forms against both Sarah and Hannah. Eventually captured, and about to be executed, Sarah sacrifices her life for Hannah and "confesses" to witchcraft. However, before she's hung, Sarah swears that her curse will be the knowledge that the Goode family is truly the evil force in Union; as supposed friend to Sarah, Solomon Goode (Ashley Zukerman) is actually the one who's been pulling the satanic strings this whole time.
Shadyside Vs. Sunnyvale: Goode Is Evil
Fear Street truth became legend, and legend became Fear Street myth when it came to "The Curse of Sarah Fier." All the while, Killer Capital USA found itself periodically plagued by possessed murderers, like Billy Barker, Ruby Lane, and most recently Ryan Torres, claiming the lives of other Shadysiders before their untimely deaths. But the real reason for those possessions and deaths was one, insidious actuality: the Goode family was sacrificing Shadysiders to keep their reign over Sunnyvale intact.
So long as the Goodes sacrificed a random denizen of Shadyside to The Devil, they could have anything they'd ever wanted. Which meant that for almost 300 years, the Goodes kept positions of power, and Shadyside's youth got to pay the price in their blood. Though once the pact with The Devil and the Goodes was broken, through Deena's killing of Sheriff Nick, the charmed lives of that founding Fear Street family became a cursed and dreadful existence.
Who Dies In Fear Street: Part 3 - 1666?
The major death in Fear Street: Part 3 - 1666 is, of course, Sarah Fier. Used as the scapegoat for Solomon Goode's evil deeds, her hand was cut off while fighting for her life, and she was eventually hung. Though the other major casualty in the 1666 part of the story was Pastor Cyrus Miller, who is killed by Solomon himself. Of course, that's not before Cyrus kills several children in the colony of Union, through removing their eyes under demonic influence.
Meanwhile, in the continuation of Fear Street: Part 1 1994's ending, a new section labeled as Fear Street: 1994 - Part 2 sees Sheriff Nick Goode as its big loss. Though, if you ask any of the families affected by the Goode Family Curse, you might hear some say that it's not really a loss at all.
How Fear Street: 1994 Part 2 Closes Out The Trilogy
One final showdown at Shadyside Mall sees Deena, Sam and Josh (Benjamin Flores, Jr.) teaming up with Christine and Martin (Darrell Britt-Gibson) to lure Sheriff Nick Goode, and all of the killers under the Goode Family Curse, into their ultimate fate. Deena ultimately breaks the curse, through killing Nick and vanquishing the rest of the spirits that make Fear Street such a dangerous place to live. As the Goode family's secret is revealed, things look a little brighter for everyone in Shadyside.
We find out that Deena and Josh's father has a job interview, and her relationship with Sam is patched up. Fear Street: 1994 - Part 2 seems to have a pretty happy ending, with lovers reunited and bright futures to be had by all, even in the light of such tragic events befalling the community of Shadyside, Ohio. But as mentioned before, all it takes to shatter that idyllic image is the mid-credits stinger, where a mysterious pair of hands steals the spellbook that started it all, for an unknown purpose.
Where Could The Fear Street Cinematic Universe Go Next?
At the moment, there's only three Fear Street movies to speak of, with Leigh Janiak's trilogy standing as a crowning achievement. However, when she originally pitched these three movies, she put a larger idea into motion. Much like Marvel Studios started the MCU off the back of Iron Man, Netflix could turn Fear Street into its own horror cinematic universe.
Witchcraft is only the beginning, as a bunch of Fear Street installments could see anything from jealous teenage rage and vengeance to ghosts of the past making trouble for more brand new characters. And then, there's of course the possibility that another Fear Street trilogy could be hatched to continue the stories that originated in 1994, 1978, and 1666. With plenty of other killers sewn into the fabric of this particular storyline, there's a potential to flesh out the origins of various Fear Street killers.
For now, it's time to bid the world of Fear Street: Part 3 - 1666, and both of the stories that preceded it, a fond and fiendish farewell. With the entire trilogy now available on Netflix, you can scream to your heart's content, and pick over the clues that you may have missed the first time around. However, if you're ready to move on, you can check not only the full listing of 2021 Netflix movies headed your way, but you can also take a look at the full list of 2021 new movie releases headed to a theater near you.
CinemaBlend's James Bond (expert). Also versed in Large Scale Aggressors, time travel, and Guillermo del Toro. He fights for The User.
Your Daily Blend of Entertainment News
Thank you for signing up to CinemaBlend. You will receive a verification email shortly.
There was a problem. Please refresh the page and try again.