Could The Walking Dead's Jeffrey Dean Morgan Still Play Batman In A Flashpoint Movie? Here's What He Said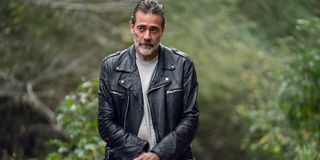 CinemaBlend participates in affiliate programs with various companies. We may earn a commission when you click on or make purchases via links.
Production for The Flash is underway, and the excitement and speculation for the Flash's solo film are heating up. The film will take inspiration from the 'Flashpoint' storyline in the comics, so the possibilities for what's coming are exciting. Michael Keaton has been confirmed to be returning as Batman in The Flash, and Jeffrey Dean Morgan, another Batman hopeful, had the perfect response to "losing his gig". Could Jeffrey Dean Morgan Still play Batman in a Flashpoint movie? Here's what The Walking Dead star has said.
Jeffrey Dean Morgan has been campaigning to play a version of Batman for some time, but it's looking more and more unlikely as time passes, but there is still some hope he can play a version of Batman in a Flashpoint movie. Jeffrey Dean Morgan recently discussed the possibility of playing Batman and his The Walking Dead and Batman v Superman co-star Lauren Cohan playing The Joker, telling ComicBook.com:
Jeffrey Dean Morgan expresses once again his desire to play Batman, going a step further in casting Lauren Cohan as The Joker. In the 'Flashpoint' storyline, The Flash travels to an alternate timeline where Bruce Wayne was killed instead of his parent, turning Thomas Wayne into Batman while Martha Wayne became the Joker. The alternate Batman origin would be a fantastic thing to see in the Flashpoint movie. With time travel and alternate timelines, the film can have multiple Batmen appear with no problem.
Jeffrey Dean Morgan says that the pair have discussed how cool it would be to play these versions of Batman and The Joker, after both being cast in 2016's Batman v Superman as Thomas and Martha Wayne. It would be a seamless fit with the character continuity set by Zack Snyder, so hopefully, we get to see these characters at some point.
The Flash could feature two different versions of Barry Allen, and there's a possibility that Ray Fisher's Cyborg might appear in the film. It would be nice to see Ezra Miller and Ray Fisher share some screen time after their characters were actually fleshed out in Zack Synder's Justice League. The Flash director has recently given fans a first look at Supergirls costume in the film, and it looks amazing.
The Flash has the opportunity to be a great comic book adaption because its source material is such a cool story. The amount of possibilities and characters that could appear is really exciting for DC fans. We may not get Jeffrey Dean Morgan as Thomas Wayne, but there's still hope that he will get his chance to don the cape and cowl one day.
Your Daily Blend of Entertainment News
Movie and TV obsessive. A good Heist movie is the way to my heart. Enjoyer of everything from Marvel Movies to Rom-coms.