Green Knight Reviews Are Here, See What Critics Are Saying About The Dev Patel Epic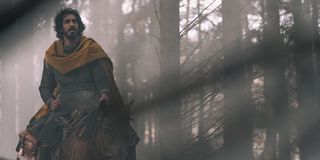 From the company that brought us Midsommar, Uncut Gems, Hereditary, and so much more comes The Green Knight, a medieval fantasy film directed by David Lowery. A24's latest blockbuster is a bold spin of the Arthurian legend Sir Gawain and the Green Knight, which follows the story of Sir Gawain, King Arthur's nephew, who journeys to confront the Green Knight, a gigantic tree-like creature and tester of men. The epic features Dev Patel as Sir Gawain, along with Alicia Vikander, Joel Edgerton, Sarita Choudhury, and Sean Harris.
We saw reactions of the film from critics on social media last week, and they were overwhelmingly positive. Now critics have started to share their official reviews of the fantasy epic before it arrives in theaters this Friday, July 30, so let's check out what they're saying.
Let's start with the CinemaBlend side, as usual. Eric Eisenberg thought The Green Knight was absolutely stunning, rating it 4.5 out of 5 stars. He was impressed with so many different aspects of the film, from Patel's "amazing" performance that showcases his incredible talent, to the outstanding ensemble cast, to the spectacular CGI work. Eisenberg gave special recognition to Lowery's direction and the gorgeous cinematography that transports the viewer into the story, saying:
Hoai-Train Bui from SlashFilm is absolutely singing the fantasy flick's praises. She, like Eric Eisenberg, also commended Lowery's "mesmerizing" direction, but she gave more attention to Patel's performance in her review. She noted that the camera practically "worships" Patel, saying that the movie "knows that Patel is a heartthrob, and if you didn't believe it before, you would now." (And people are certainly thirsting over Patel in this film) Bui said:
Dev Patel is certainly gaining a lot of praise for his performance in The Green Knight. Robert Daniels of Polygon considers Patel's role as Gawain his "career-defining performance." Daniels also commended Lowery's grasp on the source material and "dazzling" direction, as well as the cinematography by Andrew Droz Palermo. While he did note that the pacing was a little overwhelming at times, Daniels' review was positive overall, and said:
Matt Donato of WhatToWatch also applauded Lowery's direction in the epic, noting that he emphasized showing (via imagery) over telling. Donato enjoyed the film overall, but his main critique was that it was simply "too much movie" at times, with too many "directionless" elements that caused the fantasy flick to run too long. Donato said:
Simon Abrams of TheWrap had several things to say about The Green Knight, and not many of them positive. While he did enjoy bits of Palermo's cinematography and the costume designs from Malgosia Turzanska, he argued that Lowery's storytelling was too confined. Abrams thought that the side characters were too vague and, contrary to the previous critics, thought Patel's performance was just "fine enough." He said:
Overall, reviews for The Green Knight seem to be mostly positive. You'll soon be able to form your own opinion of the A24 epic, as it releases in theaters this Friday, July 30.
In the meantime, check out our summer release guide to plan your next movie-going experience.
Your Daily Blend of Entertainment News
Thank you for signing up to CinemaBlend. You will receive a verification email shortly.
There was a problem. Please refresh the page and try again.