Netflix Star Christina Milian And More Resort To Love Cast Talk 'Gift' Of Shooting In Mauritius During The Pandemic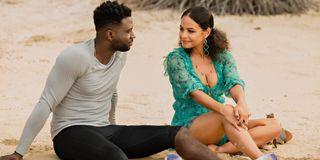 How many of us have been dreaming of getting away since the pandemic began? Well, that's exactly what the cast of Netflix's Resort to Love got to do while filming their movie in Mauritius. The Indian Ocean island nation known for its beaches, lagoons, and reefs can only be described as paradise, and the Resort To Love cast shared stories from the set and what a gift it was to shoot there during the pandemic.
Resort to Love is the feel-good romantic comedy that we all need right now. Aspiring pop singer Erica (Christina Milian) takes a job as a wedding singer at a beautiful beach resort but then learns she'll have to sing at her ex Jason's (Jay Pharoah) wedding. Sinqua Walls (who plays Jason's brother Caleb) shared the following with CinemaBlend about filming on the island of Mauritius:
After watching Resort to Love you'll probably want to visit Mauritius as well. The Netflix film captures the beautiful beaches, the blue waters, and not to take away from the interior set design because some excellent work was done there as well, but every time the characters adventure outside the scenery is absolutely breathtaking. Jay Pharoah (who plays the groom in the film) suggested returning for a sequel and added some new locations:
If Netflix makes a sequel to Resort to Love, sign me up! I would love to see these characters back together six months or a year after the end of this film. There's so much to explore with the relationships that have been created. Speaking of relationships, leading lady Christina Milian shared how the cast truly became a family while filming. In her own words,
Christina Milian got her wish for people to see the film and want to visit, at least with me. I'll be booking my trip to Mauritius asap. Resort to Love releases globally on Netflix July 29 so you can enjoy the beautiful escape, too. Get ready to laugh, and maybe warm up those vocal cords before pressing play.
Your Daily Blend of Entertainment News
Obsessed with Hamilton and most things Disney. Gets too attached to TV show characters. Loves a good thriller, but will only tolerate so much blood.