Knives Out 2's Kathryn Hahn Explains Why She Joined Rian Johnson's Sequel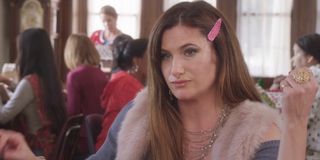 After the success of Rian Johnson's Knives Out, it shouldn't have come as a surprise to anyone that a sequel (or two) would be in the works. It also shouldn't be a surprise that plenty of actors have happily signed on to be a part of the highly anticipated movie -- who wouldn't want a chance to act out another brilliant murder mystery, especially alongside Daniel Craig? Still, WandaVision alum Kathryn Hahn had no problem sharing her own rationale for why she joined the huge ensemble cast.
Few details have emerged in regard to the actual plot of Knives Out 2, which is to be expected -- that's part of the mystery, after all. But Kathryn Hahn was able to share with Nylon why she wanted to co-star in Knives Out 2, and she dropped an exciting hint about the film while she was at it:
Many fans of Knives Out would probably agree that its ensemble was one of its strongest selling points. It brought together seasoned veterans like the late Christopher Plummer and Jamie Lee Curtis with scene-stealing newcomers like Ana de Armas. The Knives Out 2 cast will undoubtedly bring a new energy, but that's probably better than trying to recreate the wheel (or, maybe in this case, donut).
It might be tempting to mourn the loss of the original cast, especially Chris Evans (and his sweater), but it makes sense that a new mystery wouldn't involve many of the first film's characters. And luckily, Rian Johnson has assembled an A+ cast for his latest cinematic venture.
Dave Bautista, Janelle Monae, Leslie Odom Jr., and Kate Hudson, who is reuniting with Kathryn Hahn, are among the stars who will join Daniel Craig in Rian Johnson's sequel. And given the range of these actors, there's no telling what kind of roles they might be playing.
Knives Out 2 recently wrapped its production in Greece and, according to Rian Johnson, they're about halfway through the shoot. It's due to hit Netflix, as part of a massive deal, in summer 2022.
Your Daily Blend of Entertainment News