Jason Momoa Manages To Tie Aquaman 2 And Saving The Environment Into Moving New Post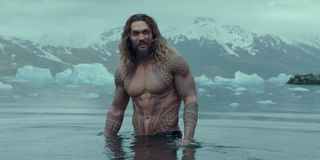 Aquaman: The Lost Kingdom (or Aquaman 2) is slowly but surely getting into production. Director James Wan continues to hype up the highly anticipated sequel in his explanation for why he decided to return to the franchise. Meanwhile, Arthur Curry himself, Jason Momoa, has been patiently waiting to get into character even though he didn't feel superhero ripped ahead of filming. With filming now underway, the actor has spending time in his trailer and making sure he's in tip-top, superhero shape. And more recently, the star managed to tie the Aquaman sequel and his environmental efforts into a moving new post.
While sharing an update on the work he's putting in while working on Aquaman 2, Jason Momoa managed to get in a great message about the environment. And based on his Instagram post, it would appear that Momoa has been working with Warner Bros. to make the set of the upcoming DC movie more environmental friendly in at least one regard. Here's the post:
Jason Momoa is presumably in a sauna, recovering and sweating out after a hard day of working on Aquaman 2. Not a bad way to finish out the day, as working on the set of a blockbuster can be challenging. It goes without saying, but it can be difficult for many stars like Momoa to work out, fulfill their acting duties and perform stuntwork when needed. So it's nice to see that the fan-favorite actor is doing what he can to keep himself fresh for what could be a lengthy shoot.
But what's really great to see here is how Jason Momoa shouts out Mananalu water company, whose mission is to eliminate single-use plastic. And according to the actor, he's put a lot of time and effort into ending the use of single-use plastics on the set of Aquaman 2, which is pretty cool. It's a simple thing to do, but it can make a world of difference when it comes to improving the world that we live in. And Momoa's passion for the initiative is more than apparent in the sweet post.
One can't help but wonder if Jason Momoa brought similar ideas to the set of his other upcoming blockbuster, Dune, which is preparing for its October 22nd release and recently dropped an insane trailer that will blow your mind. The actor has previously spoken about the experience of seeing Dune for the first time and how his kids reacted to seeing a movie with such a wide scope. It's hard to say how things will pan out for the film, but Momoa's Duncan Idaho will be a force to be reckoned with.
But despite the fact that Dune is coming up first, it's likely that many of Jason Momoa's fans are a bit more pumped to see him return to the DCEU as Arthur Curry. Plot details on the film are currently being kept at the bottom of the ocean but, hopefully, they'll be unearthed soon. In the meantime, let's hope Momoa continues to drop cool (and environmentally conscious) updates.
Aquaman and the Lost Kingdom arrives in theaters on December 16, 2022.
Movie and TV obsessive. A good Heist movie is the way to my heart. Enjoyer of everything from Marvel Movies to Rom-coms.
Your Daily Blend of Entertainment News
Thank you for signing up to CinemaBlend. You will receive a verification email shortly.
There was a problem. Please refresh the page and try again.