The Green Knight: What Fans Are Saying About A24's Arthurian Legend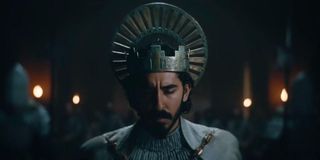 (Image credit: (A24))
In a summer of blockbuster films based on comic book properties like Black Widow and The Suicide Squad, or horror stories like The Forever Purge and A Quiet Place: Part II, A24 is doing what it does best and subverting what we've come to expect at the movie theaters. Following hits like Uncut Gems and Midsommar, the studio's latest offering is David Lowery's The Green Knight, adapted from 14th-century Arthurian legend. So how did moviegoers like the epic starring Dev Patel?
The Green Knight really impressed most critics, including CinemaBlend's own Eric Eisenberg, who gave the movie 4.5 out of 5 in his review and named it one of the "best of 2021." It also opened No. 2 at last weekend's box office behind Disney's Jungle Cruise. Now let's get to what fans are saying about the A24 release.
The Green Knight Is A 2021 Fan Favorite
Overall, it seems the public is mixed on The Green Knight. It's the kind of movie you either really vibe with or don't like at all. On social media, a ton of fans represented the positive end of what the Arthurian legend has to offer, with this Twitter use sharing this:
For context, Little Women came out in late 2019, so this is high praise for the David Lowery film! The fan also shared he is "levitating with joy" about his viewing of The Green Knight. To echo the high praise, another viewer of the film shared his love for the summer release with more rounds of applause:
The Green Knight was also delayed a year by A24 after its initial 2020 release was moved due to the pandemic. But because it debuted in theaters only, those who went out to see it were really keen on the theatrical experience as well. As another fan pointed out, it was their first trip out to a movie since lockdown, and it was worth the price of admission for them.
The A24 movie clearly has a lot of happy fans, but there's a variety of experiences that were told via social media reactions as well.
So Many People We Confused And Conflicted About It
Then there were the fans who were just trying to figure out what they were watching. The Green Knight is quite the cerebral experience, and everything you see on screen doesn't matter as much as the themes they represent. It's not for someone who just wants to sit back and relax without thinking deeply. One Twitter user especially encapsulated the experience watching the A24 film:
One viewer shared an unhinged meme featuring one of the characters from Madagascar to bring across her thoughts on The Green Knight, and the movie apparently had her "losing her mind," later also adding that the movie made her "feral."
It's definitely an interesting movie to check out with a crowd of people because of the many reactions it spawns from viewers. Another fan shared her eavesdropping on other moviegoers, who had a completely different opinion from her seat-mates:
Not unlike the recent horror release Old, The Green Knight isn't necessarily a movie you can trust another person to assure you that you'll have the same experience. It's a wild card. Some people love that kind of moviegoing affair, but it certainly will turn off others too.
The Dev Patel Of It All Was A Hot Sell
The Green Knight is a deep movie, but going out to see it was all about the eye candy for a lot of moviegoers in its first week in terms of its lead actor. As one viewer shared, they are incredibly content to stare at Dev Patel for the entirety of the film:
A lot of people are into Dev Patel. Before the movie even hit theaters, early viewers raved over Dev Patel in particular, with one early viewer sharing that "Dev Patel can cut off my head any time he likes." A sect of fans have named the season "Dev Patel Summer" in honor of the actor looking absolutely beautiful in his flowing black hair and knight armor:
Even people who didn't like the movie could enjoy the Dev Patel of it all. The 31-year-old British actor made famous by his 2008 performance in Slumdog Millionaire has become a bit of an icon thanks to The Green Knight.
And there's a lot of scenes with Dev Patel in The Green Knight. Just about all of them actually. So if you're a fellow Patel fan, this is the medieval movie for you.
There Are A Lot Of Thoughts About The Green Knight Ending
To wrap up (without spoilers I promise), let's talk about some of the reactions to the ending, because it's a huge talking point when it comes to The Green Knight. The A24 movie's conclusion was a make-it-or-break-it scene for viewers of the film, as one Twitter user shared:
For some people, the ending just messed up the experience for them. It's not your typical ending and it's definitely controversial. Another person went on to criticize the ending, and A24 as a studio, for going out of its way to "confuse" people:
How you react to The Green Knight's ending will have a lot to do with if the movie overall worked for you. It's the point that had a lot of moviegoers giving up on it. At the same time, it's the kind of ending that's really fun to dissect with friends after watching it together or go down a Arthurian legend rabbit hole too. To each their own:
As a whole, there are a lot of opinions on The Green Knight. It's definitely not universally loved or understood, but from a filmmaking standpoint, many can appreciate David Lowery's vision, even if it seemed too ambitious for some. The Green Knight is playing in theaters now. It's your turn: have you seen it and what did you think of the movie? Vote in our poll and keep track of what movies are coming next with CinemaBlend's 2021 movie release guide.
This poll is no longer available.
YA genre tribute. Horror May Queen. Word webslinger. All her writing should be read in Sarah Connor's Terminator 2 voice over.